 Sreedevi Lakshmi Kutty's family is originally from Ernakulam district in Kerala but she grew up in Trivandrum. After living and working in the US and the Netherlands, she moved to India in 2013. While living abroad Devi volunteered in various capacities in the US and Netherlands, in the areas of food and agriculture.
She has worked with farmers groups for various projects across countries and has spearheaded many organic and GMO free farming initiatives. She is a founder member of Urban Leaves, a Mumbai-based urban farming group. She is a consultant for Save Our Rice Campaign which is an initiative to save all the traditional rice varieties in India.
Along with her husband, she founded Bio Basics, a social venture to create a market for organic farmers in the Coimbatore region and to spread awareness about safe foods to consumers. She also writes for The Hindu Metroplus on traditional foods, an effort to introduce India's rich culinary traditions to the novice.
Devi gladly agreed to share her family's recipe for Aviyal for our Onam collection. Aviyal is a very popular dish from Kerala and has over ten different vegetables in it. This recipe for Aviyal is her Achan's (father's) and is very close to her heart. During her childhood, the Onam sadya was always prepared by her Achan while she, her mother and brother assisted him. Her mother and father had their own versions of Aviyal and would playfully argue over whose tasted the best.
The Aviyal was part of Devi's parent's 50th wedding anniversary celebrations. It was her Achan's last full meal.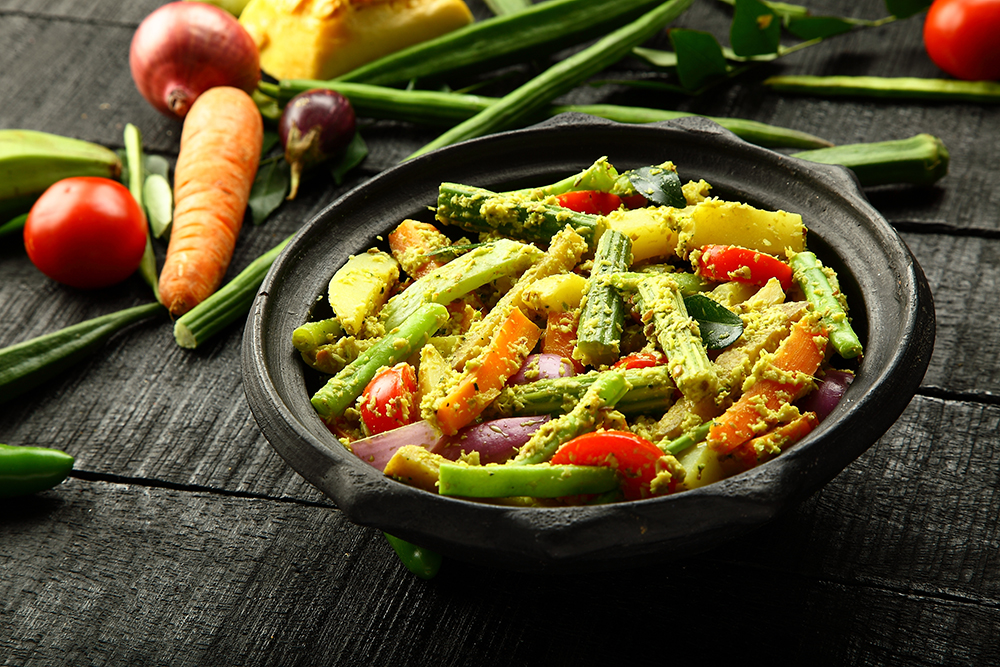 Aviyal
Prep Time
30 MINS
Total Time
45 MINS
1 Small or ½ large country cucumber, peeled, deseeded and cut into long batons, about 1 cup
1 Green plantain, only the outer layer peeled leaving behind most of the skin, cut into long batons
1 Big carrot, peeled and cut into batons
½ Snake gourd, peeled, deseeded and cut into long batons, about 1 cup
1 Long drumstick, cut into 1 ½ inch pieces, the skin partially peeled
1 Small wedge ash gourd, peeled and cut into long batons, about 1 cup
10 Long beans / thattakai, cut into 1 ½ inch pieces
1 Small wedge yam, cut into long batons
3 Small brinjals, cut into 4 wedges each
½ Raw green mango, cut into long batons with skin
1 ½ Cup, fresh grated coconut
4 Tbsp coconut oil
1 Green chilli, chopped + 2 green chillies cut along the length into two pieces each
3 Shallots / small onion, chopped
4 Sprigs curry leaves
½ Tsp cumin seeds
¼ Tsp turmeric powder
½ Tsp chilli powder
1 Lime size tamarind ball, soaked in ¼ cup water and make into a paste
Salt to taste
Method:
1. Soak the green plantain, yam and brinjal pieces in water to avoid discoloration during preparation.
2. In the Ultra Mixer Grinder, grind the grated coconut along with the chopped green chilli, shallots, turmeric powder and 2 sprigs of curry leaves. Do not add water while grinding and let the mixture be coarse*.
3. Heat a Ultra Endura+ Pressure Pan and add 1 tbsp coconut oil, add the yam, green plantain, brinjal and carrot and stir quickly for about 2 minutes. Remove and set aside. In the same kadai, heat 1 more tbsp of coconut oil and add the rest of the vegetables and stir quickly for 2 minutes and keep aside.
4. In the same pressure pan, return the first set of vegetables and pour enough water to barely cover them, place the lid and cook for whistle. Once they are about half cooked add the rest of the vegetables along with the chilli powder, tamarind paste and salt and cook without whistle fill cooked. Add more water, if required.
5. Poke the yam and test to see if it's done as it is the toughest vegetable to cook in this mix of vegetables. If the yam is done, the rest of the vegetables will also be cooked. Now gently stir in the coarsely ground coconut mixture and cook on low flame, covered for a couple of more minutes. Finally, drizzle the remaining 2 tbsp of coconut oil and 2 sprigs of curry leaves as garnish before serving.
6. The lack of curd / yogurt in this recipe may surprise a few. Recipes for Aviyal vary across families and across regions within Kerala. Devi does suggest that about 1 cup of yogurt can be substituted instead of the tamarind paste in the Aviyal, depending on preference. But she highly recommends using tamarind especially if you are using yam in the recipe as it has the capacity to offset a certain prickly feeling yam can cause on the tongue and throat sometimes.
7. The Aviyal is a medley of vegetables that compliments the rest of the sadya dishes and is a shining example of how truly wholesome and flavourful our traditional Indian dishes are.
*Use the Slo-grind speeds to achieve a uniformly coarse and dry mixture.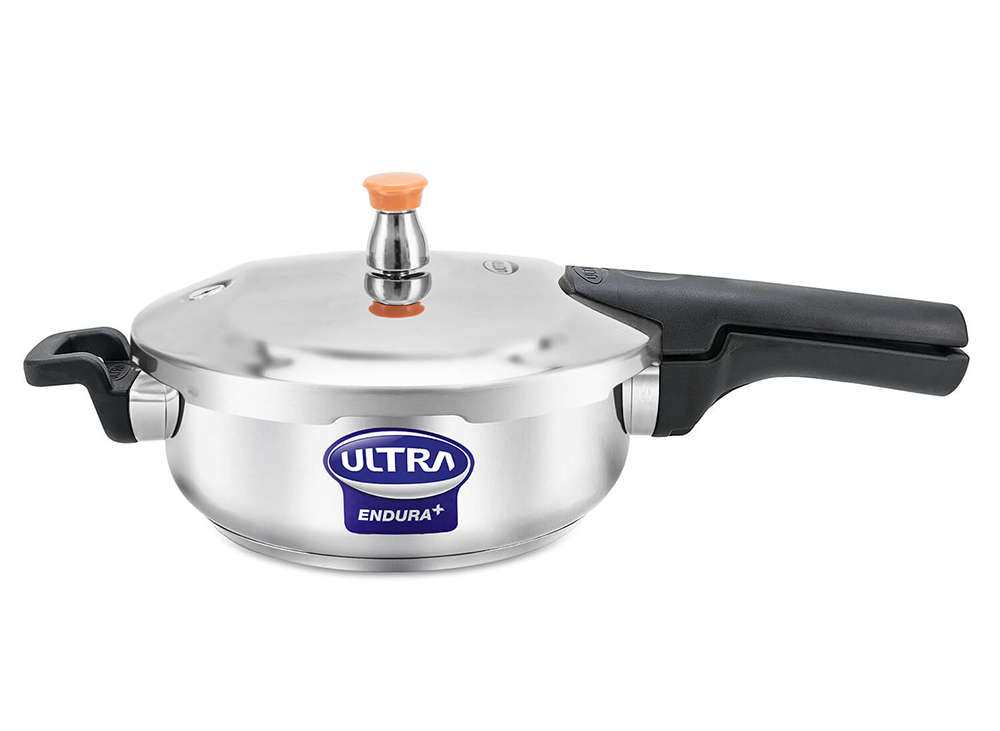 Elgi Ultra Endura+ Pan
A perfect companion in your kitchen, the Ultra range of Endura+ Pressure Pan's features will delight you.

NO CHARRING
High-impact bonded base, helps prevent burning and sticking of food

FAST COOKING
High-impact bonded base, aids in faster cooking

STAYS WARM FOR LONGER
Keeps food warm for up to 2 hours

DISHWASHER SAFE
Dishwasher safe design, makes it easy to clean

BEAUTIFUL LOOKS
Impressive design, elegant to serve

10-YEAR WARRANTY
Valid in the country of purchase