Ultra celebrates with recipes of love for a special meal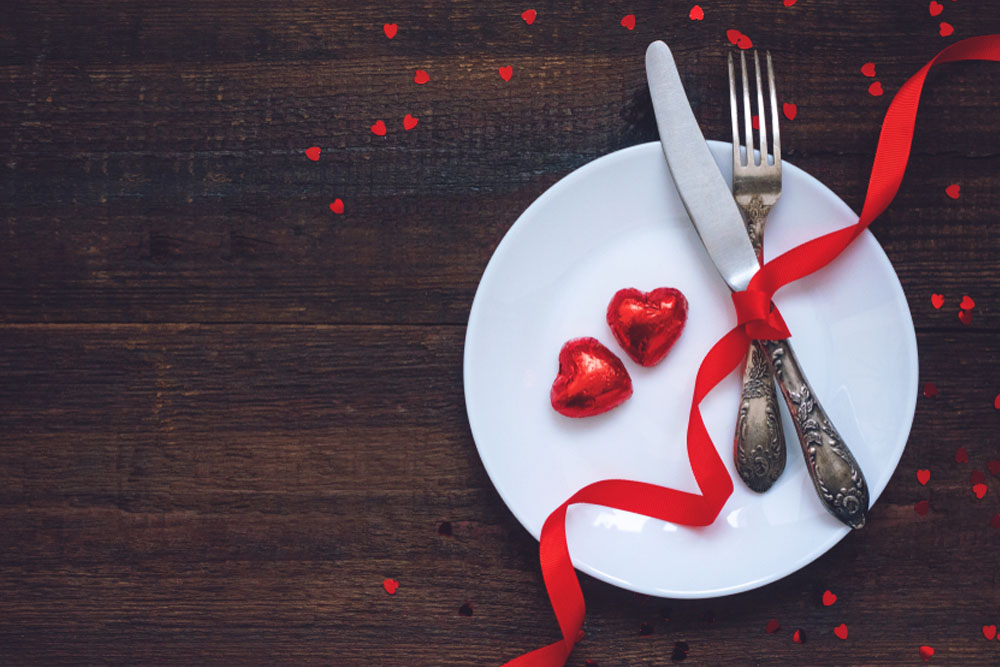 Make that special meal this valentine's day with Ultra healthy and tasty recipes. From mocktails to dessert, here is a complete dinner plan.
Pomegranate fizz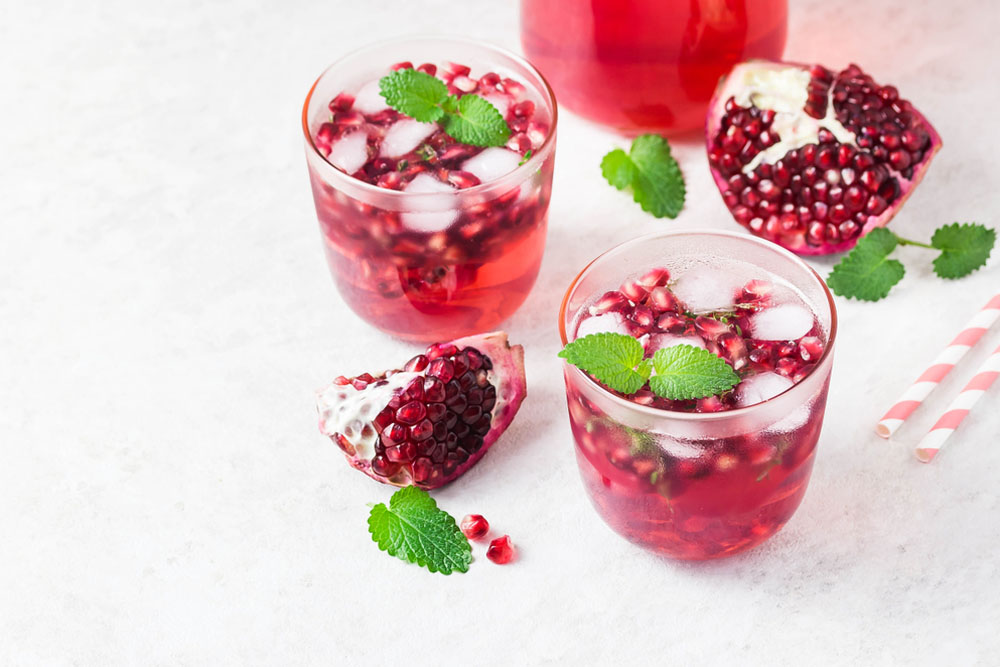 Making Time
10 MINS
Total Time
10 MINS
Making Time
10 MINS
Total Time
10 MINS
2 Cups pomegranate juice
¼ Cup sugar syrup
2 Tbsp ginger juice
1 Cup orange juice
Ice
Soda
METHOD
1. In a beaker, mix the pomegranate juice with ginger juice and the sugar syrup and set aside.
2. In a tall glass add the pomegranate juice to fill less than half the glass
3. Add the orange juice followed by soda and ice.
4. Garnish with a few pomegranate seeds.
5. Serve chilled with ice.
Moussaka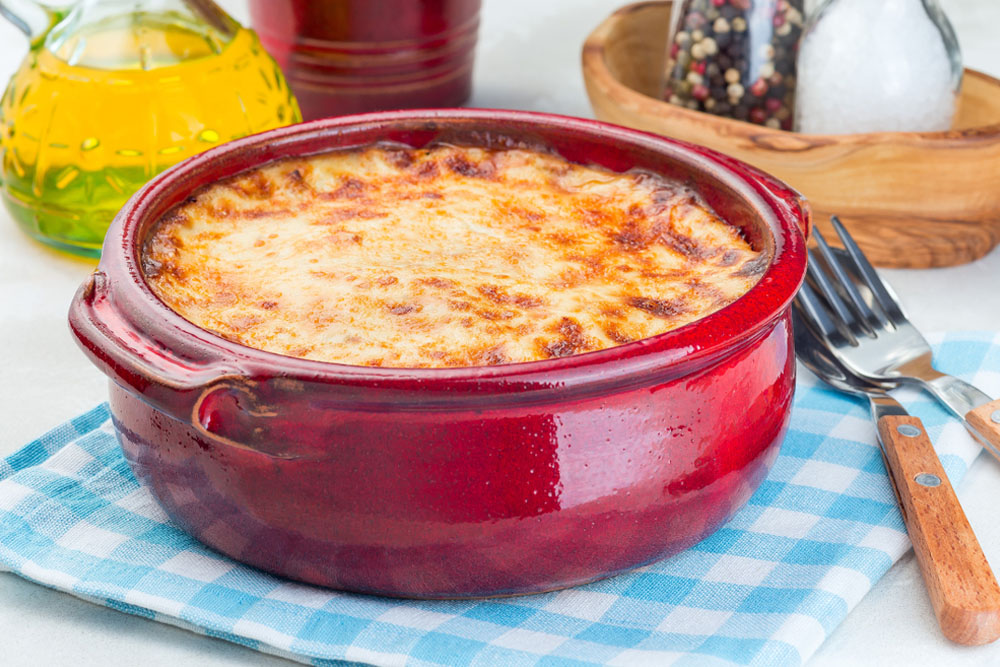 A heart-warming bake with a rich tomato based gravy, fluffy bechamel and pan-fried eggplant; a moussaka meal is both simple and special.
Prep Time
40 MINS
MakingTime
1 hr MINS
Total Time
1 hr 40 MINS
Prep Time
40 MINS
Making Time
1 hr MINS
Total Time
1 hr 40 MINS
Fried aubergine/eggplant
1 Eggplant (thinly sliced)
1 Tsp chilli powder
¼ Tsp turmeric
½ Tsp garlic powder
Salt
For the sauce:
400 Gms Lamb mince or Soya mince
2 Onions (chopped)
5 Tomatoes (pureed)
2-3 Cloves
1 Bay Leaf
2 Cinnamon
2 Tsp ginger and garlic paste
2 Tsp paprika
1 Tsp chilli Powder
¼ Tsp turmeric
1 Tsp cumin Powder
Oil
Salt
Bechamel Sauce
3 Tbsp Butter
Salt
Pepper
1 Egg
2 Tbsp Flour
1 Cup milk
½ Cup parmesan cheese grated
1 Lemon (rind only)
Topping
½ Cup parmesan cheese
½ Cup bread crumbs
METHOD
1. Add salt to the aubergine slices and place on a sieve to drain.
2. Squeeze out the slices gently and pat dry with a kitchen towel.
3. Pan fry the slices on both sides till slightly crispy and set aside.
4. Add oil to your Ultra Pressure Pan
5. Add cloves, cinnamon and bay leaf followed by the meat, onions and ginger and garlic paste and sauté for a few minutes. To this, add the turmeric powder and salt.
6. Add a ¼ cup of water and pressure cook for 15 minutes. Once the whistle settles, open the pan and cook the meat till the water dries out.
7. Add the tomato, chilli powder, paprika and cumin powder and cook till the gravy thickens and the oil comes out.
8. In a sauce pan, add butter and flour and whisk for 2 minutes till well combined. Remove from the heat and add the milk while whisking. Make sure there are no lumps.
9. When the sauce thickens slightly, remove from the heat, stir in the lemon rind, the parmesan cheese and set aside for five minutes. Then, whisk in the egg and add salt and pepper.
10. In an oven proof dish, add the meat sauce, place the aubergine slices over the meat sauce and carefully pour the bechamel followed by the bread crumbs and bake for 40 minutes, until golden. Serve hot with garlic bread.
Red velvet raspberry cheesecake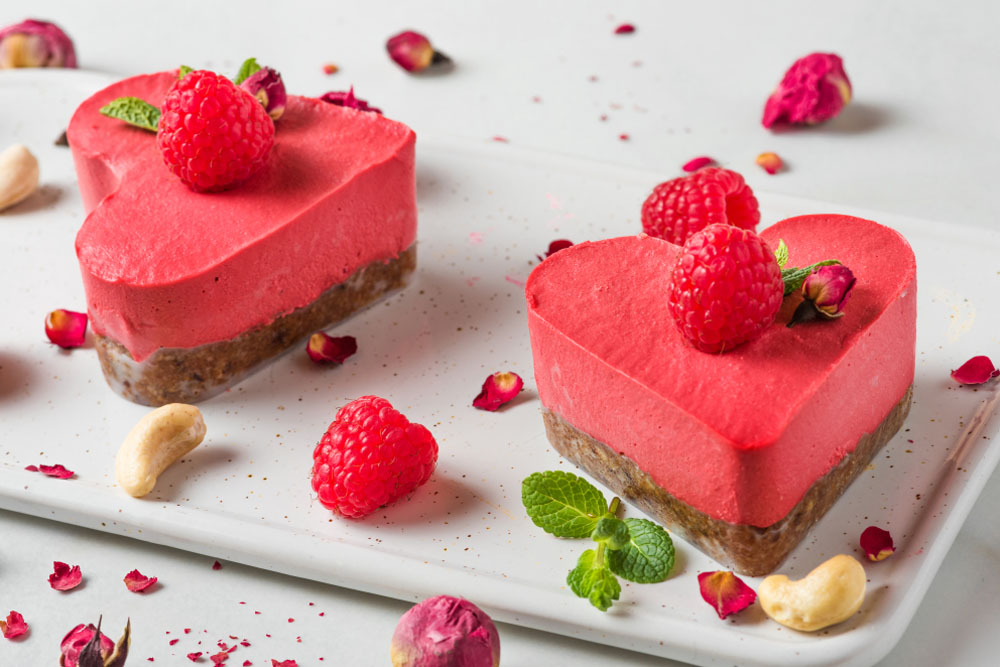 Prep Time
30 MINS
Making Time
1 hr 50 MINS – 2hrs
Total Time
2 hrs 30 MINS
Prep Time
30 MINS
Making Time
1 hr 50 MINS – 2hrs
Total Time
2 hrs 30 MINS
For the biscuit base:
15 Digestive biscuits
65 Gms butter (melted)
2 Tbsp castor sugar
¼ Tsp salt
For the cake:
900 Gms cream cheese (room temperature)
½ Cup sour cream (cream from homemade yoghurt or fresh cream can be substituted)
2 Tbsp Raspberry custard mix
1 Tbsp Raspberry jam (if available)
2 Cups Castor Sugar
Salt
1 Tbsp flour
3 Tbsp milk
Few drops red food colouring
Raspberries or strawberries for garnish
6 Eggs
1 Lime/lemon (rind and juice)
METHOD
1. Pre-heat the oven to 180 degrees
2. In your Ultra Mixer Grinder process the digestive biscuits with the butter, sugar and salt to a rough crumb consistency. To do this, pulse 2-3 times till the large pieces are broken to rough crumbs.
3. Fill the base of the spring form tin or ramekins with the biscuit base, press down and bake for 10-15 minutes. Set aside to cool.
4. Beat the cream cheese with cream and sugar to a smooth mixture in a hand blender.
5. In a bowl mix together flour, cornstarch, raspberry jam and milk to a paste and add to the cream cheese mixture and blend well.
6. Add the eggs, one at a time and blend in a hand blender. Finally add the lemon juice and the rind.
7. Pour the mixture into the ramekins or into a foil wrapped spring form tin (9inches) over the biscuit base and place into an oven tray with hot water.
8. Bake for 1hr 50 minutes.
Tip: You can make a close substitute for cream cheese with full fat hung yoghurt. Hang it overnight in a muslin cloth over a sieve in the fridge and store it in an airtight container, wrapped in the same cloth for 4-5 days. This tastes close to cream cheese. Follow the recipe to make a yoghurt cheese cake.
Elgi Ultra Pressure Cookers
A perfect companion in your kitchen, the Ultra range of pressure cooker's features will delight you.

NO CHARRING
High-impact bonded base, helps prevent burning and sticking of food

FAST COOKING
High-impact bonded base, aids in faster cooking

STAYS WARM FOR LONGER
Keeps food warm for up to 2 hours

DISHWASHER SAFE
Dishwasher safe design, makes it easy to clean

BEAUTIFUL LOOKS
Impressive design, elegant to serve

10-YEAR WARRANTY
Valid in the country of purchase