The beetroot isn't a very popular vegetable. It's nutritious and packed with goodness, but the taste is a hit or miss with most people. But there's a way to make even the staunchest beetroot avoiders enjoy it. By turning it into a dessert, of course!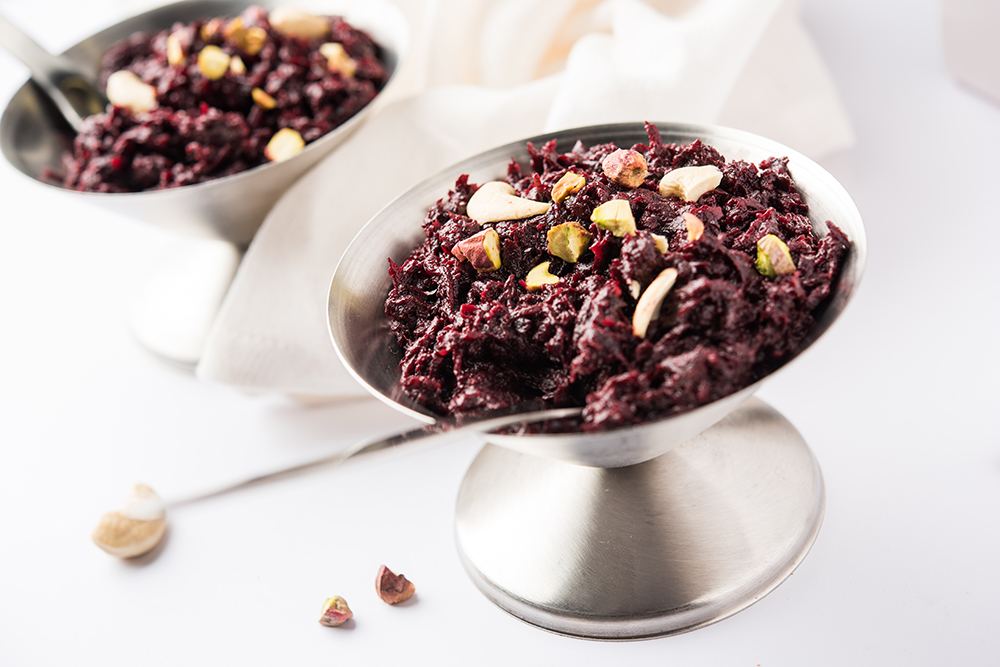 Beetroot Halwa
Prep Time
10 MINS
Total Time
40 MINS
Grated Beetroot – 2 cups loosely packed
Boiled Milk – 1 cup
Sugar – 1/2 cup
Ghee – 2 tbsp + 1 tsp for frying cashews
Cardamom powder – 1/2 tsp
Chopped Nuts – 6 broken
METHOD
1. In a Ultra Pressure Cooker, heat a tablespoon of ghee and add the grated beets. Saute for 3-5mins in low flame, until the raw smell leaves.
2. Add milk and let it simmer for 10 minutes. Once the beetroot softens lower the flame to low medium for the milk to reduce.
3. Once it starts bubbling, it will slowly reduce. Stir so it doesn't get caught to the bottom and burn. Remember to scrape down the sides too.
4. When the milk is almost reduced add sugar. It will become runny again. Keep stirring.
5. The whole mixture will look glossy and sticky. Add ghee little by little starting from this stage. Add cardamom powder.
6. When the mixture becomes dry, add little more ghee, stir well and turn the flame off.
7. Add fried cashews for garnish and serve warm.
To make a healthier option for those avoiding sugar, you can replace the sugar with dates. Just chop up a few dates and add them along with the beets. Try this experiment out at home and let's see if we can turn the beetroot into a more interesting vegetable for your family.
Elgi Ultra Pressure Cookers
A perfect companion in your kitchen, the Ultra range of pressure cooker's features will delight you.

NO CHARRING
High-impact bonded base, helps prevent burning and sticking of food

FAST COOKING
High-impact bonded base, aids in faster cooking

STAYS WARM FOR LONGER
Keeps food warm for up to 2 hours

DISHWASHER SAFE
Dishwasher safe design, makes it easy to clean

BEAUTIFUL LOOKS
Impressive design, elegant to serve

10-YEAR WARRANTY
Valid in the country of purchase