 Cecy Kuruvilla has a dynamic personality and is worldly-wise from all her travels and the many places she has lived in. Cecy started her career as an academic, teaching both in India and in the US before becoming an executive in a food supply and management company. She is now retired and settled in Coimbatore, India.
While holding a full-time job in the US, during her free time Cecy has taught in numerous cooking classes and catered food for small private gatherings from her home kitchen.
Food forms a significant part of her life and she believes in initiating interesting conversations over food. She is very active on the social media posting images of her home-cooked meals on a daily basis, with many followers. She also has a flair for gardening and has an enviable kitchen garden around her lovely home.
A few years ago, Cecy self-published a cookbook with Indian recipes. It was especially meant to assist her daughters in their kitchens. The recipe for Cabbage Thoran is an excerpt from that cookbook which she was happy to share with us for the benefit of our readers.
We are kick starting our Onam recipe marathon with Cecy Kuruvilla's recipe for Cabbage Thoran. This is a fairly easy and quick dish to cook and a great introduction to Kerala cuisine for a beginner.
Use your Ultra Endura+ Pressure Pan as a kadai. You can use the lid to cover (without the whistle).
Cooking with stainless steel means your dishes remain Ultra healthy. Read More >>
The Thoran is a vegetable side dish that is synonymous with Kerala and its cuisine. It comprises of shredded vegetables cooked to a dry and al dente consistency with a generous dose of grated coconut. The vegetables are not over cooked and it retains its crunchy texture and vibrant colour in a Thoran.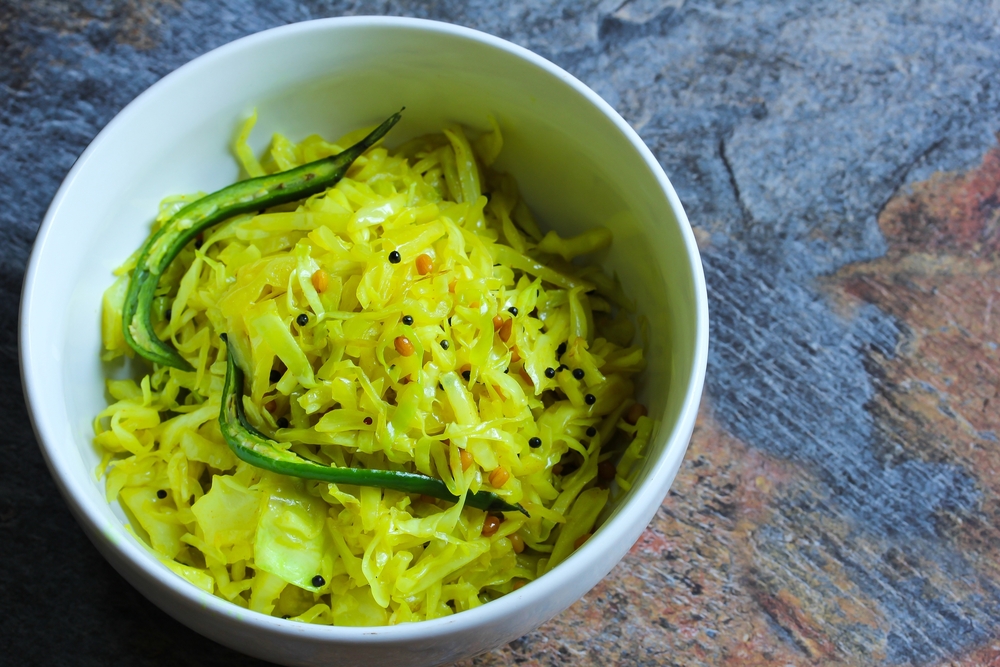 Cabbage thoran
INGREDIENTS
Makes 3 bowls
Prep Time
35 MINS
Total Time
60 MINS
1 Small cabbage, cut into thin long strips, about 4 cups
2 Tbsp coconut oil / vegetable oil
½ Tsp mustard seeds
1 Medium onion, chopped
3 Garlic cloves, chopped
2 Sprigs curry leaves
2 Green chillies, chopped (optional)
2 Tbsp coriander leaves, chopped
¼ Tsp turmeric powder
½ Tsp cumin powder
¼ Tsp black pepper powder
¾ Cup fresh coconut, grated
¼ Cup water
Salt to taste
Method:
1. Heat the oil in a your Ultra Endura+ Pressure Pan. Add the mustard seeds and let them crackle. Add the chopped onion, garlic, curry leaves, green chillies and coriander leaves and stir till the onion turns translucent. Then add the turmeric powder, cumin powder, pepper powder, salt and grated coconut and give it a quick stir. Finally, add the cabbage along with the water. Cook the vegetables covered and on low heat for about 12 minutes, placing the lid of the cooker on top to create steam. Stir occasionally. All the water should evaporate and the vegetables should be just cooked. Check for salt before serving, add more if needed.
2. Cecy suggests that cabbage can be replaced with beetroot or spinach in a Thoran. The beetroot can be grated coarsely while the spinach can be chopped finely, before cooking.
3. Look out for more recipes in the following days, to add to your repertoire, just in time for cooking up a feast on the day of Thiruvonam.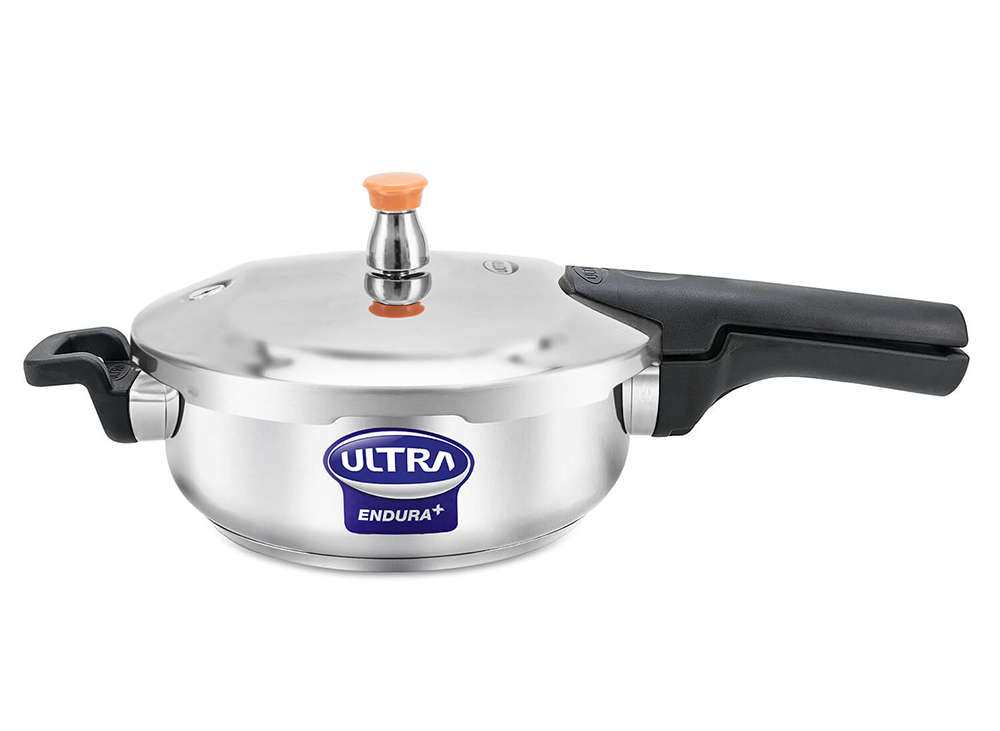 Elgi Ultra Endura+ Pan
A perfect companion in your kitchen, the Ultra range of Endura+ Pressure Pan's features will delight you.

NO CHARRING
High-impact bonded base, helps prevent burning and sticking of food

FAST COOKING
High-impact bonded base, aids in faster cooking

STAYS WARM FOR LONGER
Keeps food warm for up to 2 hours

DISHWASHER SAFE
Dishwasher safe design, makes it easy to clean

BEAUTIFUL LOOKS
Impressive design, elegant to serve

10-YEAR WARRANTY
Valid in the country of purchase