 Sunayana Arun draws a lot of inspiration to cook from her late mother and a handful of her talented aunts. She has her roots in Ezhupunna, in Alappuzha district but currently lives in Kodaikanal. She started cooking soon after the first of her three children was born. She started out cooking simple homely food but now her repertoire ranges from elaborate Andhra-style Biriyanis to light and fluffy Banoffee pies.
Sunayana enjoys cooking Kerala-style seafood and meat dishes and has in fact a special following for these dishes among friends and family. She is also fond of baking with her daughters, often baking cookies and brownies for various causes in their school campus. She also bakes excellent carrot cakes and churns out flavourful ice creams in her home kitchen.
Sunayana believes in talking to her plants in her kitchen garden and harvests the best produce possible by tending to it with meticulous care. The rhubarbs from her garden make one of the best Rhubarb crumbles one can taste. She also crochets a lot in her spare time while she is not busy in her kitchen or her garden.
Sunayana shares with us her family recipe for a humble dal that has just a handful of ingredients but is utterly delicious. A dollop of this creamy dal on the banana leaf during Sadya provides the much needed relief from the spicy and sour notes of the other dishes.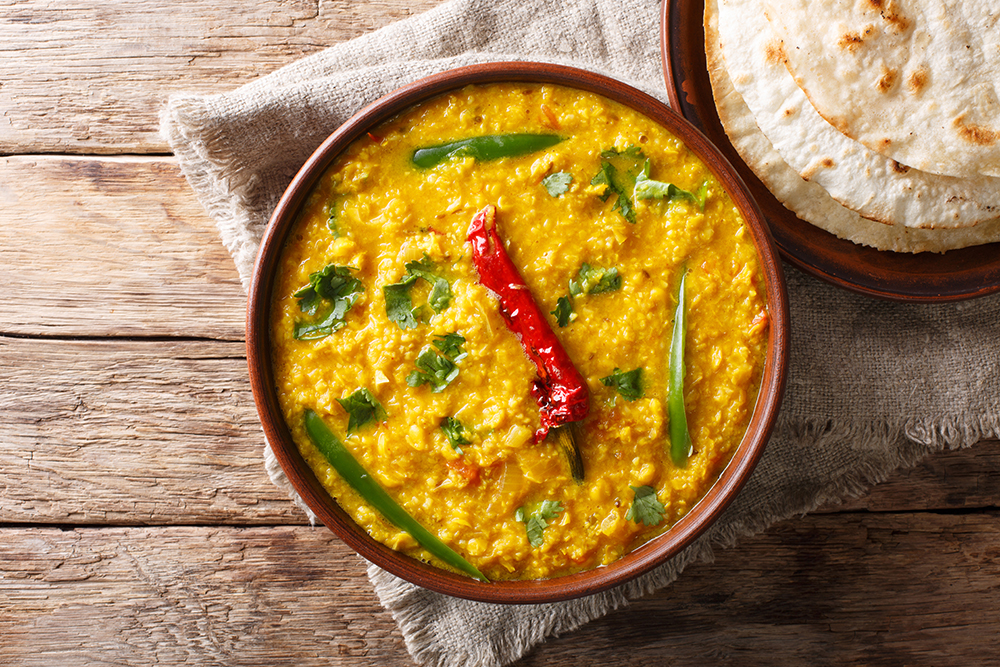 Katti Paruppu
INGREDIENTS
Makes 2 bowls
Prep Time
30 MINS
Total Time
45 MINS
1/3 Cup peas dal, washed and soaked for half an hour
½ Cup 1st coconut milk (thick coconut milk)
1 ½ Cup 2nd and 3rd coconut milk (all coconut milks made from 1 whole coconut)
1 Green chilli, cut along the length into two pieces
1 Medium onion, sliced
1 Potato, peeled and diced into ½ inch cubes
1 Sprig curry leaves
1 Tsp ghee
Salt to taste
Method:
1. In the Ultra Endura+ Pan, add the soaked dal, 2nd and 3rd coconut milk, green chilli, sliced onion and cubed potatoes. Cover the pressure pan and cook on high flame. After the first whistle, reduce the flame to low and cook for 5 more minutes. Remove from flame and set aside.
2. Once the pressure releases, open the pan and add the thick coconut milk. Add salt and ghee as well. Bring the dal back to a gentle simmer and remove from flame.
3. This dal is thick and creamy in consistency. The potatoes pieces can be partially mashed, if desired. The above recipe gives enough dal to serve 6 people in an Onam sadya. If you are cooking this dal as part of your regular lunch, it is sufficient only for about 4 people. In the above recipe, Sunayana says the peas dal can be replaced with split Bengal gram.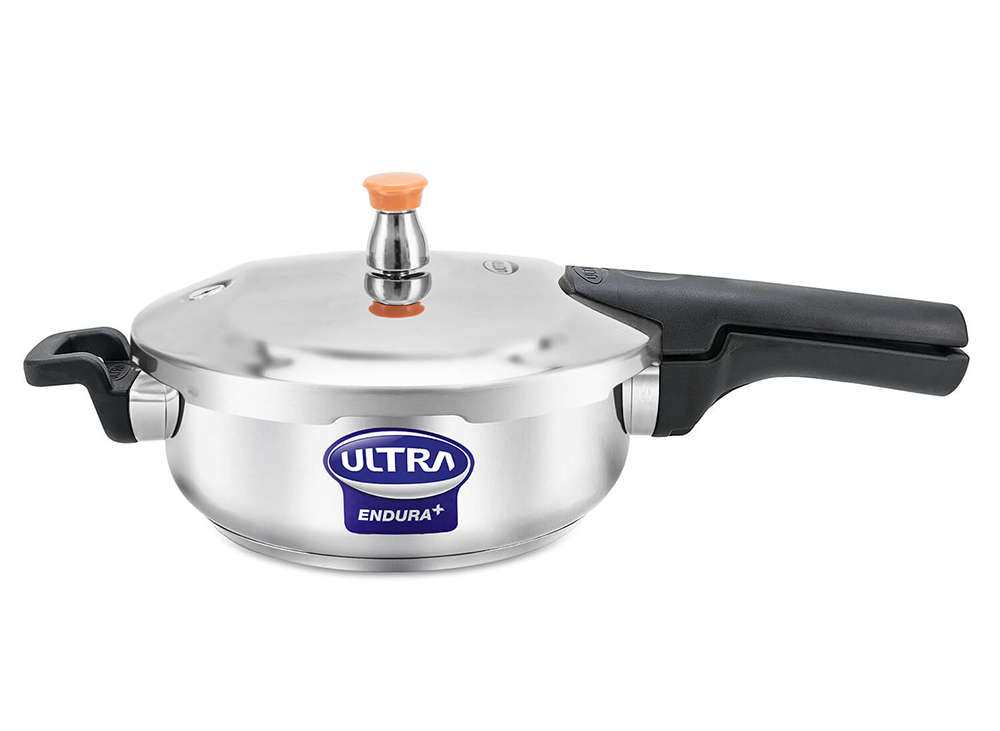 Elgi Ultra Endura+ Pan
A perfect companion in your kitchen, the Ultra range of Endura+ Pressure Pan's features will delight you.

NO CHARRING
High-impact bonded base, helps prevent burning and sticking of food

FAST COOKING
High-impact bonded base, aids in faster cooking

STAYS WARM FOR LONGER
Keeps food warm for up to 2 hours

DISHWASHER SAFE
Dishwasher safe design, makes it easy to clean

BEAUTIFUL LOOKS
Impressive design, elegant to serve

10-YEAR WARRANTY
Valid in the country of purchase