Ultra-celebratory Navratri dishes
Nine sweet and savory recipes from across the country
The end of the calendar year means that the celebratory preparations begin across the country. Navratri, Vijayadasami, Gollu festival, Dussera, Bathukamma, Durga Puja; are all celebrations of the triumph of good over evil. This year, with the pandemic, Ultra helps you cook celebratory puja dishes from the safety of your homes. Let good health and happiness triumph this festival season.
Traditionally, Navaratri puja dishes would include post-fasting sweet and savory preparations with jaggery, sesame seeds, neem leaves, sago or tapioca pearls, raw rice and dairy products.
Celebrate this year's festivities with nine dishes from across the country. With a special focus on your health and happiness, Ultra recipes are a healthy balance of indulgence and goodness.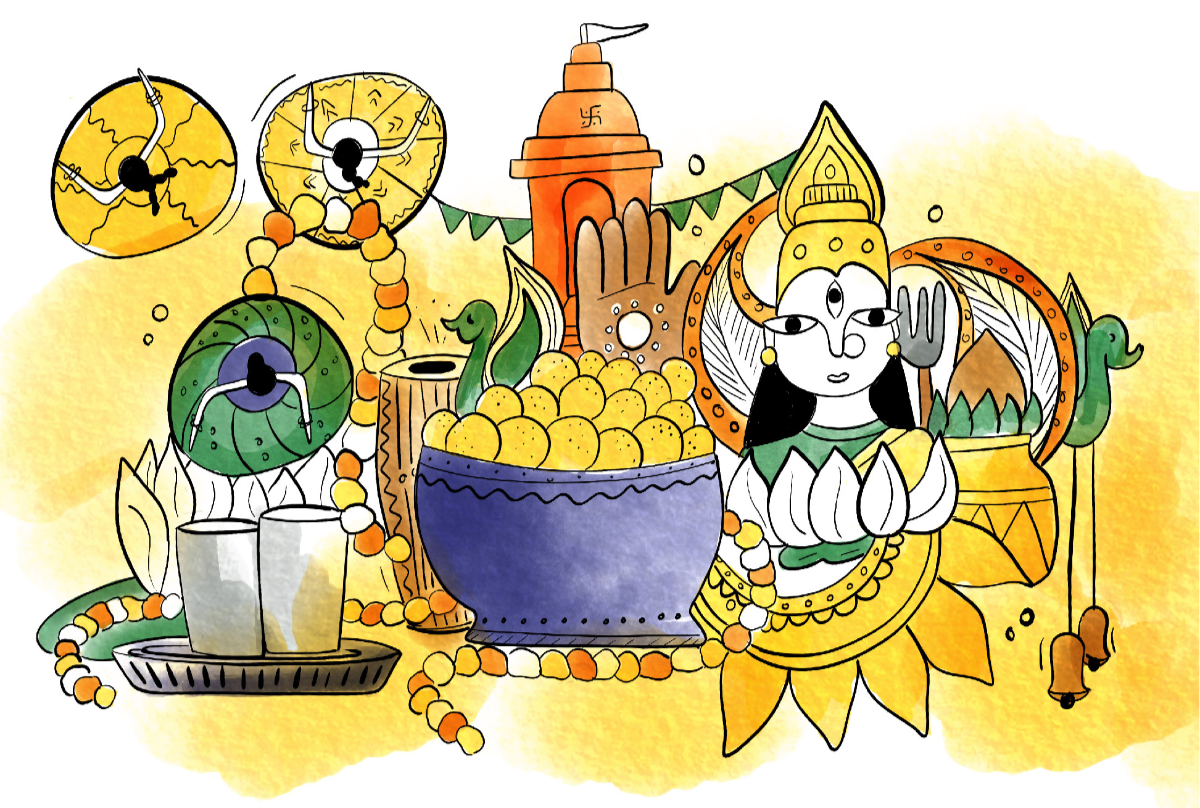 Let the celebrations begin with Ultra delicious food
Navratri is a nine-day long festival celebrated with friends and family. Different regions follow different legends for their celebration. Markandeya Purana contains some of the mythological stories that lead to the celebration of Navratri. The unifying thread is that, Navratri is a celebration of good over evil and no celebration is complete without healthy home-cooked food. Ultra brings you nine great recipes, discover one each day and enjoy these delicious dishes with your family and friends.
DAY 1: PARSI POTATO PATTIES
Channa and coconut sundal is a staple in south Indian homes during any celebration. A great way to use the sundal to make an interesting and delicious snack is to use it as a stuffing in the Parsi potato patties.
Making Time
15 MINS
Prep Time
30 MINS
Total Time
45 MINS
Making time
15 MINS
Prep time
30 MINS
Total Time
45 MINS
5 Medium potatoes (boiled)
2-3 Bread slices
2 Green chillies
½ Tsp pepper powder
¼ Tsp garam masala powder
¼ Tsp chilli powder
½ Tsp dry fenugreek (kasthuri methi)
½ Tsp amchur/dry mango powder
½ Cup sooji/ rava
Salt
Oil
Stuffing:
1 Cup channa(cooked)/sundal with coconut
½ Cup grated paneer
¼ Cup chopped dates
METHOD
1. Mash the boiled potatoes and add in all the ingredients.
2. Dip the bread slices in water and squeeze the excess liquid before mixing them into the potatoes. Bread will bind all the ingredients together.
3. Make small patties and refrigerate them for 10 mins.
4. Mash up the channa / sundal and add the dates and the grated paneer. Shape them into small balls and set aside.
5. Remove the potato patties from the fridge and flatten them out a bit to add the stuffing.
6. Place the stuffing inside and cover it with the potato all around and reshape into a cutlet.
7. Dip the cutlet into the rava to cover all sides and fry them.
8. Serve with a tamarind ketchup or with mint chutney.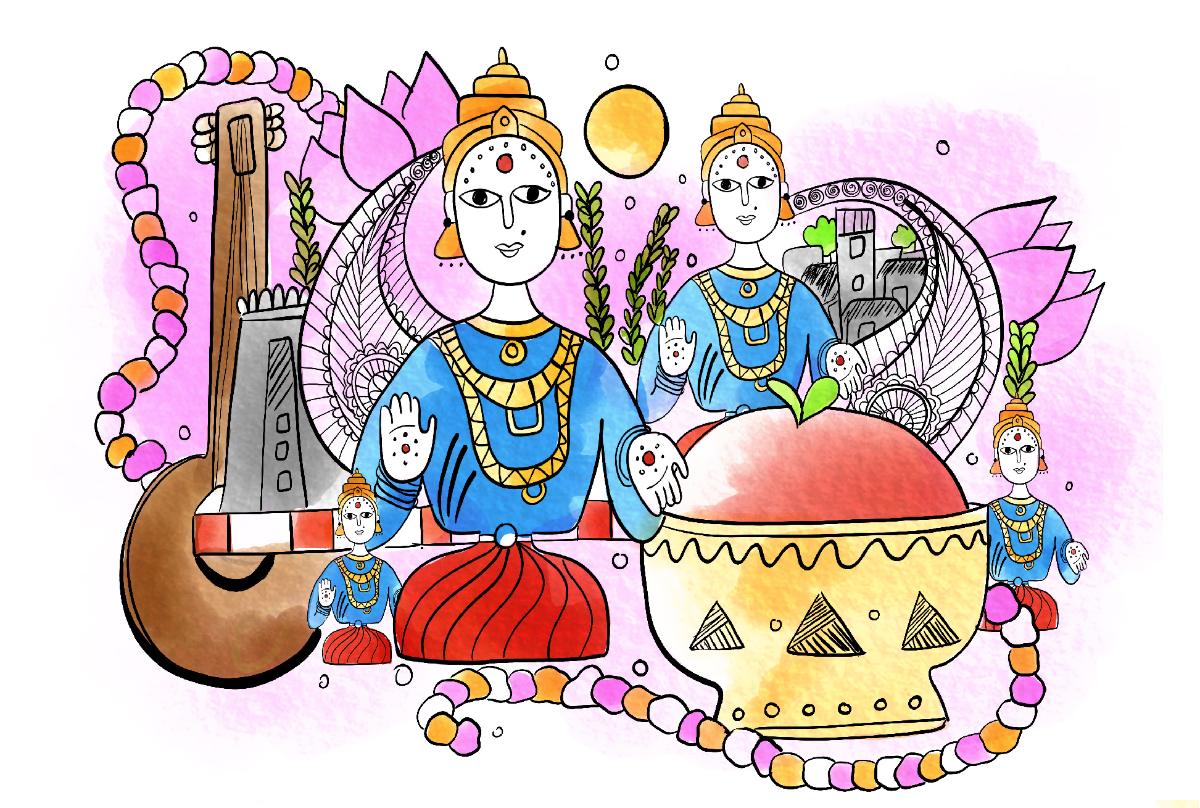 Bommai Gollu: Festival of Dolls
Bommai Gollu in Tamil, Bommala Koluvu in Telugu or Bombe Habba in Kannada; is a festival of dolls. Multicoloured dolls are decorated and arranged on wooden steps and displayed for nine days. During this time, the evenings are filled with chanting of bajans, story-telling, musical and dance performances in the presence of family, friends and neighbours; all in front of the gollu. The highlight of the gollu besides the dolls is the snacks and desserts made for the celebration each day.
DAY 2: TAMIL RAVA KESARI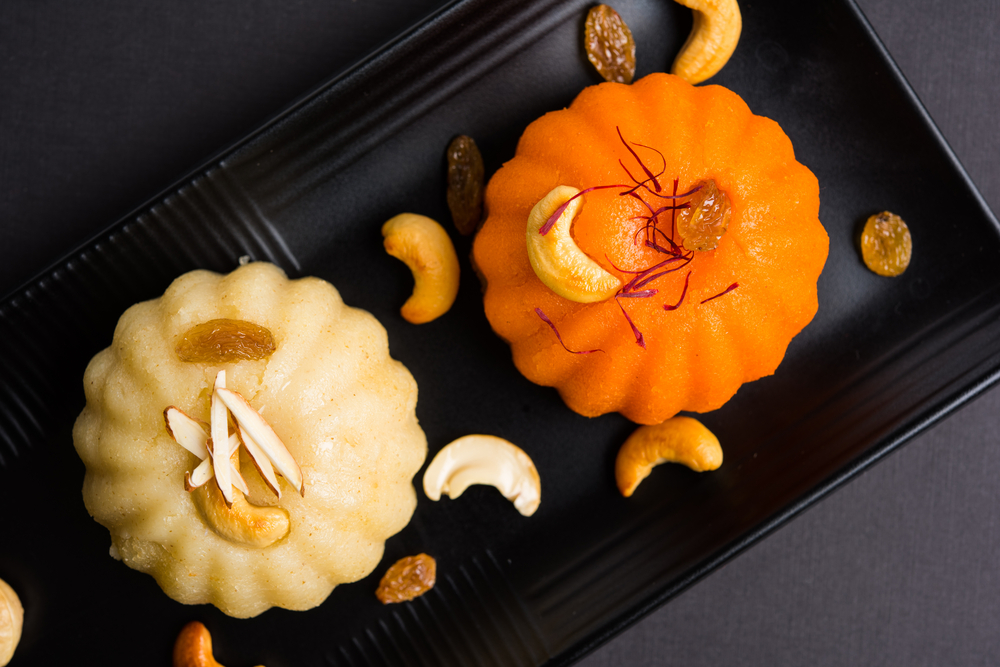 Making time
20 MINS
Total Time
20 MINS
1 Cup rava (fine)
1 ½ Cup ghee
1 ½ Cups water
2 Cups sugar
1 Tsp crushed elaichi or powder
1 Pinch saffron (soaked in 1 tsp warm milk)
¼ Cup chopped cashews
¼ Cup raisins
METHOD
1. Add ghee to a thick bottomed pan
2. Fry the cashews and raisins till golden brown, strain and set aside.
3. To the remaining ghee, add the rava and cook on a medium to low flame until golden
4. Add water and cook to upma consistency or till dry
5. Add the sugar and the elaichi and combine well. Stir with caution, as the sugar caramelises, it bubbles rapidly. Stir till all the sugar is absorbed into the rava and it is dry again.
6. Add the fried cashews, raisins and the saffron and combine well
7. Serve hot
TIP: Replace water with thin pineapple juice and instead of the dry fruits, add chopped pineapple for a variation.
Durga Puja: Celebration of the female power
Durga Puja is the celebration of the strength and victory of the female power. While the overarching celebration is of the victory of the goddess Durga over the evil Mahishasura; the Navadurga celebrations, over the nine days revels in all aspects of the female energy including; power, knowledge, wisdom, beauty, forbearance, faith, commitment, nourishment, fertility and motherhood.
DAY 3: BENGALI NEEM JHOL
Neem although bitter to taste, is filled with abundant goodness. With anti-microbial, anti-viral, anti-bacterial, anti-carcinogenic, anti-inflammatory and antioxidant properties; neem is excellent for boosting good health and immunity. Most states celebrate the start of the new year by consuming a few tender neem leaves and wishing for good health all through the year.
Neem Jhol is a medley of vegetables in a mustard, turmeric and coriander sauce.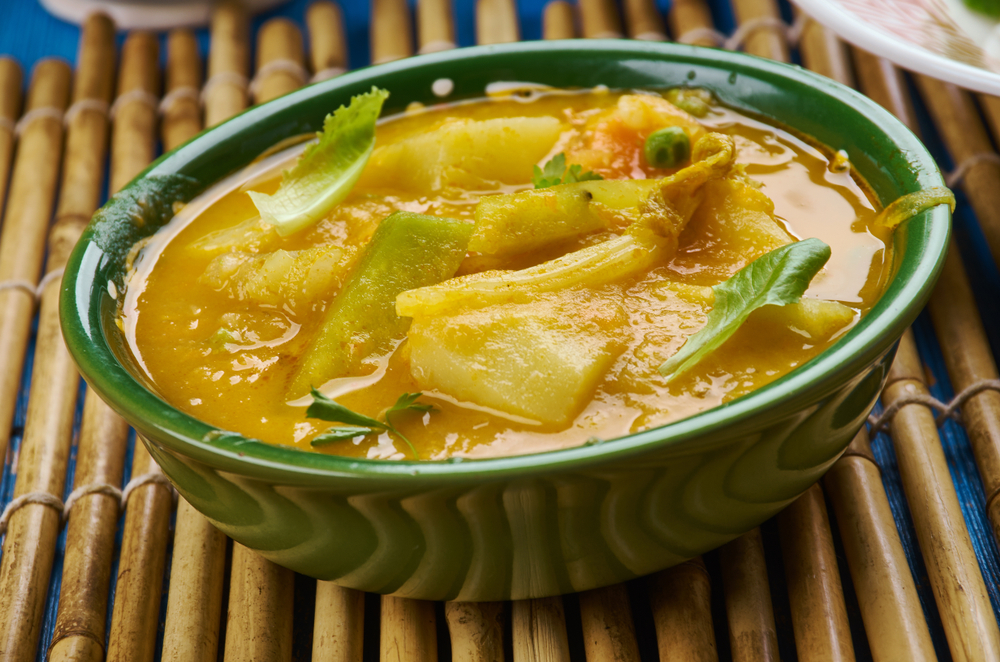 Prep Time
10 MINS
Cooking Time
20 MINS
Total Time
30 MINS
Prep Time
10 MINS
Cooking Time
20 MINS
Total Time
30 MINS
2 Cups tender neem leaves (destalked)
1 Cup aubergine (chopped)
1 Cup potato (chopped)
1 Cup sweet potato (chopped)
1 Cup drumstick (chopped
1" Fresh turmeric (paste) or 1 tsp turmeric powder
1 Tbsp coriander seeds (paste)
1 Tbsp mustard seeds (paste)
(To make a paste of coriander seeds and mustard seeds, grind in the small jar of Ultra Mixer Grinder with a tsp of oil and 20ml of water)
Tempering
1 Tsp mustard seeds
2 Tbsp mustard oil
1 Tsp panch pooran (Bengali five spice)
1 Bay leaf
½ Tsp sugar
1 Tsp ghee
Salt to taste
METHOD
1. Add ½ Tsp turmeric powder or ½ the paste to the aubergine with some salt and set aside on a sieve to drain.
2. Prepare the vegetables; chop the drumstick into 2" pieces and all the other vegetable to a similar size.
3. Cook the vegetables in water with salt and turmeric paste and set aside.
4. Heat oil and temper the whole spices in oil, add the neem leaves to the oil and sauté for 2 mins.
5. Add the drained aubergine followed by the panch pooran and saute for 2 mins.
6. Add the cooked vegetables and the mustard and coriander paste and simmer for 5 minutes.
7. Add sugar and ghee. Stir well and serve hot with rice.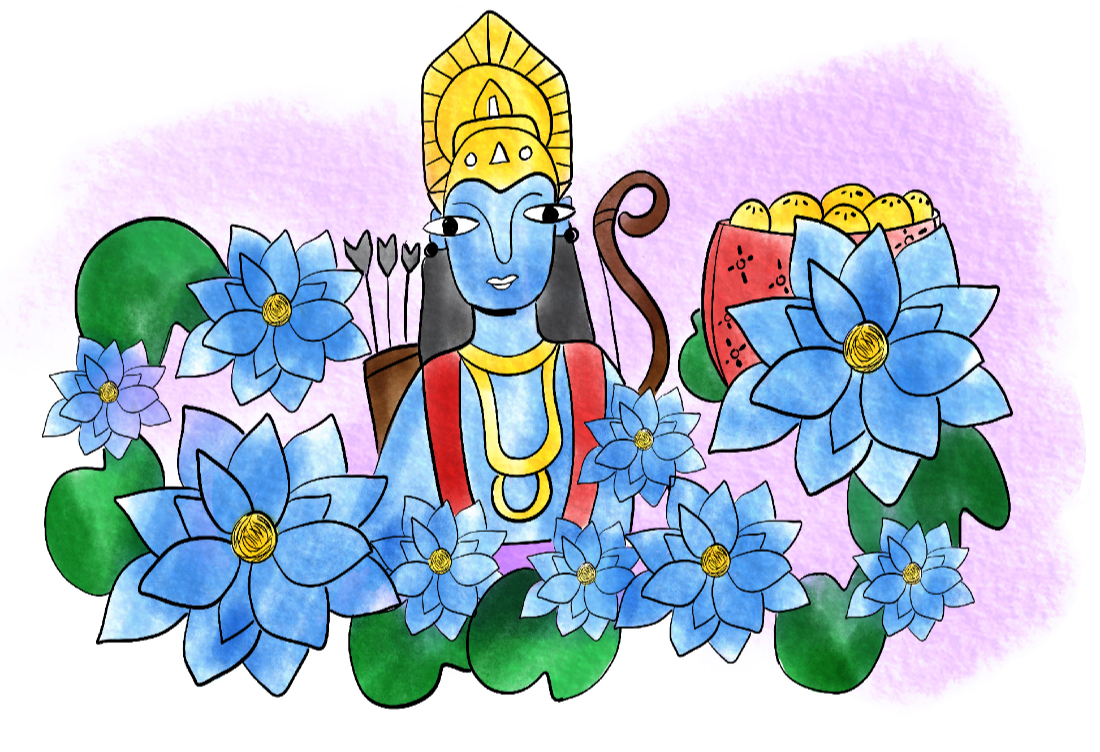 Navratri and the legend of the blue lotus
The Lotus Legend is one of the stories from the Markandeya Puranam. It is believed that Lord Rama, in his quest to retrieve Goddess Sita from the evil Ravana, prayed to Goddess Durga seeking strength and power to fulfill his quest. He was to offer 108 blue Lotus flowers to appease the Goddess and to have his prayers granted. On failing to find these lotuses, the blue-skinned God, offered his lotus shaped eyes to the Goddess. Moved by his intent to sacrifice his eyes, she granted him the power to win Ravana and this is one of the legends of the Navratri celebrations.
DAY 4: ANDHRA BANDAR LADDU OR THOKKUDU LADDU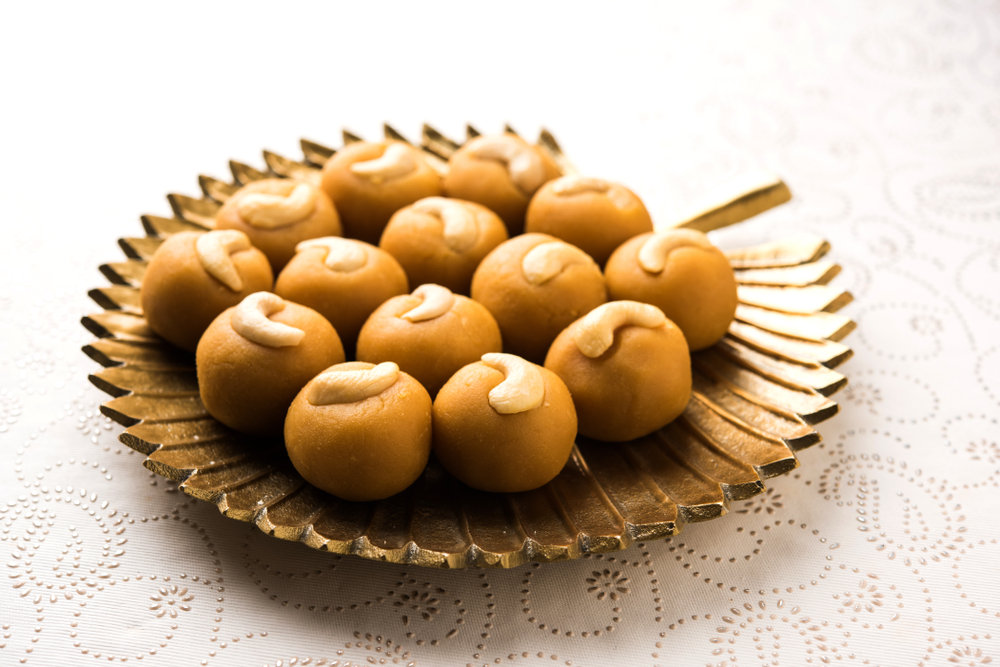 A melt-in-the-mouth dish originally from the Krishna district of Andhra Pradesh, this dish is a celebratory preparation made during Bathukamma celebrations.
Making Time
20 MINS
Prep Time
5 MINS
Total Time
25 MINS
Making time
20 MINS
Prep time
5 MINS
Total Time
25 MINS
250 Grams chickpea flour
200 Grams sugar (powdered)
3 Tbsp ghee
1 Tsp cardamom powder
1 Pinch salt
20 Raisins / pumpkin seeds
Water
Oil
METHOD
1. Make a thick sticky dough with chickpea flour, salt and water.
2. Oil a chakli/murukku press. Add the flour and fry the dough as chaklis. Alternately you could flatten them into small thin discs and fry it.
3. Once cooled down completely, grind it in your Ultra Mixer Grinder into a fine powder.
4. In a large bowl, combine the flour, sugar, cardamom powder and ghee and shape into lime-sized balls.
5. Garnish with raisin or pumpkin seeds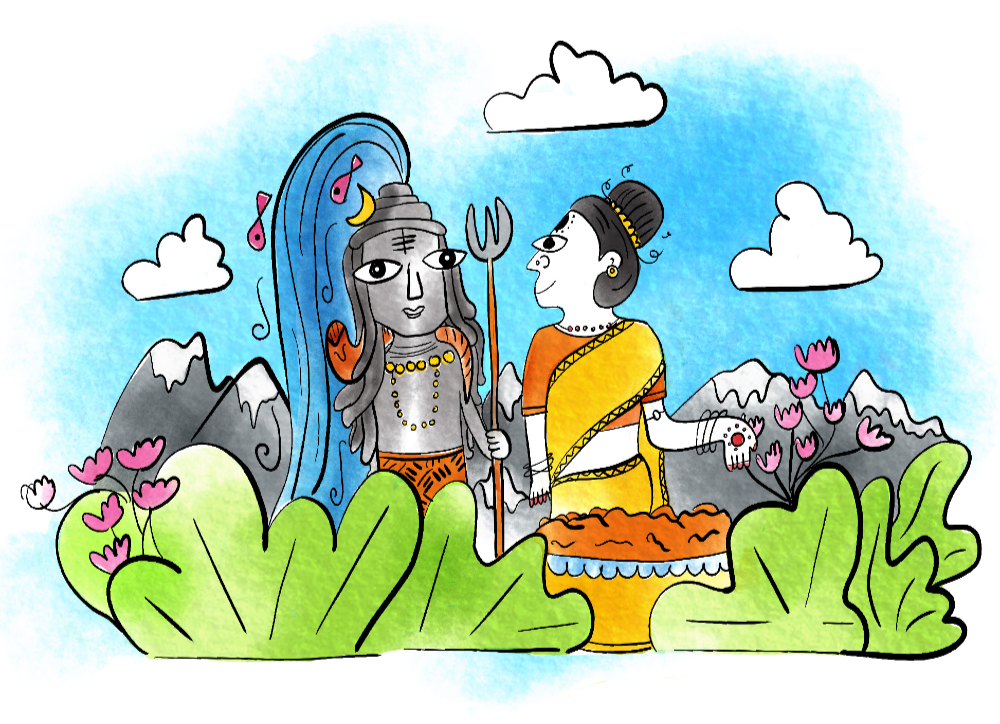 Navratri and The Legend of Uma
Daksha the God of The Himalayas had a daughter called Uma and she desired to marry Lord Shiva. Her father was against this union. Uma however, went on to marry Lord Shiva against her father's will. In his spite, Daksha planned a yagna without inviting Lord Shiva. Uma immolated herself in this yagna for the dishonour her father brought to her husband. Raising from the ashes, she was reborn as Parvati and united with Lord Shiva again. Legend goes that Parvati or Uma return home every year for a nine-day visit and this is celebrated as Navratri.
DAY 5: DELHI GAJJAR HALWA WITH KHOYA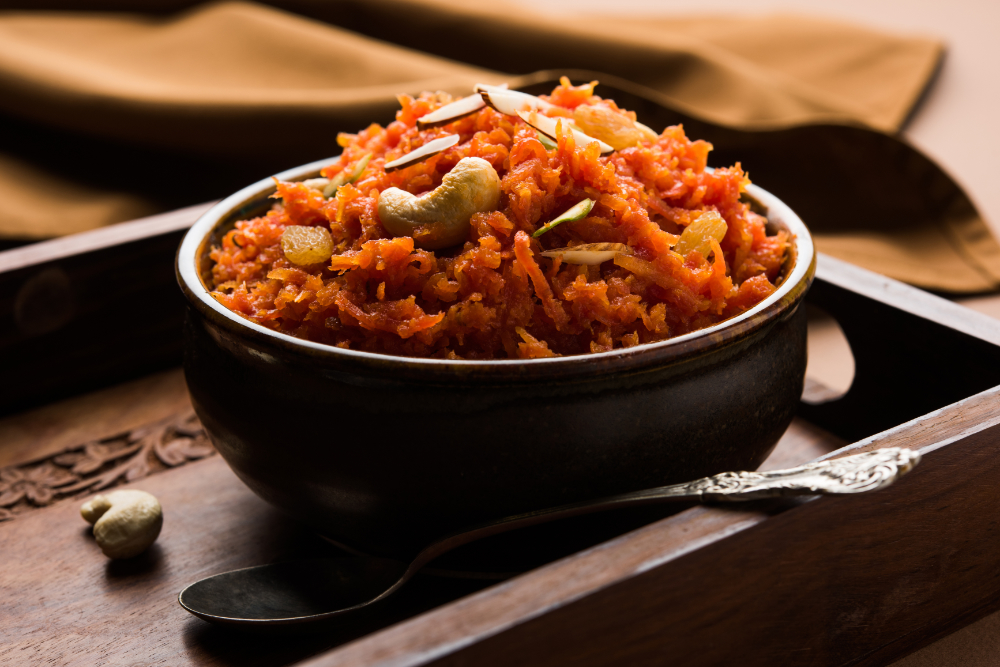 This decadent dish is a classic celebration dish. Although a rich dessert, carrots add a healthy touch to it.
Cooking Time
10 MINS
Prep Time
10 – 15 MINS
Total Time
25 MINS
Cooking time
10 MINS
Prep time
10 – 15 MINS
Total Time
25 MINS
500 Grams carrots (preferably red Delhi carrots; grated)
¼ Cup condensed milk
¼ Cup milk
¼ Cup chopped dates
1 Tbsp Ghee
1 Pinch salt
1 Tsp Cardamom powder
2 Tbsp Chopped nuts (pistachios and almonds)
1 Cup khoya/ mava (crumbled)
This is a rich version of the recipe that is fit for celebratory indulgence. Made without the khoya and condensed milk makes it less indulgent.
METHOD
1. In your Ultra Pressure Cooker, add ghee and the carrots. Sauté till the moisture dries out
2. Add the milk, condensed milk, dates and cardamom powder with a pinch of salt and pressure cook for 1 whistle
3. Once the pressure releases, open your Ultra Pressure Cooker and sauté the mixture till the liquid is absorbed.
4. Add the crumbled khoya.
5. Sprinkle the nuts and serve warm.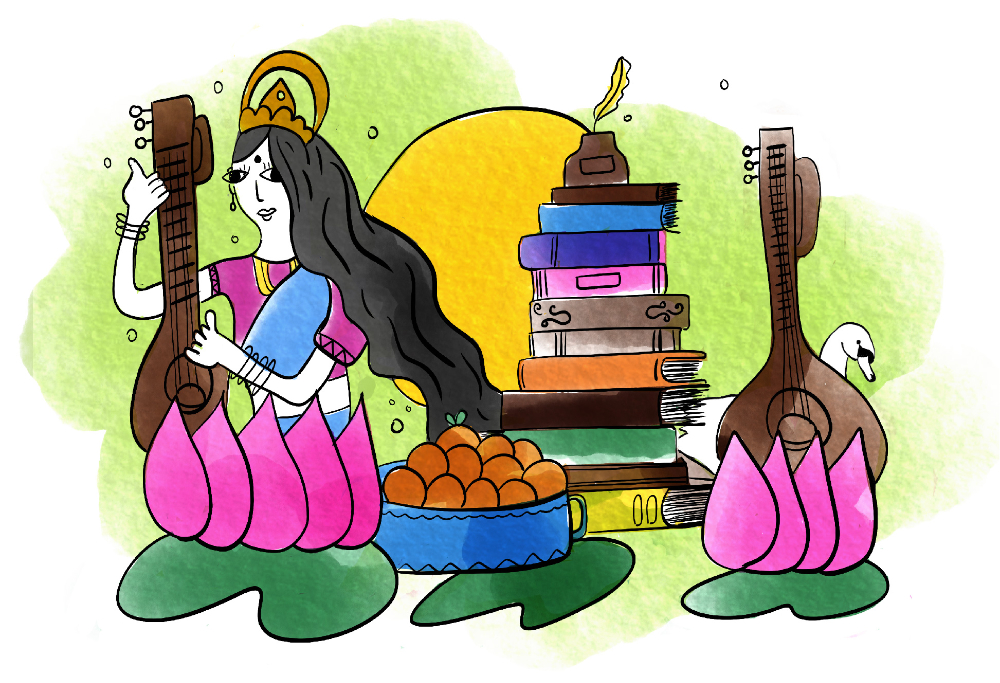 Saraswati Pradhan Puja
In the northern states, saraswati pradhan puja is celebrated to give thanks to the bountiful harvest received in autumn and to pray ahead for the spring harvest. It is also customary to pray to Goddess Saraswathi seeking a blessing of knowledge and wisdom by placing books and study materials, as it is practiced in the southern states during the Navratri celebrations.
DAY 6: BISCUIT AMBADE FROM SOUTH KANARA
Pulses and daals are generally avoided during the fasting period. However, during the celebrations, simple and easy recipes make cooking for the family a joy. Urad daal bonda or biscuit ambade as it is called is a tasty treat that can be made in no time and everyone in the family would enjoy them.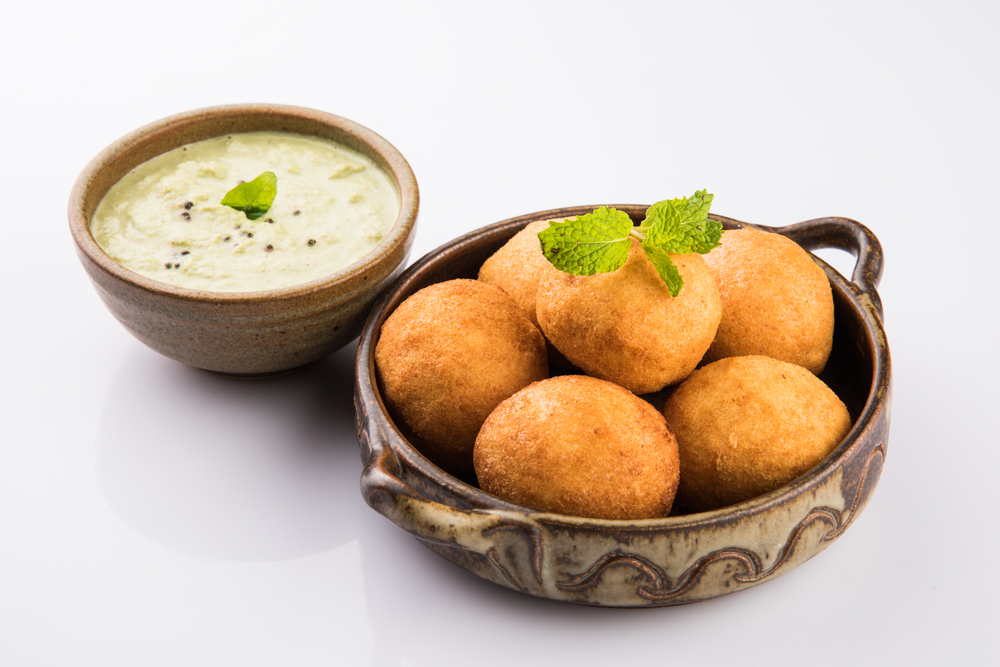 This Urad Daal bonda is very similar to the Tamilian Ulundu Vadai with subtle differences in preparation method. This is a quick and easy evening snack, especially great to serve during the Navratri celebrations.
Soaking Time
2 HRS
Prep Time
15-20 MINS
Total Time
2hrs 20 MINS
Soaking time
2 HRS
Prep time
15-20 MINS
Total Time
2hrs 20 MINS
1 Cup urad daal
1" Ginger (finely chopped)
¼ Tsp peppercorns (crushed)
1 Green chilli (finely chopped)
1 Sprig Curry leaves (finely chopped)
2 Slivers coconut (finely chopped)
1 Pinch asafoetida
Salt
METHOD
1. Wash, clean and soak the urad daal for 2 hours.
2. Drain all the soaked water and pulse the urad daal in your Ultra Mixer Grinder, a few times. Add very little water and grind to a smooth batter. If making more, you could do this in your Ultra Grinder for an extra smooth batter.
3. Add all the ingredients to the batter and mix thoroughly.
4. Heat oil for frying. Wet your fingers and take a small portion of the batter and drop lime sized portions into the oil.
5. Fry till golden brown.
6. Best served with mint or coconut chutney.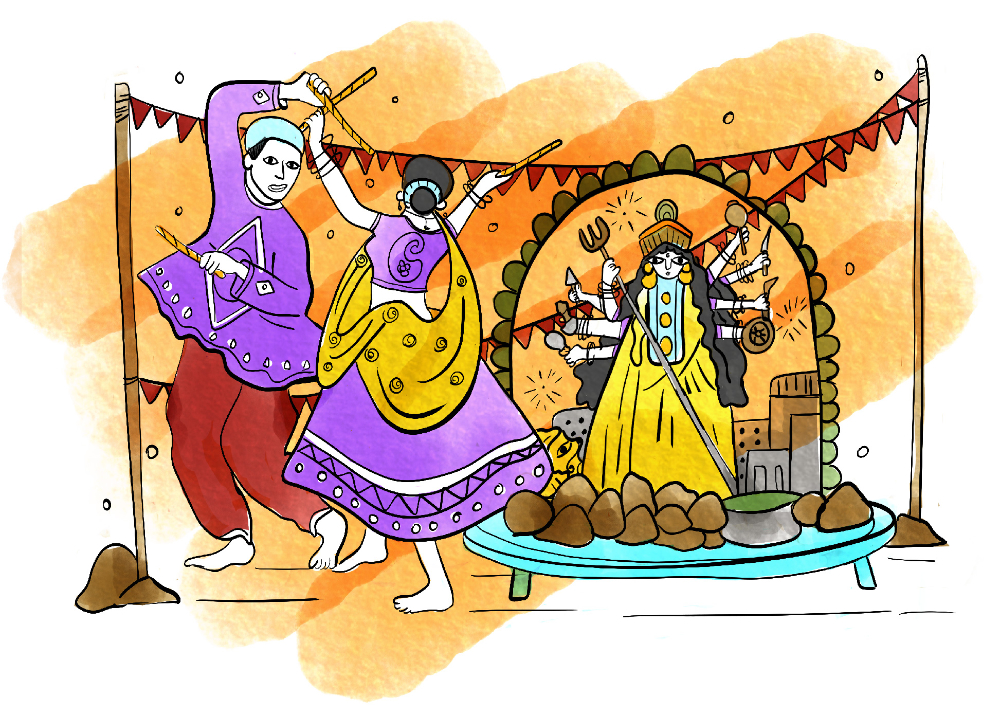 Navratri and the Dandiya Raas celebrations
Dandiya Raas is a fervent folk-dance festival, originated in Gujarat and celebrated all across the country. Dandiya-raas is usually performed in male-female pairs moving in circles striking wooden sticks to the beat of the music and as the dance progresses partners interchange within a larger circle. Navratri celebrations nationwide, come to life, once the garba (dance) starts.
DAY 7: GUJARATI MUTHIAS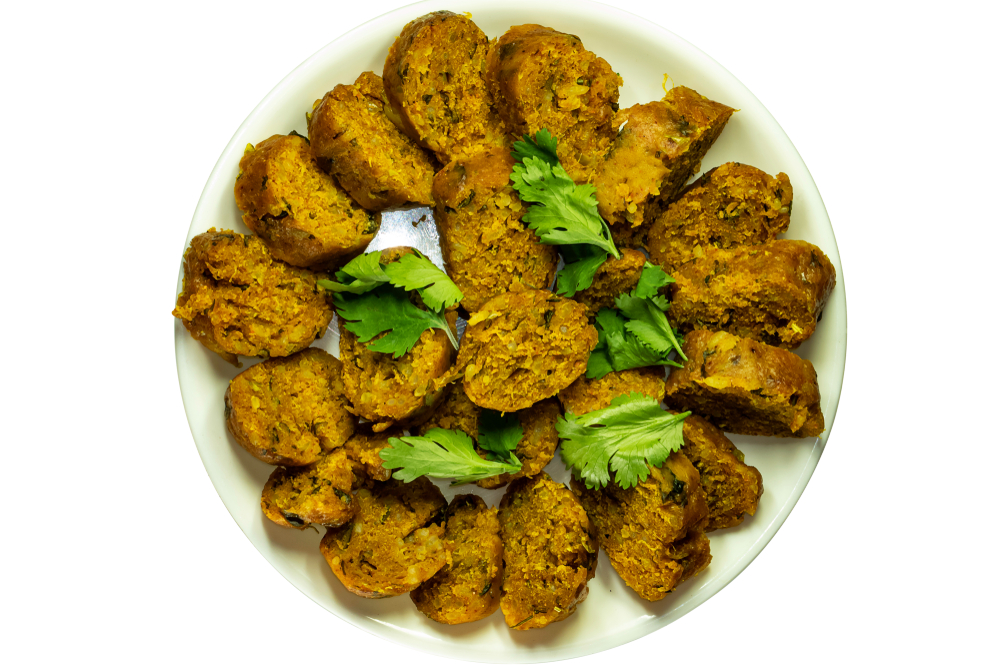 Made out of wheat and besan or chickpea flour, vegetables and spices, this snack is healthy and easy to make during the celebrations.
Steaming Time
25 MINS
Prep Time
15 MINS
Total Time
40 – 45 MINS
Steaming time
25 MINS
Prep time
15 MINS
Total Time
40 – 45 MINS
½ Cup besan / gram flour
¼ Cup whole wheat flour
1 Tbsp semolina rava/ sooji
2 Cups bottle gourd (grated)
½ Cup methi leaves (chopped)
2 Tsp ginger and green chilli paste
½ Tsp sugar
1 Tbsp oil
½ Tsp cumin
½ Tsp chilli powder
¼ Tsp turmeric powder
¼ Tsp pinch Bicarbonate of Soda
¼ Tsp coriander seeds (roasted and crushed)
Salt
Tempering:
¼ Tsp asafoetida/ hing
2 Tsp mustard
1 Tbsp Sesame seeds
2 Dry red chillies
2 Sprigs curry leaves
2 Tbsp Oil
METHOD
1. Mix all the ingredients together into a dough without adding water. Shape into 5 to 6'' long ropes and steam for 25 minutes.
2. Cool completely and cut into discs.
3. Temper the mustard and other ingredients.
4. Toss the cooked muthias till the edges crisp a little.
5. Serve hot with a yoghurt and cumin dip.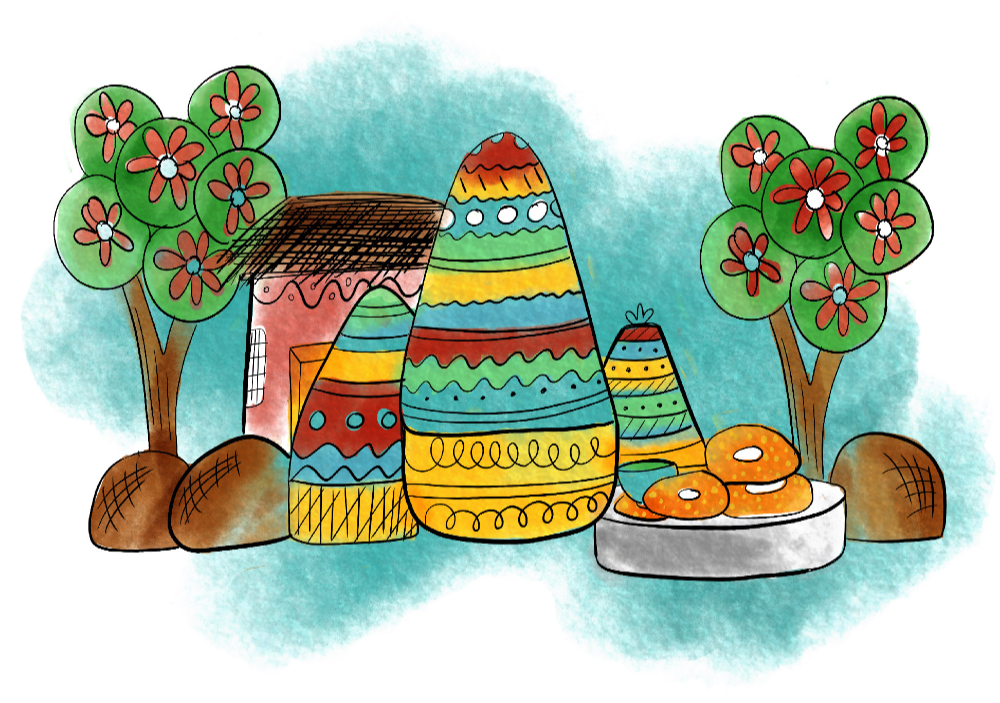 Discover the traditions of Bathukamma
Bathukamma or Durgashtami is a festival predominantly celebrated in Telangana during the nine days of navratri. The festival was historically called, the 'festival of life'. Women make floral stacks with seven layers of seasonal and medicinal flowers. The arrangement is made in the shape of the temple gopuram and in prayer to the Goddess Maha Gauri, calling her to come alive and bless the village with abundance and prosperity.
DAY 8: MAHARASHTRIAN SABUDANA VADA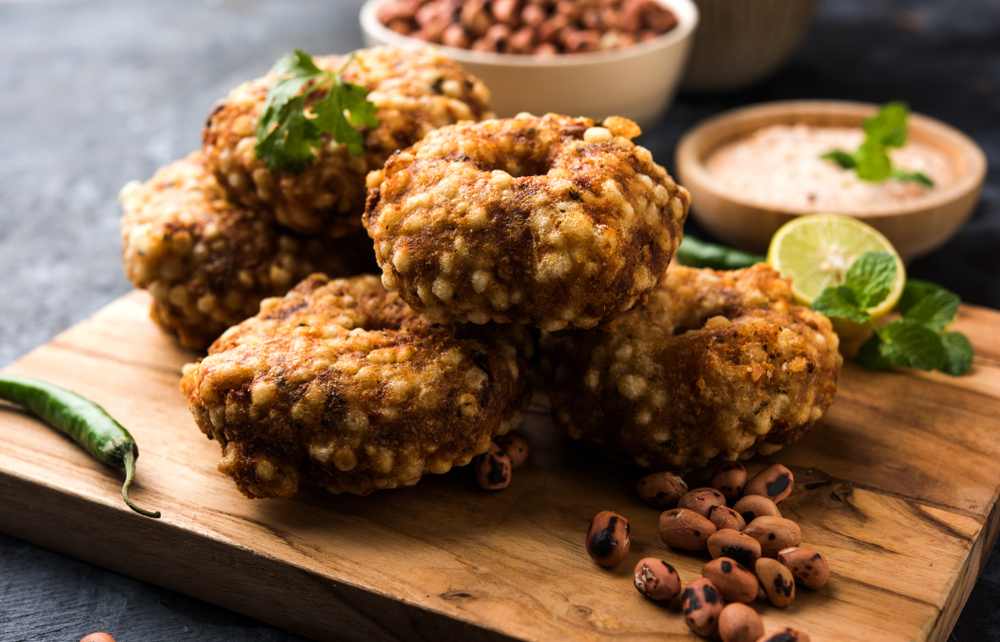 Sago or tapioca pearls are traditionally eaten during fasting or vrath. This crunchy and delicious snack will be loved by everyone and it can be made with very little effort.
Soaking Time
2-3 HRS
Prep Time
10 MINS
Total Time
3 HRS 20 MINS
Soaking time
2-3 HRS
Prep time
10 MINS
Total Time
3 HRS 20 MINS
2 Cups Sago (soaked)
2 Large potatoes (boiled)
3 Green chillies (chopped)
½ Cup roasted peanuts (crushed)
2 Sprigs curry leaves (chopped)
1" ginger (chopped)
1 Tsp cumin seeds
Salt
Oil
METHOD
1. In a bowl combine the soaked sago, mashed potato and all the ingredients and mix well.
2. Shape into balls and flatten.
3. Heat oil in a pan and fry till golden brown.
4. Serve with a spicy mint chutney.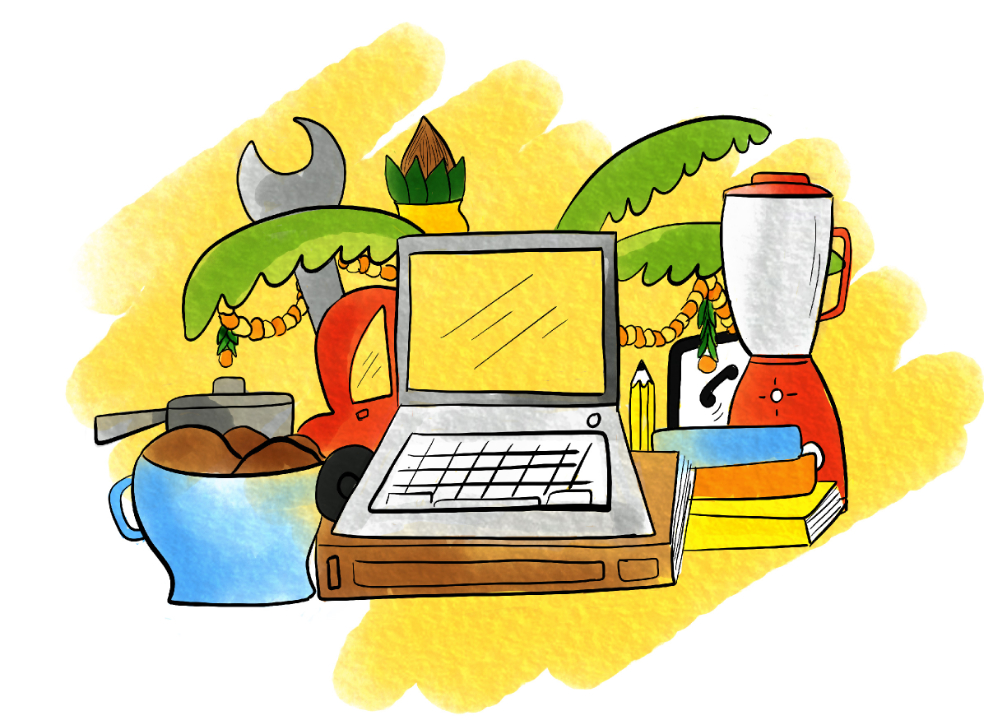 Navratri and Ayudha puja traditions
Also known as Astra Puja is celebrated on the ninth day of Navratri. It is customary to pray to the Goddess Lakshmi with the "tools of trade", seeking greater wealth and fortune and an advancement in trade or career.
DAY 9: KERALA AVAL VILAYICHATHU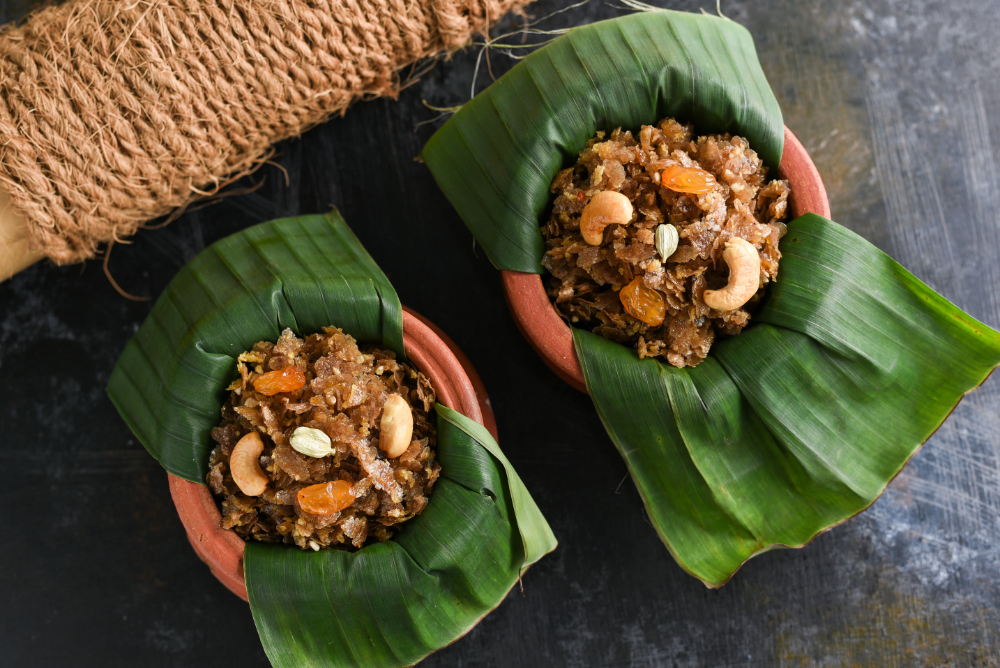 This delicious and simple dish also known as aval sharkara is especially popular during the Vijayadashami celebrations in Kerala. It can be made two ways, either by simply combining the ingredients or making a jaggery caramel and then tossing them together. Use the thicker aval and not the paper thin one for this recipe.
Making Time
10 MINS
Prep Time
5 MINS
Total Time
5 MINS
Making time
10 MINS
Prep time
5 MINS
Total Time
15 MINS
200 Grams beaten rice/aval (wash, drain and set aside)
200 Grams coconut (grated)
300 Jaggery
½ Cup water
1 Pinch salt
1 Tbsp (roasted bengal gram)
1 Tsp black sesame seeds
1 Tsp elaichi/cardamom powder
1 Tbsp ghee
METHOD
1. Combine the jaggery, cardamom powder, salt and water to make a caramel. When it thickens, add the coconut. Stir for a few minutes and add the cleaned aval.
2. Temper the sesame and roasted bengal gram in ghee and mix into the aval.
3. Serve hot.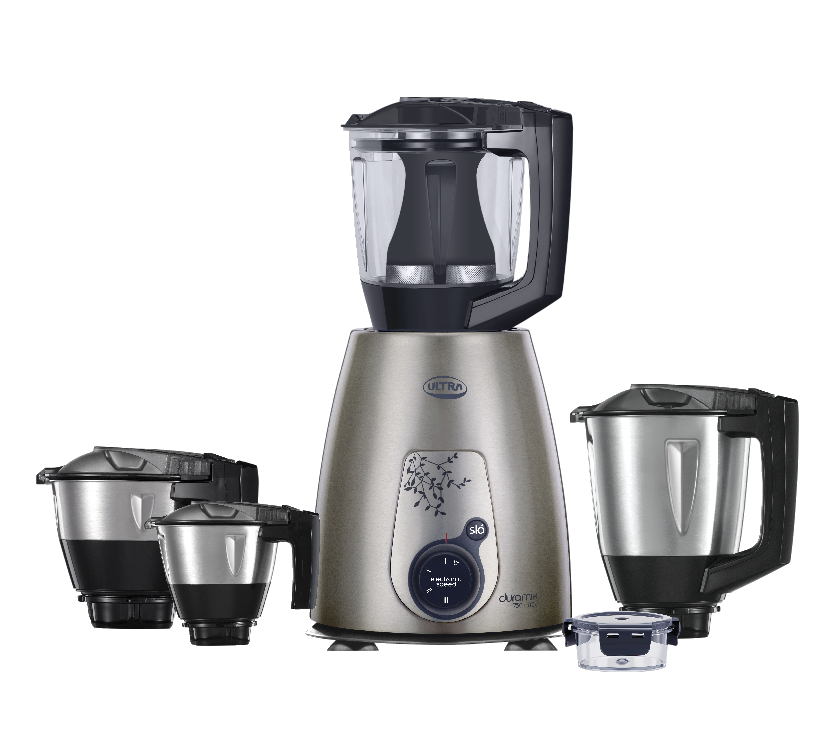 Elgi Ultra Mixer Grinders
The Ultra range of mixer grinders are designed to provide healthy and nutritious food at the right texture and consistency
FITTED WITH METAL COUPLERS
Lasts a lifetime compared to ordinary rubber couplers

AISI 304 FOOD-GRADE STAINLESS STEEL
Rust-resistant food-grade stainless steel jars
STAINLESS STEEL METAL BODY
Sturdy, reliable and long lasting

SLOW JUICING FUNCTION
For thick, nutritious juice without crushed seeds

CHOPPER / KNEADER ATTACHMENTS
Tasks like chopping vegetables and kneading dough are made easier using extra smart attachments

ELECTRONIC SPEED SENSOR
Automatically corrects speed fluctuations and maintains the specified grinding speed to get the right texture & taste