 Nisha George's earliest memory of cooking in the kitchen was when she was in class 5, making gulab jamuns. Back then she made a lot of sweets before learning to cook savoury dishes. Growing up in Coonoor she cooked a lot for her school friends, who enjoyed and appreciated her food. While in college, she would help run the canteen during special events and catered home-cooked food to campus celebrations. Thus began her catering career, at a very young and enthusiastic age.
She now lives in the outskirts of Coimbatore and caters to private parties on request. She specialises in non-vegetarian food and her signature dish is pork ribs. Some of her other specialities include meat cutlets, Malabari Biriyani and varutharacha kari. Her grandmother is from North Kerala while her grandfather is from the Kottayam area. She can make dishes from both these regions along with a variety of continental dishes.
She is an intuitive cook and generally does not follow recipes except while baking. Nisha is capable of recreating dishes just from tasting them a couple of times. She was happy to make a note of how she cooked Pineapple Puliserry to contribute to our Onam recipe collection.
The Puliserry is very similar to the More Kolumbu of Tamil Nadu. It is a curd based curry with a spicy coconut paste used to enhancing it. Some of the vegetables commonly used in Puliserry are cucumber, ash gourd / white pumpkin, yam or green plantains. Fruits like ripe mangoes and pineapples are also used in puliserry and this adds to the diversity of the Onam sadya. The sweet and sour taste of a fruit puliserry is intriguing and sure to be a crowd-pleaser.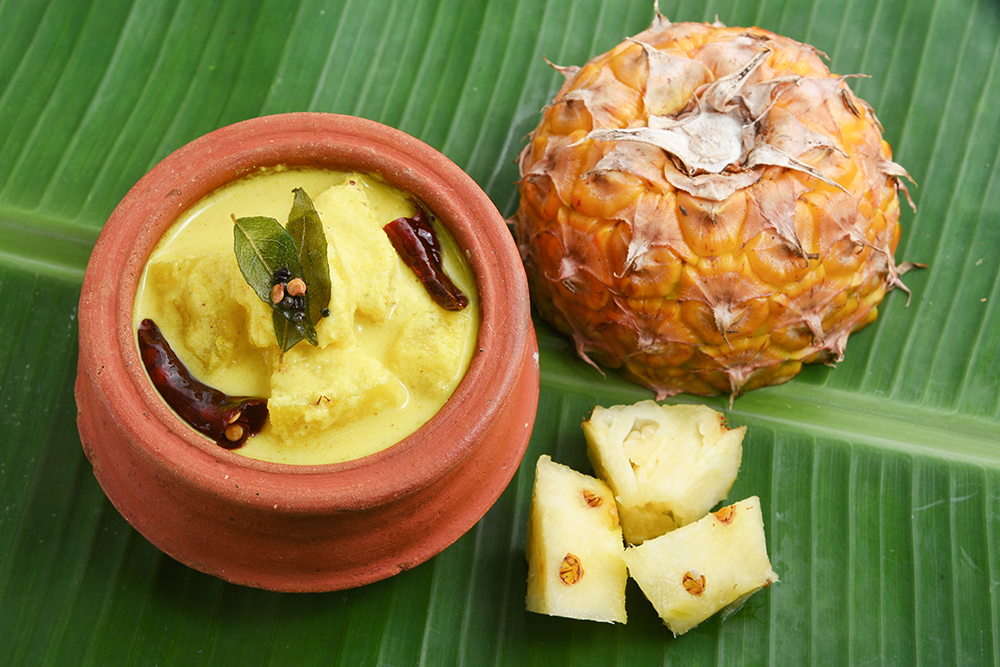 Pineapple Puliserry
INGREDIENTS
Makes 2 bowls
Prep Time
30 MINS
Total Time
45 MINS
½ Cup pineapple, cleaned and cut into 1 inch pieces, about 3 cups
½ Cup water
½ Tsp turmeric powder
1 Tsp red chilli powder
2 Tsp sugar (optional)
3 Cups yogurt / curd
1 ½ Cup fresh grated coconut
4 Green chillies, chopped
¾ Tsp cumin seeds
4 Sprigs curry leaves
1 Tbsp coconut oil
¾ Tsp mustard seeds
½ Tsp fenugreek seeds
4 Red chillies, broken into two pieces each
Salt to taste
Method:
1. In a kadai, cook the pineapple pieces along with the water, turmeric powder, red chilli powder and sugar until it's tender and soft.
2. In the Ultra Vario+ Mixer Grinder, grate 1 ½ cups of fresh coconut using the coconut scraper attachment
3. Use the Ultra Vario+ Mixer Grinder to grind the grated coconut, green chillies, cumin seeds and 2 sprigs of curry leaves along with half of the yogurt / curd to a fine paste*. Add this paste to the cooked pineapple along with salt and mix well. Let it simmer on low heat.
4. Beat the remaining yogurt / curd with a fork or a whisk and add to the simmering curry and mix well. Bring the curry to a boil and cook for a minute, stirring all the time till the curry is heated through. Care should be taken to not let the curry curdle in consistency. Remove from flame and set aside.
5. In a small frying pan, heat the coconut oil and temper with mustard seeds, fenugreek seeds, 2 sprigs of curry leaves and red chillies. Pour this over the pineapple curry and stir gently.
6. Note: Roasted and finely powdered fenugreek powder can also be sprinkled at the end over the puliserry instead of using the fenugreek seeds in the final tempering.
7. Nisha recommends using a small earthen pot to cook the puliserry as it enhances the flavour of the dish. She also suggests buying a ripe but firm pineapple as it'll not disintegrate during the cooking process unlike a very ripe and soft one.
*Use the highest speed setting in the Elgi Ultra Duramix 750p for 45 seconds to get a fine paste.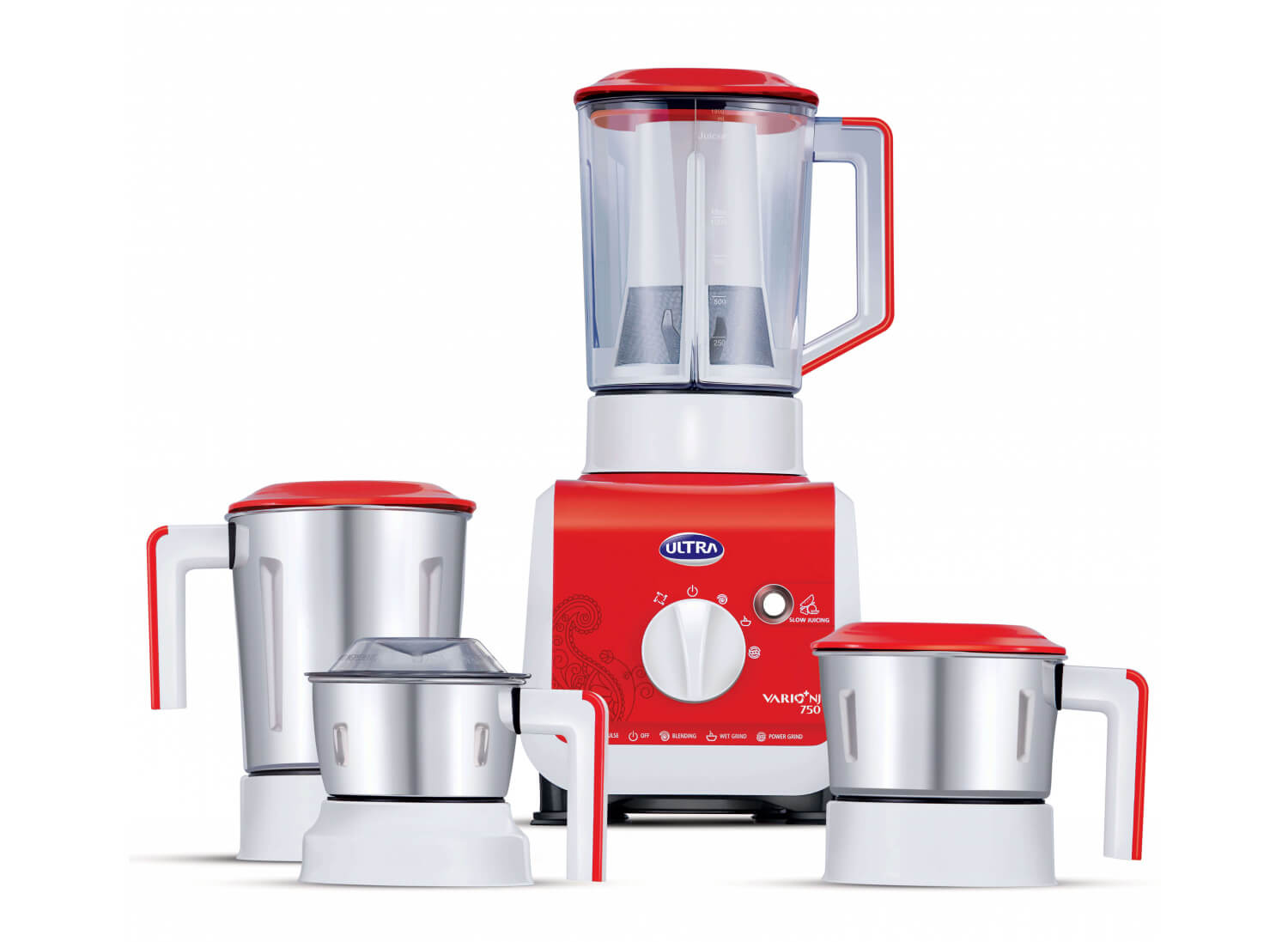 Elgi Ultra Vario+ Mixer Grinders
The Ultra range of mixer grinders are designed to provide healthy and nutritious food at the right texture and consistency

750-WATT MOTOR
Heavy-duty motor for swift, even and perfect grinding

AISI 304 STAINLESS STEEL
Rust-resistant food-grade stainless steel for healthy food

HOOK-TYPE POWER CORD
Easy to plug, easy to remove

UNIQUE SLOW-SPEED JUICING
For thick, nutritious juice without crushed seeds

ELECTRONIC SPEED SENSOR
Automatically corrects speed to ensure required grinding quality for the specified application

2-YEAR WARRANTY
Valid in the country of purchase