Special New Year's eve dinners and sides with Elgi Ultra
Celebration meals can take hours of prep, planning and shopping and often we resort to cooking the same meals over and over again. Here are four meal ideas that are nutritious, take very little effort and time and when served will look and taste great.
Buttermilk roast chicken with rosemary potatoes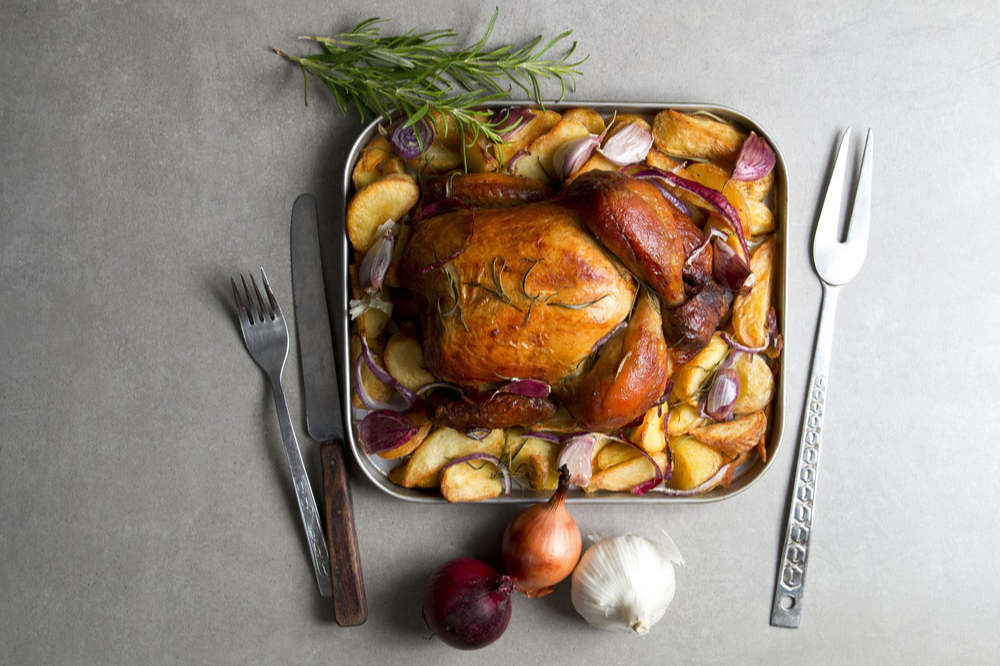 Buttermilk or a thin yoghurt is an excellent meat tenderizer as the bacteria helps break down the proteins in the chicken. This is an absolutely delicious way to roast chicken and cut down on excess fats used for roasting.
Prep Time
10 MINS
Baking Time
1 Hour 20 MINS
Total Time
1 Hour 30 MINS
Prep Time
10 MINS
Baking Time
1 Hour 20 MINS
Total Time
1 Hour 30 MINS
Buttermilk Roast Chicken
1.5 Kg whole chicken
2 Cups Yoghurt / thick buttermilk
2 Sprigs Rosemary
½ Tsp Kashmiri chilli powder
¼ Cup oil
Black Peppercorns
2 Cloves garlic
Sea salt
Rosemary Potatoes:
Ingredients:
8-10 Medium sized potatoes (quartered)
2 Tbsp oil
1 Sprig rosemary
Sea salt
½ Tsp kashmiri chilli powder
2 Whole pods of garlic (with skin)
METHOD
1. Preheat the oven to 200 degree C
2. In a mortar and pestle, add peppercorns, salt, rosemary and garlic and roughly crush.
3. Place the chicken in a Ziplock bag, pour the yoghurt and the crushed peeper, salt, rosemary and garlic.
4. Add oil and chili powder and let it marinate overnight.
5. In a large roasting tray place the potatoes, slice the garlic in two and place it with the potatoes.
6. Drain the chicken of all the marinade and place it on the potatoes.
7. Roast at 200 for 45 minutes. Lower the temperature to 180 and roast further for 20 minutes.
8. Remove the tray, place the chicken to rest, drain excess liquids without removing the fat from the chicken.
9. Add the salt, chilli powder and chopped rosemary to the potatoes, increase the oven temperature to the highest and roast the potatoes for 20 minutes till they crisp in the chicken fat.
10. Cut the chicken into 4 large pieces and serve with the potatoes and the sauce from the drippings
Braised Lambshank with creamy mash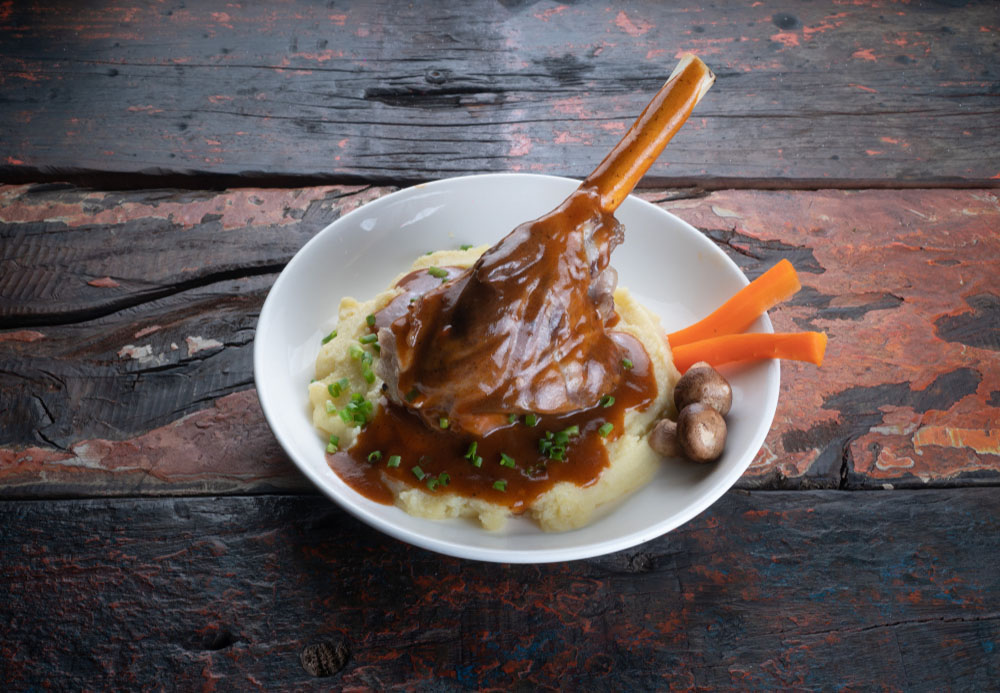 As far as slow cooked recipes go, this is one of the best celebratory meals to make. With just a few ingredients, it is easy to make and meat lovers are sure to enjoy a well braised shank of lamb.
Prep Time
30 MINS
Cooking Time
1 Hour 30 MINS
Total Time
2 Hour
Prep Time
30 MINS
Cooking Time
1 Hour 30 MINS
Total Time
2 Hour
Braised Lamb Shank
4 Lamb shanks
4 Tbs Oil
½ Cup red wine
6 Cloves garlic (minced)
1 Pod garlic (whole with skin)
2 Dry red chillies
2 Cups pineapple juice
1 Tbsp vinegar
2 Tsp brown sugar
1 Tsp Kashmiri chilli powder
1 ¼ Tsp cumin powder
2 Tsp pepper (freshly ground)
½ Tsp cinnamon powder
¼ Tsp all spice
1 Bay leaf
METHOD
1. Pre-heat the oven to 200 degrees C
2. In a large oven-proof pan with a lid (ideally a cast iron pan), add the oil, garlic and red chillies and brown the lamb shanks slowly on all sides and remove from the pot.
3. Add the wine to the pot to deglaze the meat bits from the bottom of the pot.
4. Add the bay leaf, the spice powders, vinegar, brown sugar, pineapple juice and cook it for 2 mins.
5. Add the lamb shanks, place the whole pod of garlic on top and transfer the pot with the lid on into the oven for an hour at 200 degrees and reduce to 180 and cook further for 30 minutes. Check to ensure the liquids don't dry out. Add a bit of water if it starts to dry.
6. Serve with creamy mash.
Creamy Mash:
Ingredients:
4 Large potatoes (boiled and peeled)
¼ Cup butter
½ Cup milk
Salt
Pepper
METHOD
1. Take the whole roasted garlic from the lamb shank and squeeze out the garlic and discard the skin.
2. Grate or rice the potatoes, add the roasted garlic, milk, butter, salt and pepper and mix thoroughly.
3. Serve with the lamb shank.
Cauliflower steaks with grilled tomatoes and a yoghurt dip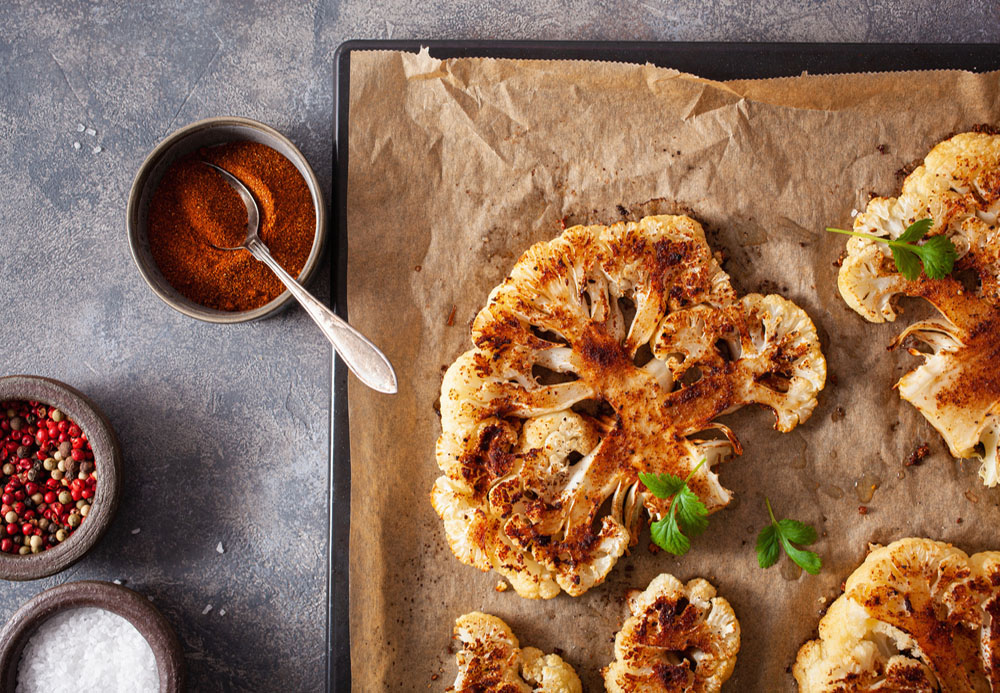 Surprisingly simple, yet delicious; this dish when plated will be at par with any other celebration meal. You can either grill it or make it in a grill pan on the stove.
Prep Time
15 MINS
Cooking Time
30 MINS
Total Time
45 MINS
Prep Time
15 MINS
Cooking Time
30 MINS
Total Time
45 MINS
1 Cauliflower (large)
1 Tbsp kashmiri chilli powder
1 Tsp Garlic powder
1 Tsp Cumin powder
1 Tsp amchur powder
½ Tsp Garam masala
1 Tsp Pepper powder
250 Gms cherry tomatoes
Salt
Oil
METHOD
1. Remove the leaves of the cauliflower and cut it like bread slices (into ¾ inch steaks)
2. Fill a large pan with water, add salt and bring to a boil
3. Using a large slotted spoon place each steak of cauliflower in the water for a few minutes and remove. (this is just to ensure there are no worms and to remove any pesticides the cauliflower might have)
4. Pat the steaks dry.
5. Mix all the spice powders and season each steak and place them on an oiled grill pan. Cook on medium heat.
6. Add the tomatoes on the side and season with salt. Cook till they are charred.
7. Season the other side and repeat till the steaks are well done. To check this, insert a knife through the thickest part and it will not have any resistance.
8. Serve with a yoghurt dip.
Yoghurt dip:
INGREDIENTS
Serves: 1 Cup
Prep Time
10 MINS
Total Time
10 MINS
Prep Time
10 MINS
Total Time
10 MINS
3 Cups thick yoghurt (hung for an hour)
¼ Tsp cumin powder
4 Cloves garlic (crushed to a smooth paste)
1 Tsp olive oil
¼ Tsp chilli flakes
2 Sprigs corriander leaves
Salt
METHOD
1. Mix the yoghurt, garlic, salt and cumin powder.
2. Heat the oil and add the chilli flakes. Pour into the yoghurt.
3. Garnish and serve.
Beetroot Spaghetti
With roast beetroot, fetta and balsamic roast onion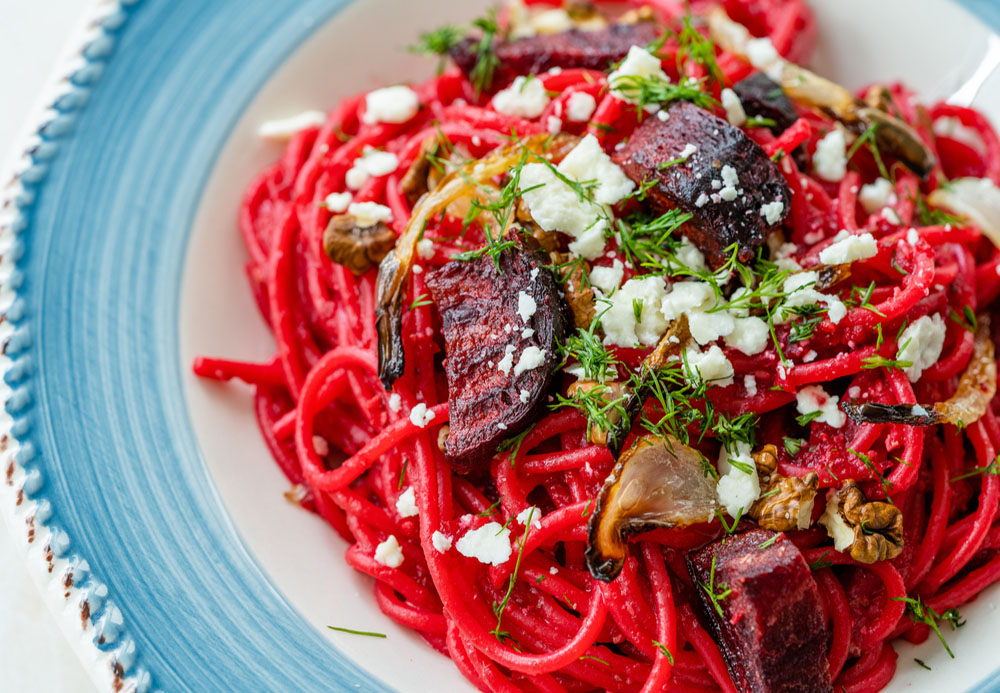 Beetroot has such a brilliant ruby colour that just looking at it can make you feel healthy not to mention the antioxidants and the health benefits the vegetable has. This pasta looks great when served and is sure to be a celebration hit.
Prep Time
30 MINS
Making Time
1 Hour 30 MINS
Total Time
2 Hours
Prep Time
30 MINS
Making Time
1 Hour 30 MINS
Total Time
2 Hours
4 Large beetroots (skin removed)
3 Cloves garlic
2 Large onion
1 Cup feta cheese
2 Tbsp balsamic vinegar
Parmesan cheese
Parsley and oregano for garnish
Aluminum foil
Olive oil
Salt
Pepper
Beetroot pasta:
1. In a pan, add olive oil, garlic cloves and 2 beetroots (quartered). Sauté for a few minutes.
2. In another pan cook spaghetti till 3/4th cooked (al dente)
3. Add water and cook till done.
4. Use your Ultra Mixer Grinder and puree till soft.
5. Put the mixture back in the pan and cook till it becomes a thick paste, add the pasta and cook till dry.
6. Garnish with parmesan cheese, fresh or dry parsley and oregano. Serve with a salad.
Caramalised onion, feta and beetroot Salad:
1. Preheat the oven to 250 degrees C
2. Quarter 2 Beetroots and 2 onions. Add olive oil, balsamic vinegar and salt. Place in aluminum foil, wrap tightly into a parcel and place in the oven. Bake for 1 hr and 30 minutes or till soft.
3. Finish in a pan till the liquids dry out and the beetroot and onions are dry, cooked and are caramalised.
4. Crumble feta cheese and serve with pasta.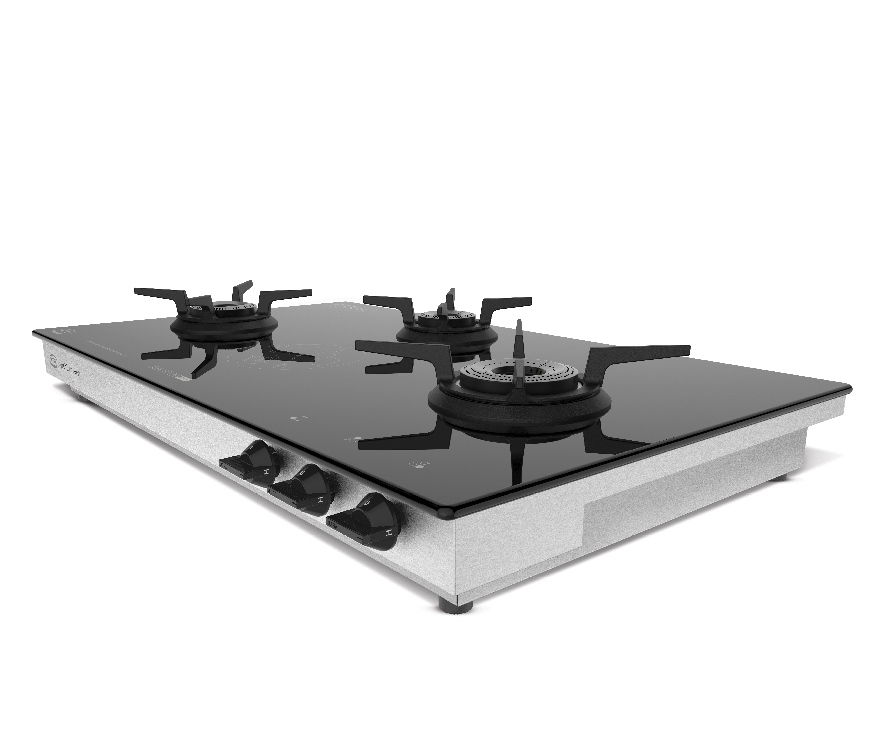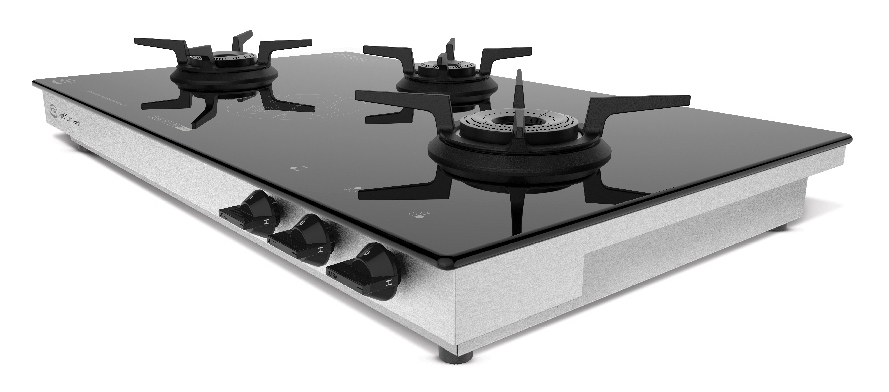 Elgi Ultra Optiflame
Gas savings, less cooking time and high safety are compelling reasons to choose the Ultra Optiflame gas stove.

70%+ GAS EFFICIENCY IN ALL BURNERS
Unique design for efficient air/gas mixing.* Verified and certified by Goverment Approved Lab.

8MM THICK TOUGHENED GLASS
More durable and safer than thinner glasses.

FAST COOKING
The burner unit assembly is optimised to produce more heat, by burning gas more efficiently by cooking fast without gas.

FORGED BRASS BURNERS
Stronger, safer and more efficient than ordinary cast burners.

SABAF FLAME FAILURE SAFETY DEVICE
Cuts off gas flow to the burner when flame goes off accidentally.

SPACIOUS DESIGN
Wide space between burners and a spacious top for easy cleaning and resting ladles.