Ultra Chocogrind presents a season of everything Chocolate
Quick and healthy dessert recipes
Chocolate, Peanut Butter and Avocado Pudding
With the richness of chocolate and peanut butter and the creaminess of avocado, this is a simple and creamy dessert that is quick to whip up and is a sure winner.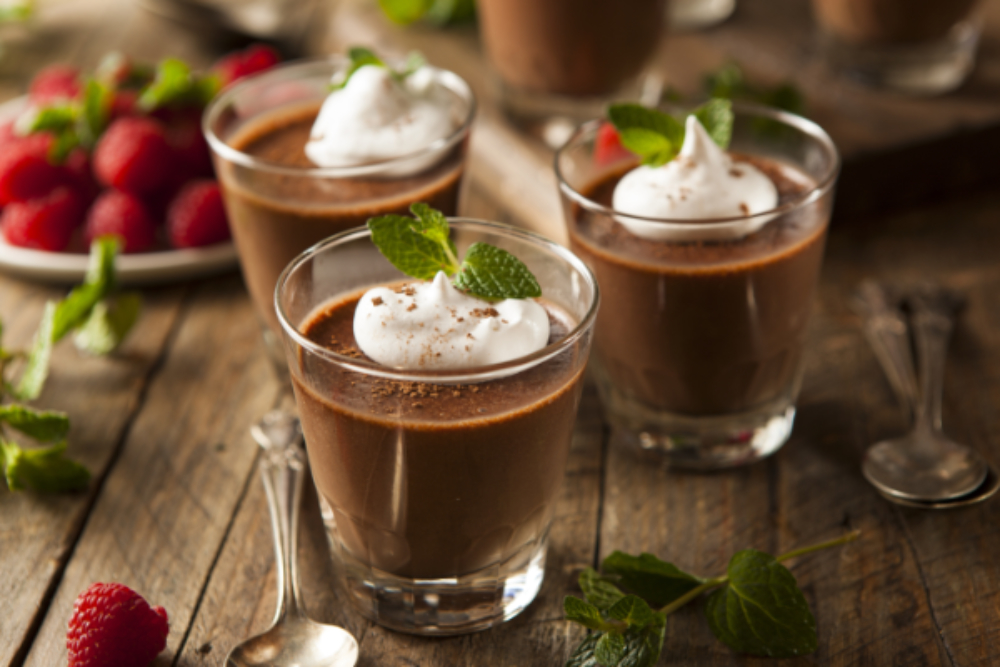 Prep Time
5 MINS
Making Time
20 MINS
Total Time
25 MINS
Prep Time
5 MINS
Making Time
20 MINS
Total Time
25 MINS
2 Avocados (ripe)
2 Bananas (ripe)
1 Cup chocolate (unsweetened)
½ Cup dates (deseeded)
½ Cup peanut butter (smooth)
¼ Cup milk/coconut milk/almond milk
METHOD
1. Melt the chocolate in a heat resistant bowl over a pan of water.
2. Blend everything together and chill overnight. Fill it in serving bowls. Cover with cling wrap and press down to avoid a film forming on top.
3. Top with whipped cream or coconut cream (for vegan option) Garnish with grated chocolate and serve.
Bread and butter pudding with chocolate
Bread pudding is a heart-warming dessert and definitely a winter must-bake. Here is a chocolatey twist to the classic bread and butter pudding.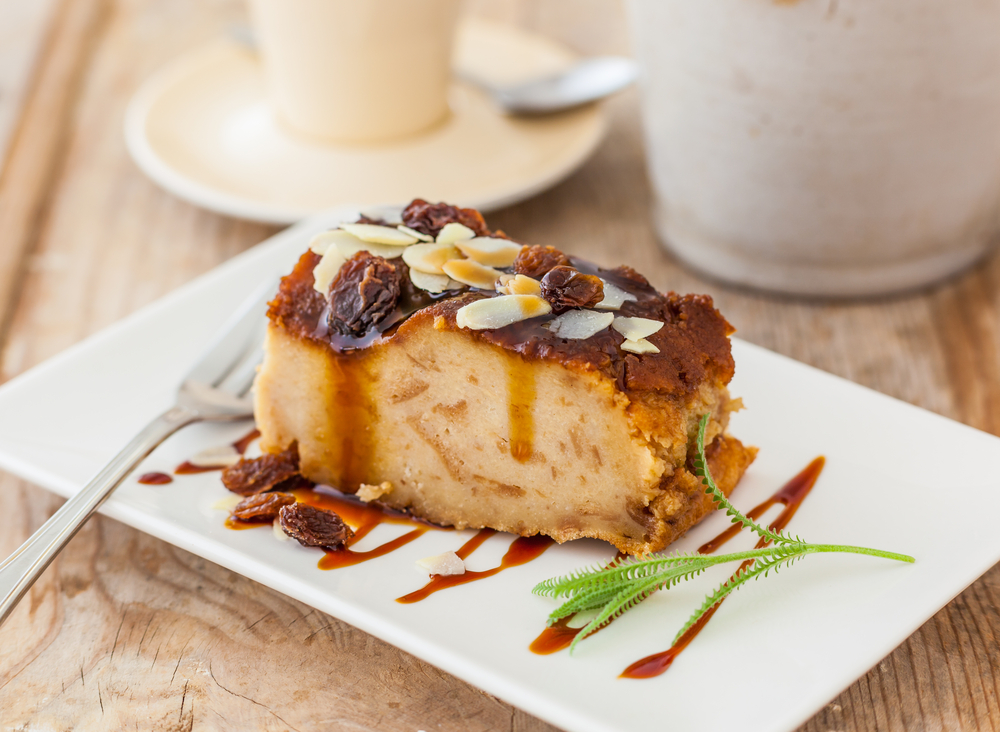 INGREDIENTS
Makes 10-12 servings
Prep Time
30 MINS
Baking Time
30 MINS
Total Time
60 MINS
Prep Time
30 MINS
Baking Time
30 MINS
Total Time
60 MINS
10-12 Slices of bread
1 Cup homemade chocolate
½ Tsp Vanilla
½ Tsp cinnamon
1 Cup cream
1 ½ Cup milk
50 Gms butter
3 Eggs
½ Cup sugar
½ Cup raisins
METHOD
1. Preheat the oven to 180 °C.
2. Melt the chocolate in a bowl by placing it over a saucepan with warm water. Add a tbsp from the butter and stir well till combined.
3. Spread the chocolate on the bread slices on one side
4. In a saucepan, heat the milk, butter and cream with the vanilla and sugar till just hot. Add the raisins.
5. In a separate bowl, beat the eggs.
6. Make the custard by adding the milk and cream mixture, a little at a time till fully combined. (Ensure the milk isn't too hot, else the eggs will curdle)
7. In a buttered baking dish, arrange the bread slices as they come in the loaf, vertically.
8. Pour in the custard over the bread and bake for 20-30 minutes or till the bread is golden.
9. Serve with vanilla custard or ice cream.
Chocolate Rocky Road
What's not to like in this all-time favourite, with chocolate, marshmallows and nuts. It's quick and easy to make and is great as a snack for the holidays.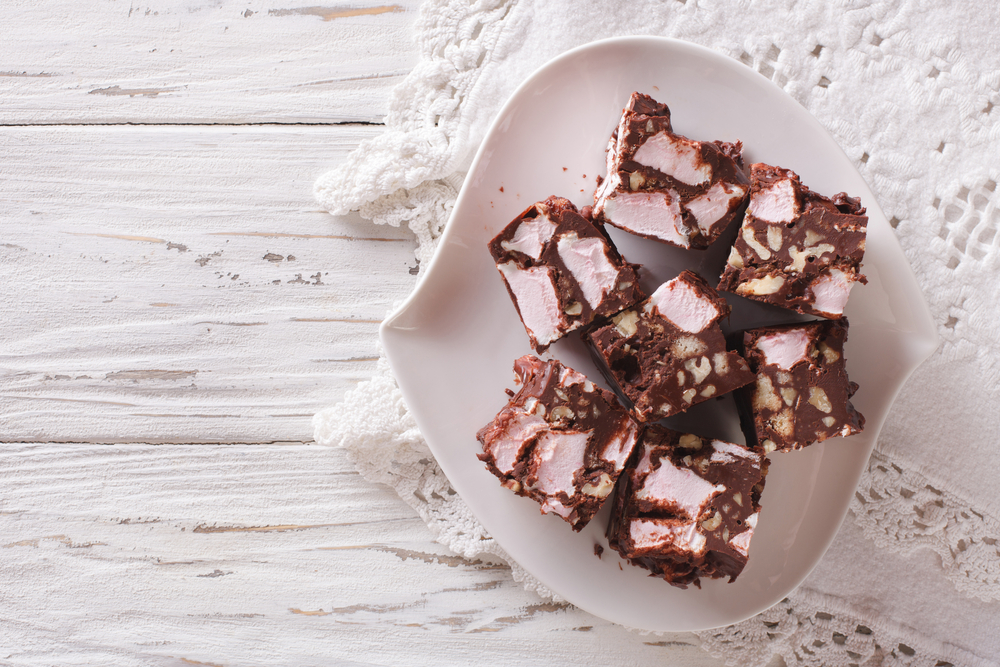 INGREDIENTS
Serves: 16-20 squares
Prep Time
5 MINS
Making Time
10 MINS
Total Time
15 MINS
Prep Time
5 MINS
Making Time
10 MINS
Total Time
15 MINS
1 ½ Cups dark homemade chocolate
½ Cup dark cocoa powder
1 ½ Cup mini marshmallows
3 Tbsp unsalted butter
¼ Cup chopped walnuts
¼ Cup roasted almonds
1 Tbsp honey / maple syrup
1 Tbsp Jaggery
METHOD
1. Melt the chocolate and butter in a bowl over a pan of hot water (double boiling).
2. Mix in the jaggery and honey.
3. Line a baking dish (8"x8") with cling film.
4. Mix in the rest of the ingredients with the melted chocolate.
5. Pour it into the baking dish and shake/ tap on the counter to remove air bubbles. Cover with a layer of cling film on top and refrigerate for 2 hours.
6. Cut into squares, dust with cocoa powder and store.
Chunky Chocolate and Coffee Cookies
There is nothing better than filling your house with the aroma of a batch of chunky chocolate cookies baking in the oven. This is a recipe you will love. Lots of chocolate and easy to make, this crumbly, gooey, delicious cookie will disappear within minutes of leaving the oven.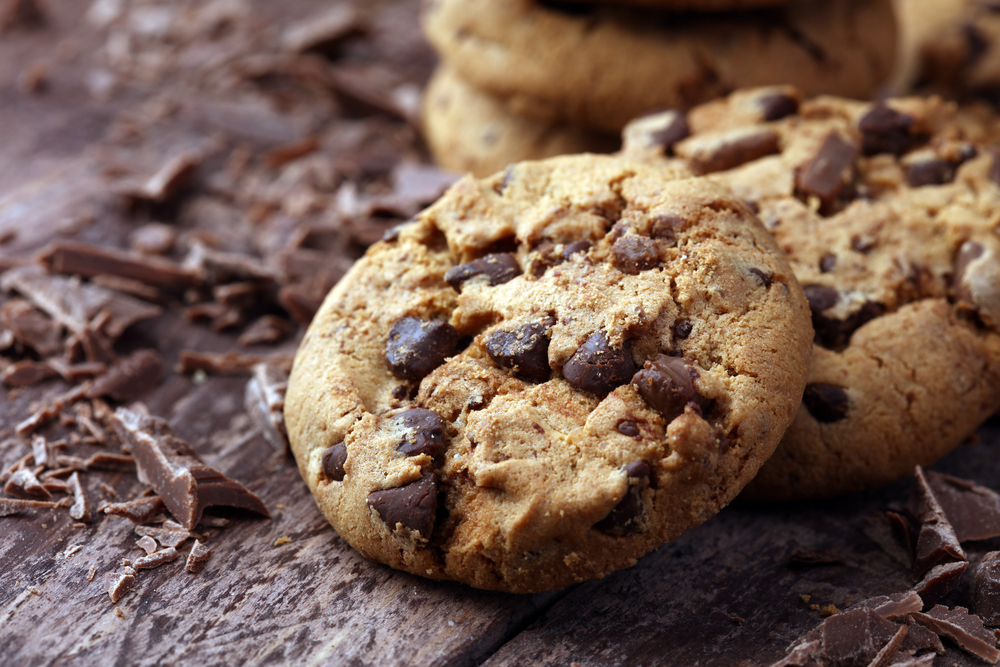 INGREDIENTS
Serves: 20-25 cookies
Prep Time
20 MINS
Making Time
20 MINS
Total Time
40 MINS
Prep Time
20 MINS
Making Time
20 MINS
Total Time
40 MINS
1 ½ Cups of homemade chocolate roughly chopped
1 ¾ Cup flour
1 Cup butter (melted)
1 Egg
1 Egg yolk
1 Tsp coffee powder
½ Cup white sugar
1 Cup brown sugar
1 Tsp baking soda
1 Tsp salt
2 Tsp vanilla essence
METHOD
1. Melt the butter and set aside to cool.
2. Sift the flour, salt and baking soda in a bowl.
3. In another large bowl, cream the butter, sugars and then add the coffee powder, egg and yolk to form a creamy soft mixture. To this add the vanilla.
4. Add the flour mixture in small batches and mix well.
5. Finally add the chunks of chocolate and gently mix
6. Make scoops and chill in the fridge for a minimum of an hour or overnight
7. Bake in a pre-heated over at 180 °C for 20 mins.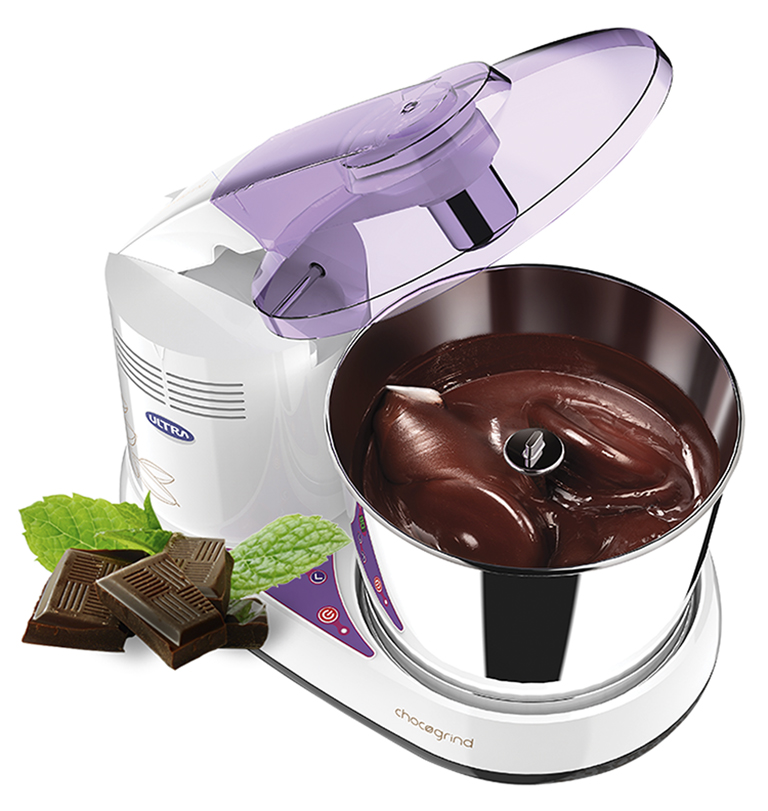 Elgi Ultra Chocogrind
A specially designed chocolate grinder for homes – Now there is no need to buy chocolates. Instead, you can make them at home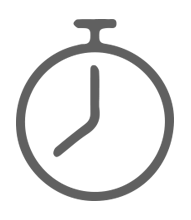 UPTO 80 HOURS CONTINUOUS RUNNING
Specially designed 150W motor with high heat resistant Class H insulation

AISI 304 FOOD GRADE STAINLESS STEEL DRUM
Rust-resistant food grade stainless steel drum for healthy chocolates

UPTO 99 HOURS PRESET TIMER
Auto switch-off at the end of preset time. (Preset time can be changed in intervals of ± 1 hour)

PATENTED CONICAL STONES
Grinding fineness is achieved faster.

CAPACITY
Minimum of 700g and maximum of 2kg.(Tested with roasted cocoa nibs and sugar in a ratio of 70:30)

AUTO-SHUT OFF AND AUTO-RESUME
The grinder will auto-shut off at 135° C motor coil temperature and will auto-resume once motor coil cools down to 100° C and hence ensures motor safety