Discover Ultra's selection of Diwali sweets
Try a new recipe and enjoy a sweet Diwali
Indians love their mithai and Diwali is the best reason to enjoy sweet treats. Explore new recipes with Ultra; these are delicacies from various regions of India. Try them at home with good quality ingredients and enjoy a healthy and sweet Diwali.
Rajasthan's Kalakand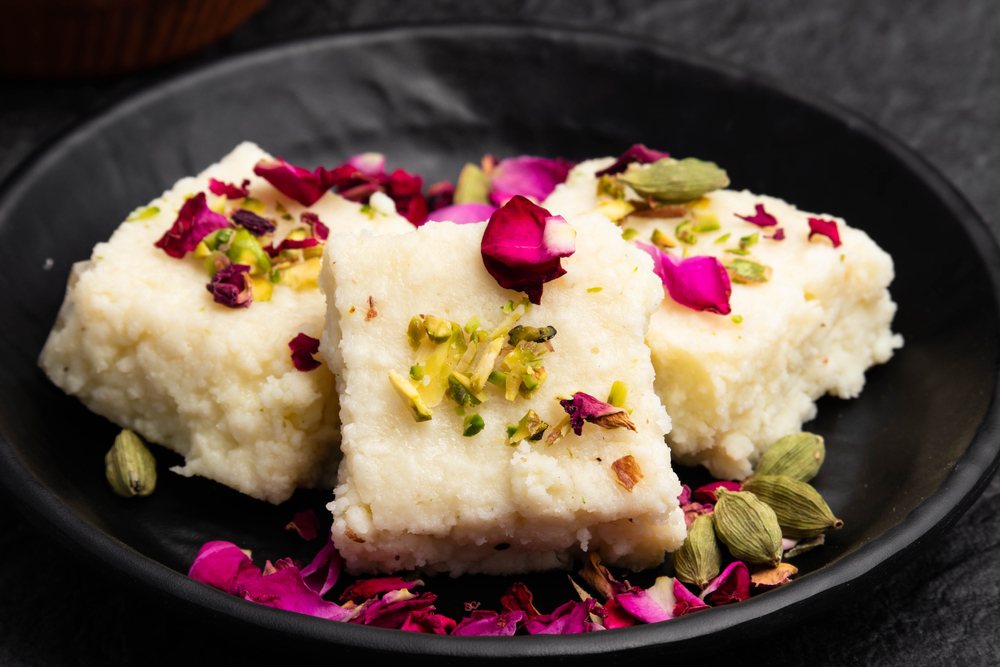 Image credit: Shutterstock Images.
Kalakand is such a simple yet festive looking sweet that can be easily made at home with a few readily available ingredients.
INGREDIENTS
Makes: 10 – 12
Prep Time
5 MINS
Making Time
30 MINS
Total Time
35 MINS
Prep Time
5 MINS
Making Time
30 MINS
Total Time
35 MINS
2 Litres full milk
½ Cup sugar
½ Tsp cardamom powder
1-2 Tsp vinegar
For garnish:
Rose petals
Pistachios chopped
METHOD
1. In your Ultra Duracook pour in the milk and set in on a low flame. Use a thick long ladle and continually stir the milk making sure it does not stick to the bottom of the pan.
2. Add the sugar, cardamom and the vinegar and keep stirring. The vinegar will slightly curdle the milk but not fully separate the milk from the whey.
3. Keep stirring till the milk has halved, turned slightly brown and looks like cooked porridge in consistency.
4. At this stage, pour it into a greased rectangle or square tin to set
5. Add the garnish and allow to cool completely
6. Cut into squares. Handle the kalakand carefully while cutting into it. It is a very crumbly and delicate sweet
7. Refrigerate and enjoy.
Tamil Athirasam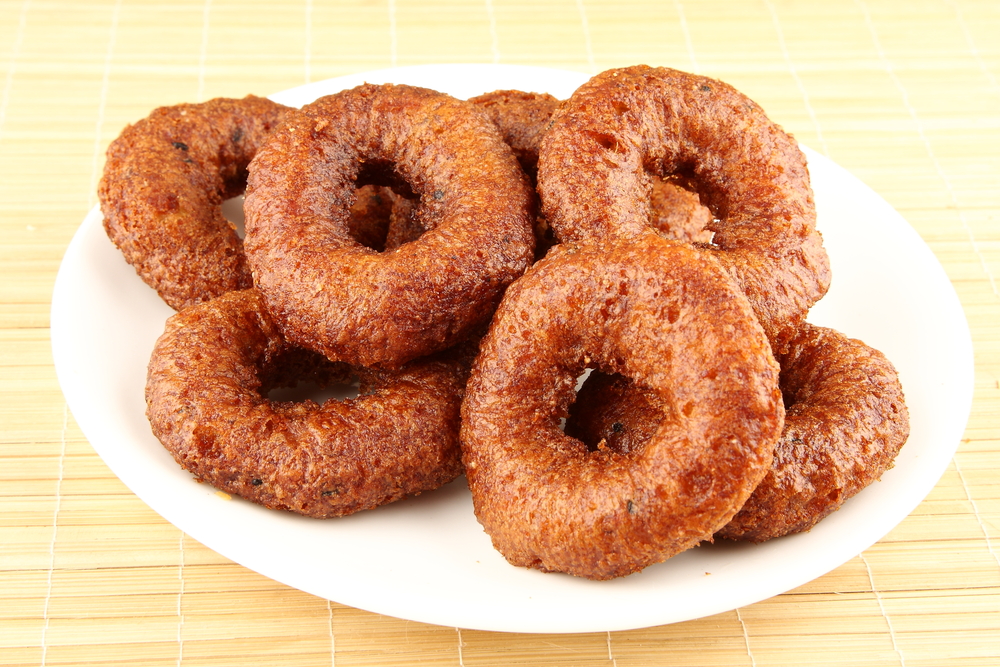 Image credit: Shutterstock Images.
Athirasam is a slightly challenging mithai to make but there are several tricks and tips that will ensure that it doesn't break or isn't too dry.
1. Make sure you get the correct raw rice. Select a variety of rice that is slightly thicker grained and is translucent white.
2. Before grinding the rice, ensure that it is slightly moist. If the rice is too dry, the athirasam will break when you fry.
3. Similarly, it will also break if the ratio of rice to jaggery is not accurate. Ensure you weigh the ingredients to the exact measurements for this recipe.
4. Get the consistency of the jaggery caramel right. When dropped in water it should form a soft ball and not disintegrate.
Prep Time
10 MINS
Making Time
20 MINS
Total Time
30 MINS
Prep Time
10 MINS
Making Time
20 MINS
Total Time
30 MINS
400 Grams raw rice
300 Grams jaggery
4 Pods cardamom
1 Pinch salt
¼ Tsp dry ginger powder
¼ Tsp cardamom powder
METHOD
1. Wash and soak the rice for ten minutes.
2. Remove and dry on a towel until it is 80% dry and slightly sticks to your palm when pressed.
3. Grind to a fine powder with the cardamon, sieve and set aside. Ensure the power has a very slight dampness and keep it covered.
4. In a saucepan, add the jaggery along with ½ cup water and simmer. After it dissolves, strain it and put the mixture back on the stove and simmer it until it thickens.
5. To check if the caramel is ready, add a drop in a bowl of water. If it doesn't dissolve and you are able to gather it in your fingers to make a soft ball, this is ready.
6. Add the flour to the jaggery along with salt, dry ginger and cardamom powder and stir well. Remove off heat, transfer it to a container with a lid, add ghee on the surface to prevent from drying and keep it to cool.
7. Once cool, keep it covered for 2 days on your kitchen counter. This will allow the batter to thicken.
8. To fry, take a small ball of dough and flatten it on a well oiled banana leaf, make a hole in the centre and fry in hot oil on medium flame. Cook well on both sides and your athirasam is ready.
Karnataka's Nipattu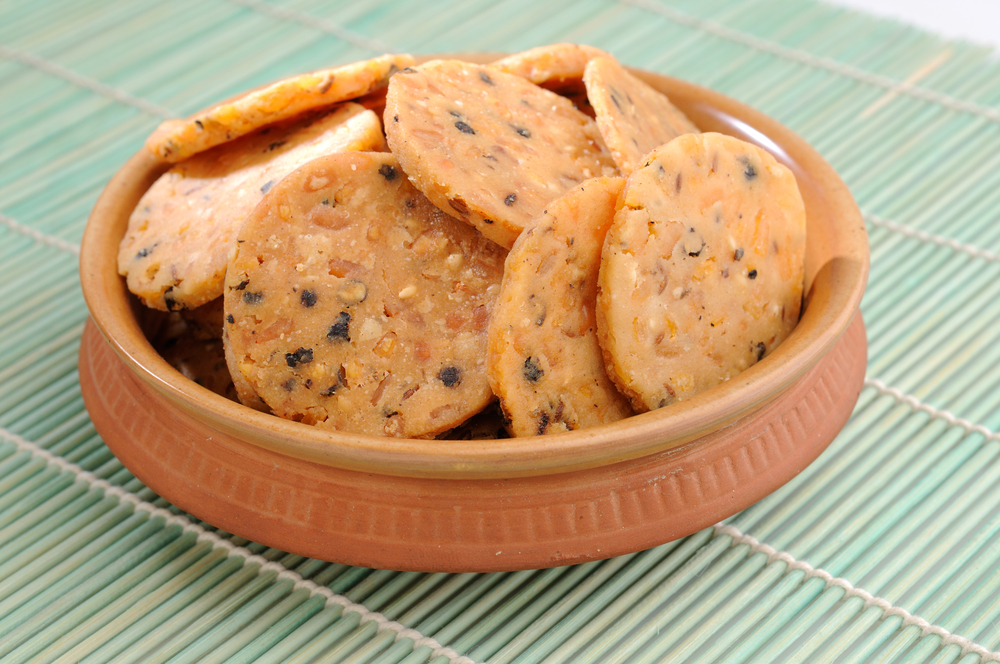 Image credit: Shutterstock Images.
Called thatte in Tamil Nadu and Andhra, Nipattu is a spicier version with a few added ingredients. Thatte set or a sandwich with filling from grated vegetables to chicken, is now popular as a street snack and you can try this anytime once the Thatte / Nipattu is made and stored.
Prep Time
15 MINS
Making Time
15 MINS
Total Time
30 MINS
Prep Time
15 MINS
Making Time
15 MINS
Total Time
30 MINS
¼ Cup roasted peanut
¼ Cup puffed bengal gram
1 Cup rice flour
¼ Cup maida
2 Tbsp sooji
1 Tsp jeera
1 Tbsp sesame seeds
1 Tsp chilli powder
Salt
½ Tsp asafoetida
2 Tbsp chopped curry leaves
1 Tbsp Oil + extra to fry
METHOD
1. Add the peanuts and bengal gram to a mixer and coarsely powder.
2. Mix this to the rice flour, maida, sooji and rest of the ingredients.
3. Add 1 Tbsp of hot water and 1 Tbsp of oil mix thoroughly into the flour.
4. Add water, a little at a time and form a medium soft dough.
5. Knead the dough for 10 minutes, cover and set aside.
6. Oil a banana leaf and flatten small balls of dough into thin discs and fry.
7. Cool and store in an airtight container.
8. To make a set sandwich with the nipattu, grate carrots, beets, onion and mix well with chaat masala and salt. You can add mint coriander and spicy chutney on either side of the nipattu, add the filling and close like a sandwich. Nipattu sets are also made with chicken and meat fillings. Get creative and make these delicious snacks at home and enjoy the festive season.
Begali Pithe/Pitha
Harvest in Bengal falls between September and October. During the harvest months, a variety of sweet dishes are made in Bengali homes to celebrate. Pithe sweets are generally made around the time of Diwali when the weather is cooler. Pithe is an umbrella term used to describe sweet dishes.
Roshopuli Pitha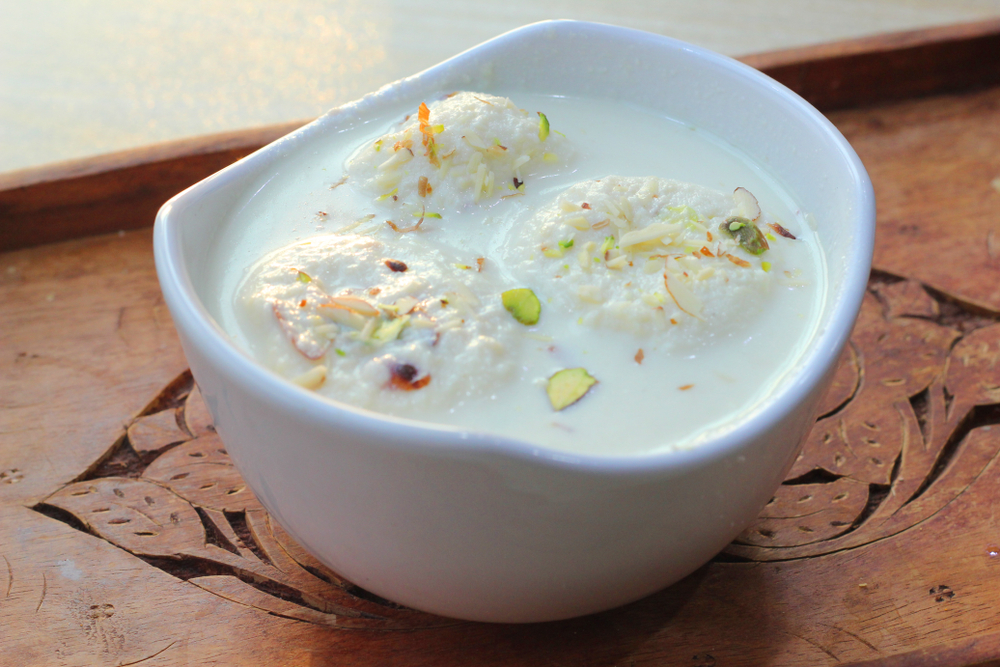 Image credit: Shutterstock Images.
Roshopuli is coconut and semolina dumplings cooked in kheer. It combines two sweets, a coconut burfi and kheer to make a decadent dessert.
Prep Time
10 MINS
Making Time
20 MINS
Cooking Time
30 MINS
Prep Time
10 MINS
Cooking Time
20 MINS
Total Time
30 MINS
150 Grams grated coconut
75 Grams sooji
50 Grams rock sugar
75 Grams white sugar
1 Tsp Cardamom powder
2 Tsp Chopped pistachios
Dried Rose petals for garnish (optional)
METHOD
1. To a pan, add the coconut, sooji and sugar and combine on a low flame. Ensure the mixture cooks without colouring the coconut.
2. The ingredients once cooked with form a lumpy and sticky mixture. At this stage, transfer to a plate and portion out small ball with a spoon and allow to cool. Once cooled a bit but still warm to touch, roll into dumplings. Oil your palms to make sure they don't stick while rolling.
3. Boil the milk on a medium flame, stirring continually for 10 minutes. Add half the rock sugar and all the cardamom powder and when halved, add the dumplings and cook for 5 more minutes or till the milk thickens to a sauce.
4. Add the rest of the rock salt.
5. Serve warm or chilled with garnish.
Jammu's Shufta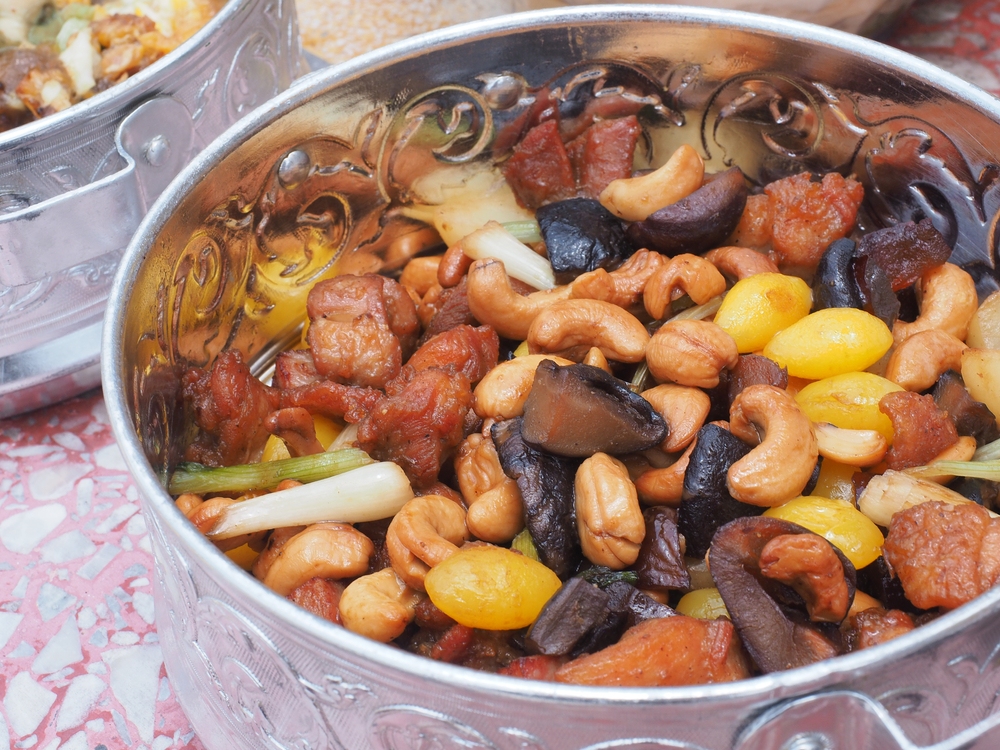 Image credit: Shutterstock Images.
The Mughal and Persian traditions include consuming dry fruits and sweets made with dryfruits. This is a healthier alternative to sweets made with refined flour and sugar. Shufta is a mixture of dryfruits cooked in sugar. You can substitute the sugar to honey to make it healthier.
Prep Time
5 MINS
Making Time
10 MINS
Cooking Time
15 MINS
Prep Time
5 MINS
Cooking Time
10 MINS
Total Time
15 MINS
½ Cup cashews
½ Cup pistachios
½ Cup almonds
½ Cup walnuts
½ Cup raisins
½ Cup chopped apples
½ Cup coconut slivers
1 Cup cubed paneer
¼ Cup honey
¼ Cup sugar
2 Tbsp ghee
¼ Tsp saffron
METHOD
1. Soak all the nuts with raisins for 30 minutes
2. Remove the skin off the almonds
3. Add ghee to a pan and fry the paneer to golden, remove and fry the coconut slivers in the same pan.
4. Drain and add the nuts with the apples and stir for a few minutes.
5. Add sugar, honey and saffron and cook till the apples are done.
6. Serve warm or with ice cream.
All images are used for representation purposes only and the actual dish may vary.
Elgi Ultra Pressure Cookers
A perfect companion in your kitchen, the Ultra range of pressure cooker's features will delight you.

NO CHARRING
High-impact bonded base, helps prevent burning and sticking of food

FAST COOKING
High-impact bonded base, aids in faster cooking

STAYS WARM FOR LONGER
Keeps food warm for up to 2 hours

DISHWASHER SAFE
Dishwasher safe design, makes it easy to clean

BEAUTIFUL LOOKS
Impressive design, elegant to serve

10-YEAR WARRANTY
Valid in the country of purchase