Chocolate 7 Ways!
Breakfast ideas to snack plates, a little bit of chocolate all through the week.
With the Ultra Chocogrind making homemade chocolate is simple and fun. Stash a batch in your freezer and add it to your cereal, muffins, pancakes and more. Here are some fun recipes that allows you to add a bit of chocolate all through your week.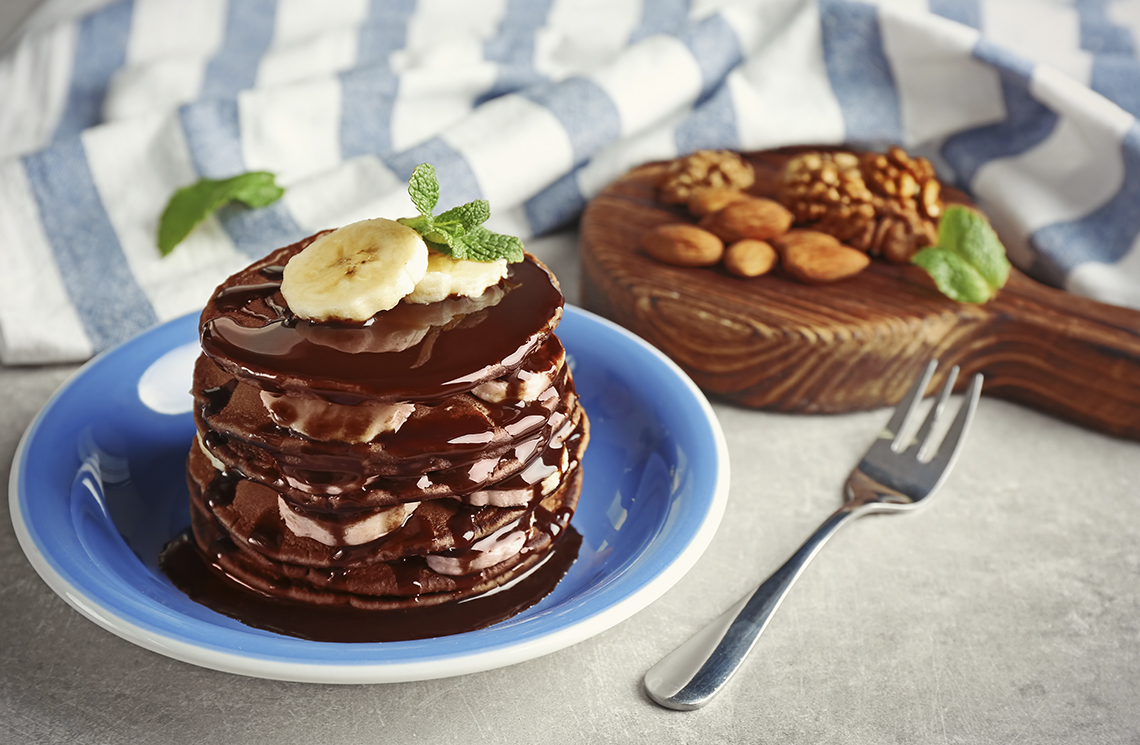 BANANA AND CHOCOLATE PANCAKES
Here is a super fluffy plate of goodness guaranteed to kickstart your day the perfect way.
INGREDIENTS
Makes 12 Pancakes
Prep Time
10 MINS
Total Time
20 MINS
2 Ripe bananas
1 Cup plain flour
¼ Cup wheat bran or cooking oats
½ Cup yoghurt
¼ Cup full fat milk
1 Tbsp of melted butter or coconut oil
1 Egg
1 ½ Tbsp of brown sugar
1 ¼ Tsp of baking soda
½ Tsp cinnamon powder or vanilla extract
½ Cup chopped dark homemade chocolate
METHOD
Mash the banana with a fork. Add the egg, butter, milk and yoghurt and mix well. Now, add the flour, bran, baking soda and sugar until blended. Take care not to overwork the mixture. Gently fold in the chopped chocolate. Let it sit for 10 mins and the pancakes are ready to be made. Serve with fresh fruit.
Tip: To add fibre to your pancakes, you can add oat or wheat bran. Take out a few tablespoons of flour from the recipe and substitute it with the bran for fibre rich pancakes that are just as delicious.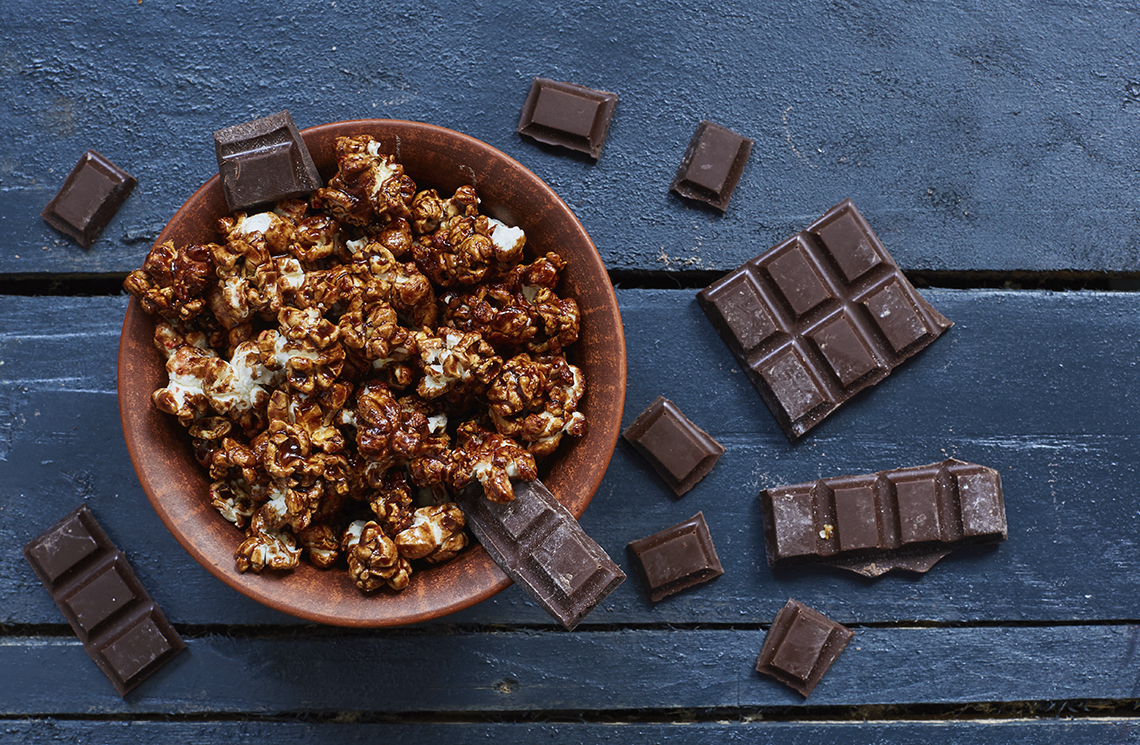 CARAMALISED CHOCOLATE POPCORN
Watching a movie with a sweet ending is now all the more sweeter with caramelised chocolate popcorn.
Prep Time
5 MINS
Total Time
5 MINS
50 Gms of popped corn
½ Cup dark homemade chocolate
1 Tbsp honey
2 Tbsp brown sugar
¾ Tsp baking powder
¾ Cup water
¼ Tsp salt
4 Tbsp butter
1 Tbsp coconut oil
METHOD
In a saucepan, add water, sugar, honey, butter and coconut oil. Simmer on medium heat for about 4 mins till the mixture caramelises. Remove from heat, add the chopped chocolate, salt and baking soda and stir continuously. The baking soda will make the mixture foam, aerating it and thereby making it easier to coat the popcorn. Pour the mixture over the corn to evenly cover all of it and stir till all of the popcorn is covered with the mixture. Enjoy a crispy chocolate snack.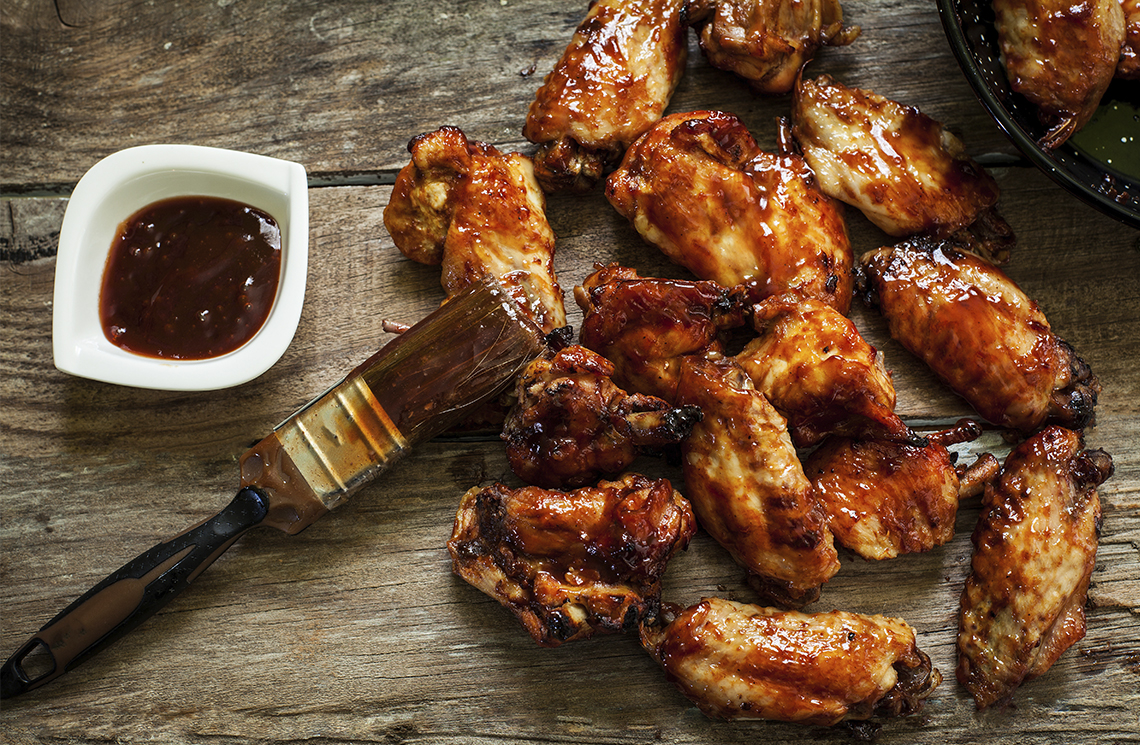 CHOCOLATE BBQ CHICKEN HOT WINGS
Love hot wings? Here is a secret ingredient that will surprise your taste buds.
INGREDIENTS
Makes 15 wings
Prep Time
15 MINS
Total Time
20 MINS
15 chicken wings
½ cup water
1 tsp garlic powder
4 tbsp worcestershire sauce or light soy sauce
¼ cup chopped homemade chocolate (dark)
1 tsp kashmiri chilli powder
½ tsp vinegar
1 ½ tbsp soft brown sugar
Salt to taste
Corriander leaves and lime for garnish
METHOD
Toss the chicken wings in a pan with a little oil, add ½ a cup of water and close the lid and stem cook it with the garlic powder and a pinch of salt. Once done remove and set aside.
Add all the other ingredients to the pan and simmer till it is a thick sauce and all the chocolate is melted. Add the cooked wings and toss them till the sauce coats all the wings. Check for salt and add if needed. (Note: Worcestershire sauce contains salt). Serve with a scatter of freshly chopped coriander and a lime wedge.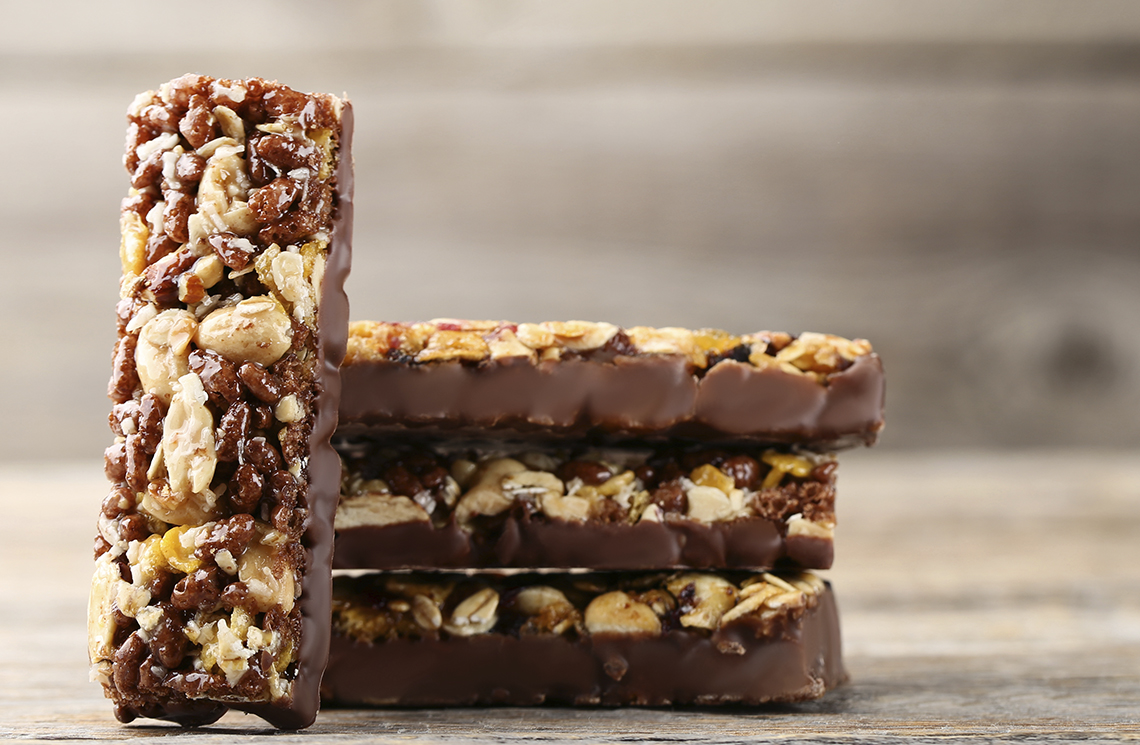 CHOCOLATE AND OATS GRANOLA BARS
Here is a healthy treat that would make sweating in the gym so worthwhile.
INGREDIENTS
Makes 15 squares
Prep Time
25 MINS
Total Time
120 MINS
2 ½ Cups old-fashioned rolled oats
¼ Cup honey
¼ Cup unsalted butter
¼ Cup brown sugar
1 Tsp vanilla extract
¼ Tsp salt
½ Cup creamy peanut butter
½ Cup roasted, salted peanuts
¼ Cup chopped homemade chocolate
Dry berries optional
METHOD
1. Roast the oats in a pan on a slow heat for 20 mins and set aside on the pan to cool.
2. In a saucepan, melt the butter with honey and sugar, add in the vanilla, salt, peanut butter and finally the salted peanuts.
3. Add the oats to this mixture and combine well.
4. Fold in the chocolate chips.
5. Add some dry berries. Dried raspberries and Gogi berries go well.
6. Empty this mixture into a parchment lined dish and press well with a greased spatula. Spread evenly.
Let it set for 2 hours and cut into squares. You can make this even more chocolatey by pouring a melted chocolate ganache over it and letting it set.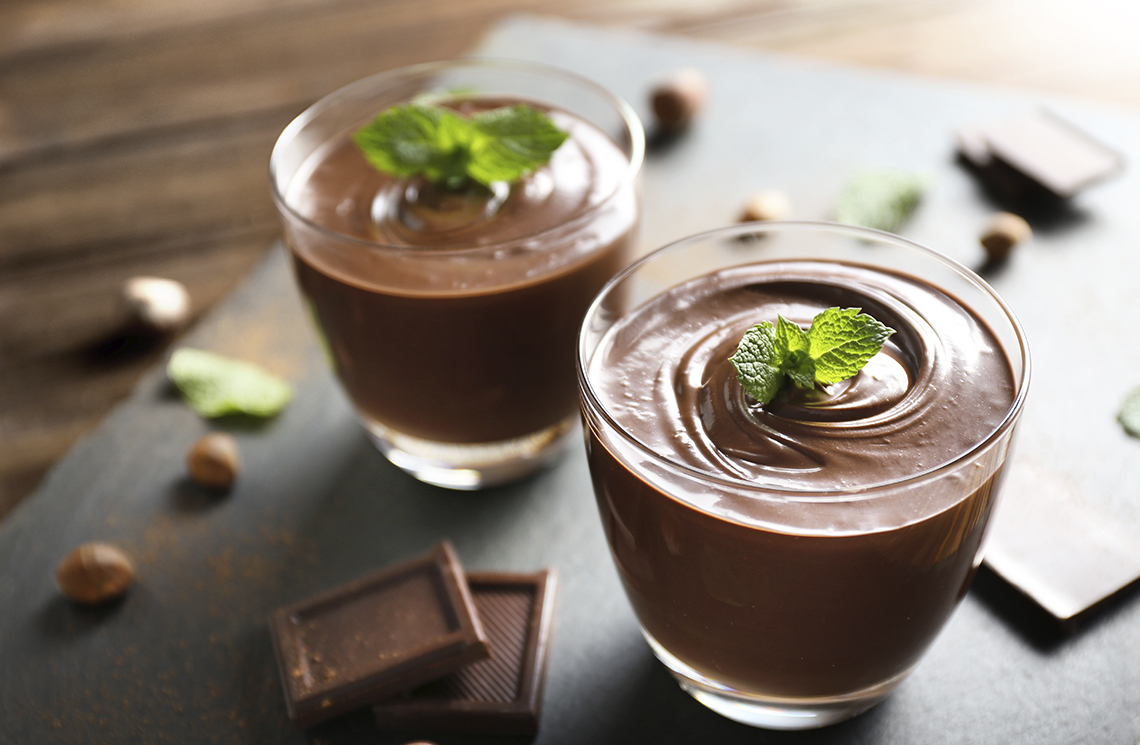 DELICIOUS CHOCOLATE PUDDING
Feel like a mid-week dessert? Here is a quick and easy pudding that has all the goodness of homemade chocolate and will leave you smiling.
INGREDIENTS
Makes 2 Numbers
Prep Time
25 MINS
Total Time
25 MINS
1 Cup sugar
½ Cup chopped chocolate
¼ Cup cornstarch
½ Tsp salt
4 Cups whole milk
2 Tablespoons butter
2 Teaspoons vanilla extract
METHOD
Set aside a ¼ cup of milk and bring the rest to a simmer with the chopped chocolate. Stir well to melt all the chocolate. Mix the cornstarch in the remaining milk and pour it in. Reduce the flame and stir for a few minutes. Add the butter, salt and vanilla extract, stir well and pour into individual cups and refrigerate once cooled.
ORANGE AND DARK CHOCOLATE TORTE
When you feel indulgent, this dark chocolate torte is as easy as desserts can get. This no-bake torte is made from a simple Oreo crust and ganache filling.
INGREDIENTS
Makes 2 Numbers
Prep Time
25 MINS
Total Time
25 MINS
Oreo Crust:
24 Oreo cookies
6 tablespoons (85gms) unsalted butter, melted
Ganache filling:
170 g(1 cup) coarsely chopped bittersweet chocolate
170 g(1 cup) coarsely chopped milk chocolate
Rind of 2 oranges
1 cup (240 ml) heavy cream
¼ cup (56 g) butter, cut into small pieces
METHOD
Remove the cream filling of the cookies and gently pulse in the blender with the butter. Empty the contents into a greased springform tin and press well. Refrigerate for 30 mins. If you prefer a crisp crust, you can bake it for 7-8 mins at 180° C
Place the chopped chocolate in a bowl. (You can use 340gm of just homemade dark chocolate for this recipe) In a saucepan, bring the cream to a gentle boil and pour it over the chocolate. Leave this for 3 mins. Add the butter and the rind and stir well to ensure the mixture is smooth and silky.
Pour this over the crust and refrigerate it overnight or a minimum of 8 hours. You can decorate it with orange slices and serve.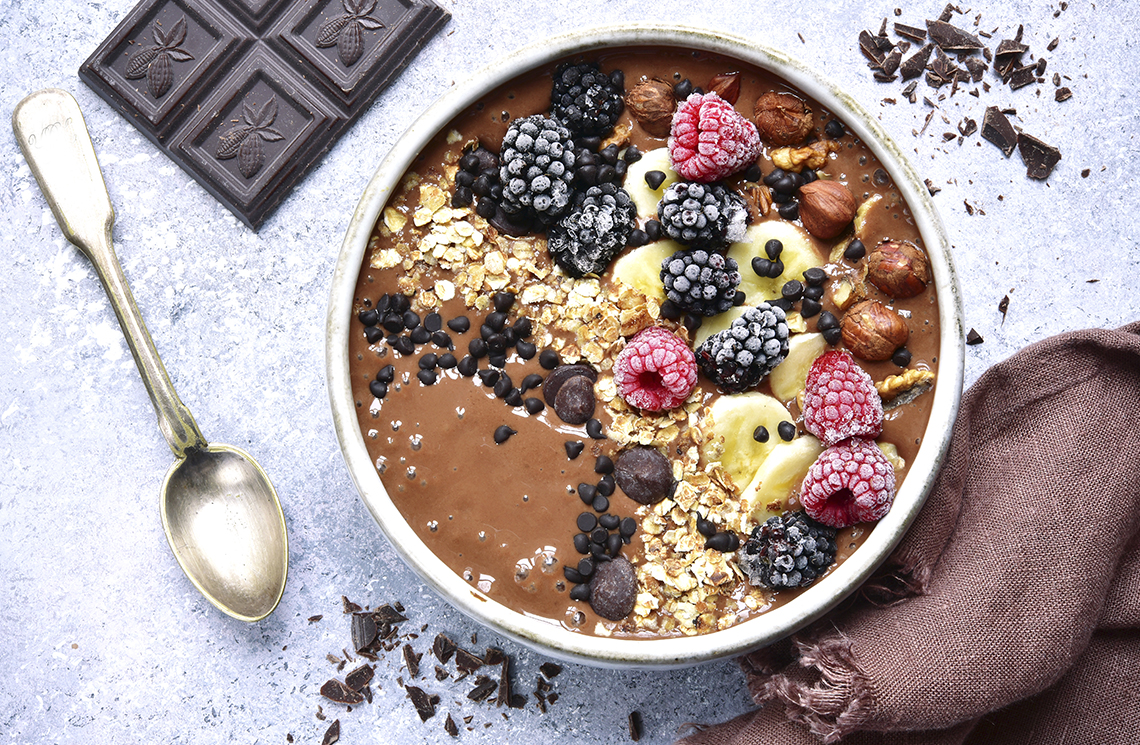 CHOCOLATE AND OVERNIGHT OATS
This overnight oats breakfast is packed with superfoods and antioxidants that will recharge you through any busy day. Oats contain more protein than most other grains and they are a rich source of fibre. You will feel fuller and have a slow release of energy. Both chocolate and oats are high in antioxidants which may help lower blood pressure levels.
INGREDIENTS
Makes 2 Numbers
Prep Time
25 MINS
Total Time
25 MINS
½ cup quick oats
2 Tbsp milk
½ cup yoghurt
¼ cup shaved, grated or finely chopped chocolate
1 Tbsp chia seeds
1 Tbsp gogi berries or any dried or fresh fruit
METHOD
Mix all the ingredients together in a bowl and leave it covered in the refrigerator overnight. Enjoy a quick and delicious breakfast.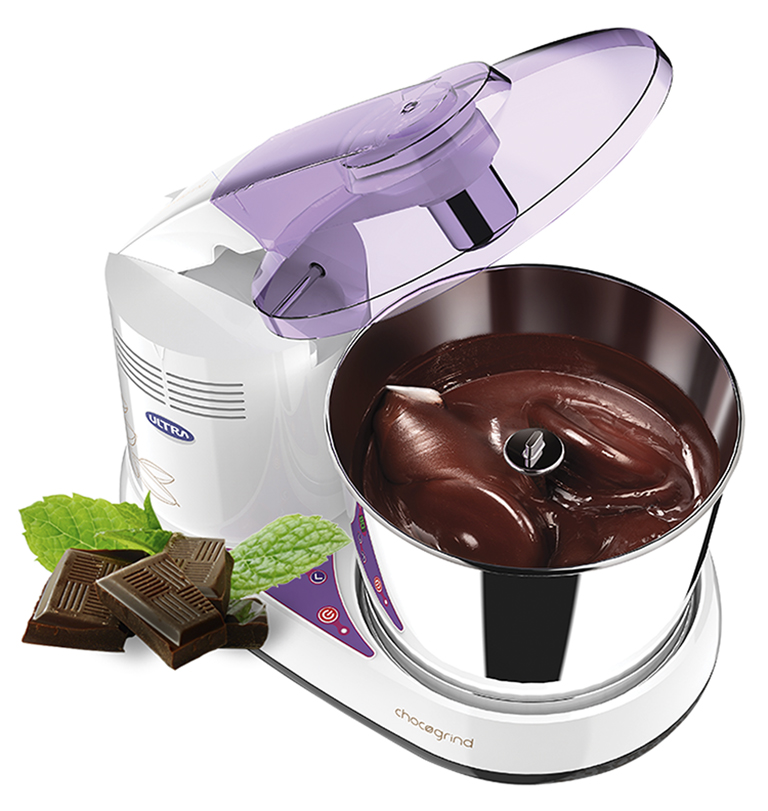 Elgi Ultra Chocogrind
A specially designed chocolate grinder for homes – Now there is no need to buy chocolates. Instead, you can make them at home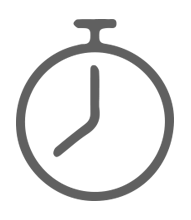 UPTO 80 HOURS CONTINUOUS RUNNING
Specially designed 150W motor with high heat resistant Class H insulation

AISI 304 FOOD GRADE STAINLESS STEEL DRUM
Rust-resistant food grade stainless steel drum for healthy chocolates

UPTO 99 HOURS PRESET TIMER
Auto switch-off at the end of preset time. (Preset time can be changed in intervals of ± 1 hour)

PATENTED CONICAL STONES
Grinding fineness is achieved faster.

CAPACITY
Minimum of 700g and maximum of 2kg.(Tested with roasted cocoa nibs and sugar in a ratio of 70:30)

AUTO-SHUT OFF AND AUTO-RESUME
The grinder will auto-shut off at 135° C motor coil temperature and will auto-resume once motor coil cools down to 100° C and hence ensures motor safety