The health secrets of the common drumstick or moringa tree
In the last decade, the common drumstick tree has gained significance in health and wellness stores all over the word. There is good reason for the leaves of this miracle tree to feature in a variety of products, ranging from, herbal teas to health supplements and capsules.
In India, the vegetable, leaves and flowers from the drumstick or the moringa tree, commonly feature on the everyday menu; either in a sambar, as a vegetable subzi or even in a soup. While it is common knowledge that this is a very healthy and nutritious vegetable; the innumerable health benefits came into the spotlight just a decade or so ago, when the shelves in western wellness stores started featuring it across a range of products and the health benefits started featuring across published research papers.
Moringa is a good source of iron, beta-carotene, potassium, calcium and contains all nine essential amino acids making it a complete protein source. Moringa can be eaten fresh, dried or cooked.
Here is the list of the common health benefits:
Promoting gut health: Moringa leaves are known to cleanse the stomach. Moringa is rich in healthy fiber so improves bowel movement, lowers cholesterol and the risk of stroke and heart disease. It is also pro-biotic and improves the gut microbiome. Cooking them as a vegetable or simple soaking the leaves in warm water and drinking the water as a tea is known to help cleanse the gut and stomach.
Anti-inflammatory & glucose regulation:
Chronic pain caused by inflammation is known to be a silent killer. It is the indicator for a lot of underlying problems including the onset of type-2 diabetes. Research suggests that including moringa into you diet can significantly reduce blood glucose levels, cholesterol and increase glucose tolerance.1 Make it a part of your regular diet and control glucose levels naturally.
Nourishing skin and hair: Recent studies suggest that moringa leaves have anti-bacterial and detox properties. It is an excellent cleanser for hair and skin. Moringa powder can be used as a pack for both face and hair.
Reducing the risk of cardio-vascular diseases: Moringa contains polyphenols and isothiocyanates which have been studied for their role in helping protect against heart diseases.
Preventing cancer:
Studies suggest that moringa may help reduce the number of free radicals, improve heart function and prevent accumulation of lipid peroxide which are known to cause cell damage.
Improving bone health: Moringa leaves are an excellent source of calcium and help in strengthening the bones. It is a meaty vegetable that holds its form when slow cooked in broths and soups.
Liver-cleansing & strengthens the immune system: Moringa is an excellent detox food. It helps improve the gut health and cleanses the liver of toxins and free radicals improving the body's ability to absorb nutrition. Making moringa a part of regular diet, builds and strengthens the immune system.
Aphrodisiac: Moringa is a known aphrodisiac. It increases testosterone levels in men.
Increases lactation: Research suggests that adding moringa to the diet of lactating mothers, helps increase lactation by upto 4 times.2
Adding moringa to your diet:
Fresh moringa leaves can be added to your omlette, pasta, rasam, curries and just about any dish. Moringa powder which is widely available can be added to smoothies, juices, breakfast cereals and oatmeal. Drumstick can be used in making vegetable and meat dishes and curries.
Moringa Tea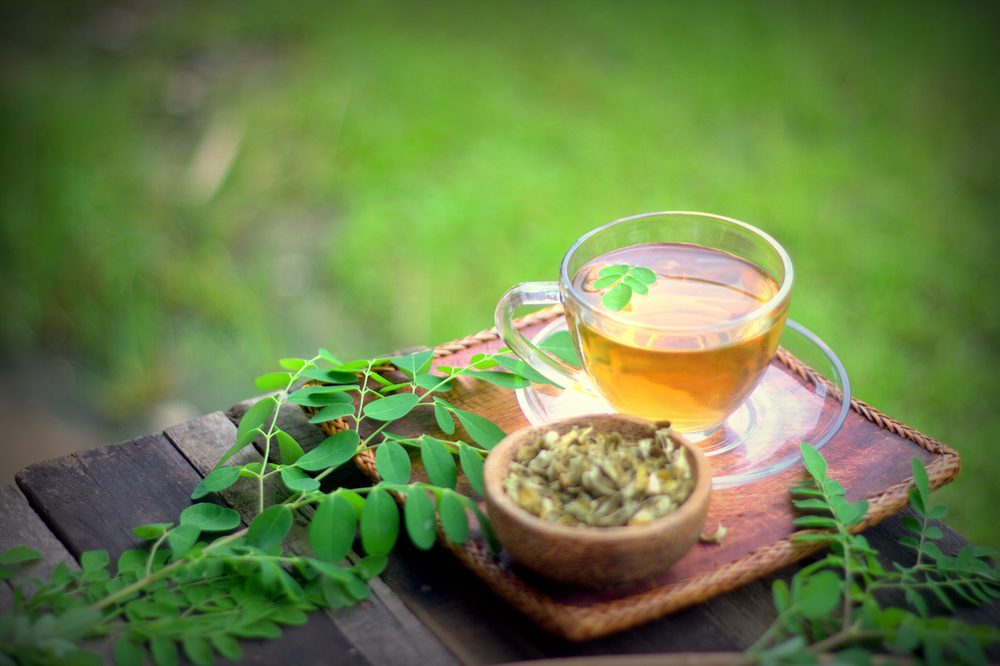 Prep Time
10 MINS
Brewing Time
3 MINS
1 Cup of Moringa leaves
1 Litre Water
METHOD
1. In a saucepan, bring the water to a boil and turn off heat.
2. Add the moringa leaves and cover with a lid
3. Let it brew for 2-3 minutes
4. Strain and enjoy. You could add lemon and honey to this as an option.
Tip: Don't throw away the filtered moringa leaves. Simply add this to rasam, daal or curry as it would still have its flavour and essential fibre.
Moringa and mutton bone broth soup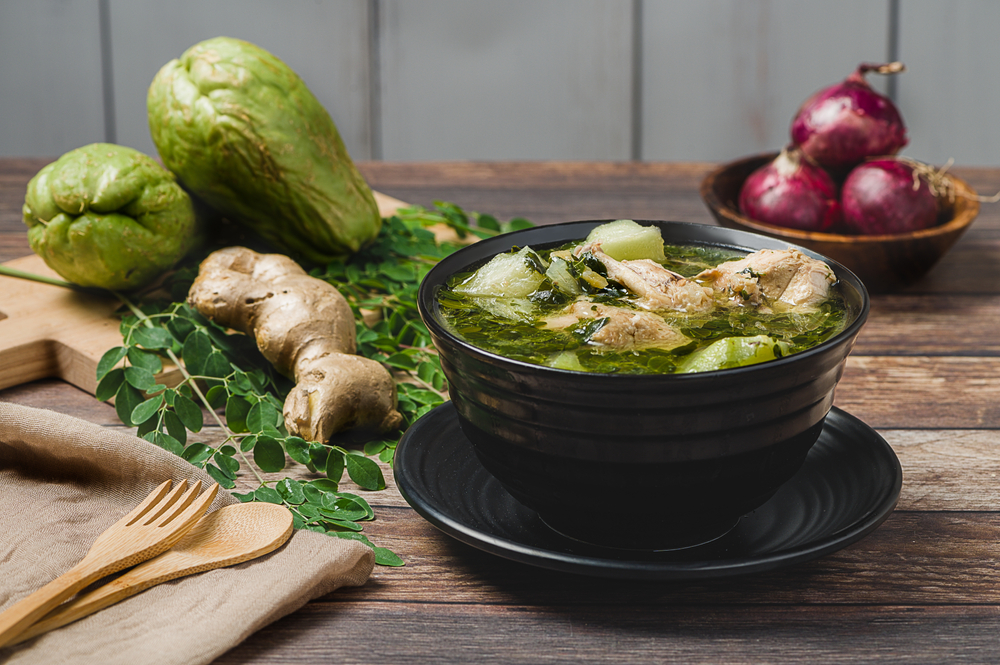 Prep Time
30 MINS
Cooking Time
20 MINS
Total Time
50 MINS
Prep Time
30 MINS
Cooking Time
20 MINS
Total Time
50 MINS
200 gms Mutton bones (preferably lamb shank)
1 Cup destalked moringa leaves
1'' Ginger (julienne)
2 Medium potatoes (cubed)
½ Lime (juice)
4 Pods garlic (crushed)
1 Tsp butter
1 Tsp cumin (crushed)
2 Tbsp coriander leaves (chopped) for garnish
½ Tsp crushed black pepper
¼ Tsp turmeric
1.5 Litres of water
Salt to taste
METHOD
1. In your Ultra Pressure Cooker, add the butter, crushed garlic, cubed potatoes, julienne ginger and sauté the moringa leaves for 1 minute.
2. Add all the other ingredients except the coriander leaves and lime juice and pressure cook for 10-15 minutes or 4 whistles on a medium flame.
3. Garnish with the coriander leaves and lemon juice and enjoy hot.
Tip: Add more lime juice if you like it tangy. Lemon/lime juice helps the body absorb the iron in the moringa leaves.
Moringa and raw mango mung daal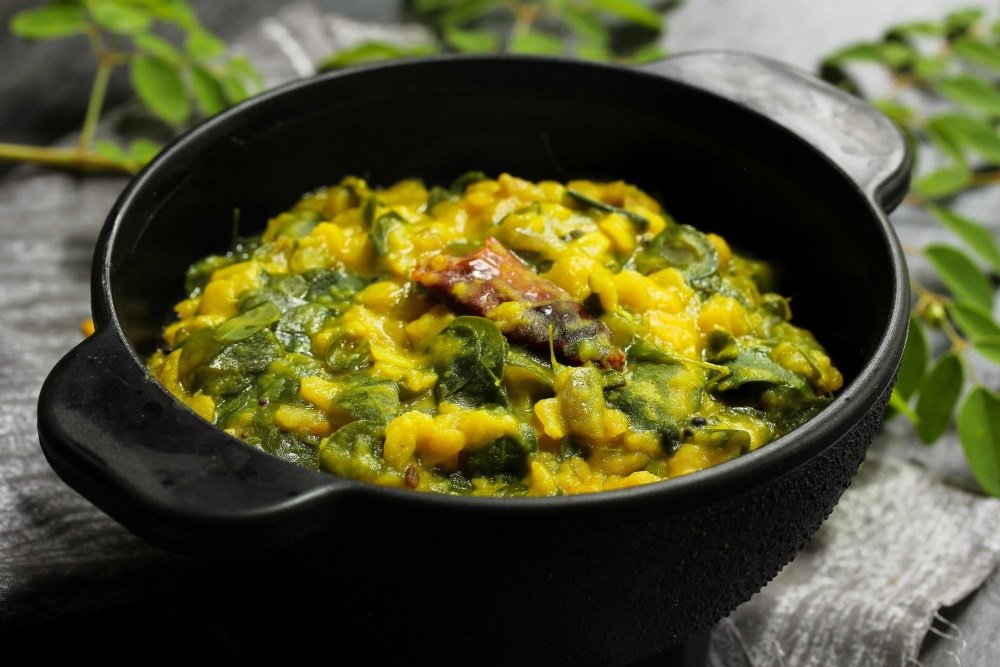 INGREDIENTS
Makes 2 Bowls
Prep Time
10 MINS
Cooking Time
15 MINS
Total Time
25 MINS
Prep Time
10 MINS
Cooking Time
15 MINS
Total Time
25 MINS
1 Cup mung daal (de-husked)
1 Cup moringa leaves
½ Raw mango grated
3 Pods of garlic
1 Tsp cumin
¼ Tsp turmeric
2 Tsp oil
½ Litre water
1 Tsp mustard seeds
1 Sprig curry leaves
2 Dried red chillies
Salt
METHOD
1. In your Ultra Pressure Cooker, add mung daal and dry roast it for 2 mins. To this add the moringa leaves, garlic, raw mango, turmeric, salt, cumin, water and 1 teaspoon oil and pressure cook for 10 minutes or 4 whistles on medium flame.
2. Temper the curry leaves, dry chillies and mustard seeds in the remaining 1 teaspoon oil and add it to the daal. Boil for 2 minutes and garnish with chopped coriander leaves before serving.
Tip: To convert this into a one pot kichadi, add 2 cups of rice and 5 additional cups of water to the daal and cook together. Temper as above and serve with 2 teaspoons of ghee mixed in. Kichadi should be in the consistency of oatmeal.
Drumstick subzi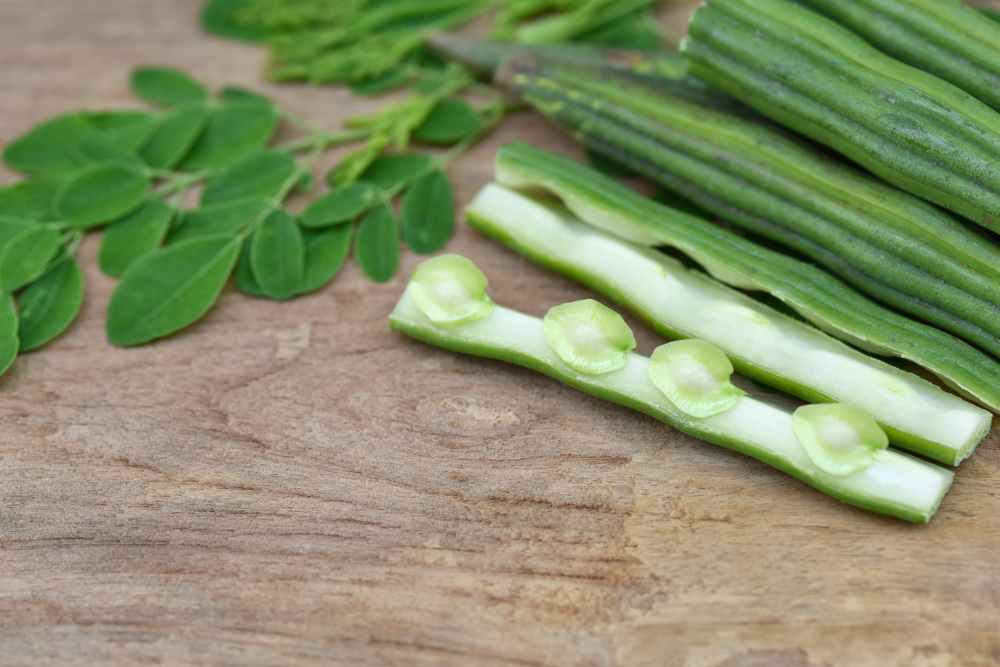 INGREDIENTS
Makes 2 Bowls
Prep Time
15 MINS
Cooking Time
15 MINS
Total Time
30 MINS
Prep Time
15 MINS
Cooking Time
15 MINS
Total Time
30 MINS
4 Whole drumsticks cleaned and chopped
2 Green chillies
½ Cup grated coconut
1 Tsp cumin seeds
¼ Tsp turmeric
2 Tsp coconut oil
2 Sprigs curry leaves
Salt
METHOD
1. In your Ultra Pressure Cooker, cook the drumstick with turmeric, salt and 3 cups of water without pressure for about 10-12 minutes. Cook till the water has evaporated and the drumsticks are cooked through and tender.
2. Use your Ultra Mixer Grinder to coarsely grind, the coconut, cumin seeds and green chillies
3. To the cooked drumstick, add the ground coconut mixture. Add the coconut oil and curry leaves, stir for 2 minutes and serve hot.
Research Articles:
1. Kumar, P., and Mandapaka, R. (2013). Effect of moringa oleifera on blood glucose, LDL levels in Types II diabetic obese people. Innovative Journal of Medical and Health Science. Retrieved from: http://innovativejournal.in/index.php/ijmhs/article/view/470/445
2. 1. Espinosa-Kuo, (2005). A Randomized Controlled Trial on the Use of Malunggay (Moringa Oleifera) for Augmentation of the Volume of Breastmilk Among Mothers of Term infants. The Filipino Family Physician, 43(1), 26-33. Retrieved from: http://sugarpodnaturals.com/reports/04%20Espinosa-Kuo.pdf
Elgi Ultra Pressure Cookers
A perfect companion in your kitchen, the Ultra range of pressure cooker's features will delight you.

NO CHARRING
High-impact bonded base, helps prevent burning and sticking of food

FAST COOKING
High-impact bonded base, aids in faster cooking

STAYS WARM FOR LONGER
Keeps food warm for up to 2 hours

DISHWASHER SAFE
Dishwasher safe design, makes it easy to clean

BEAUTIFUL LOOKS
Impressive design, elegant to serve

10-YEAR WARRANTY
Valid in the country of purchase