Cleanse and revitalise this winter
Cleanse and detox:
In Ayurveda, it is believed that the body accumulates toxins during the winter months as the digestion or agni slows down. This toxin build-up is called 'Ama'. To cleanse the body of ama, spices can be used in various forms. In Kerala, drinking warm water all through the day is practiced, to keep the digestive fire ignited. It is also common to used dry, roasted cumin to boiling water. Cumin is known to stimulate digestion. Similarly using ginger, peppercorns and fennel to enhance the flavours of winter stews and curries will help raise the metabolism and aid in digestion.
Rejuvenate with hot oils:
It is common to hear cracking sounds from ankles and knees during the winter months. This is caused due to the drying out of the joins in winter. To add suppleness to your joints, you could heat pure organic sesame oil and apply the warm oil to your joints, 30 minutes before you have a shower. The body will absorb these hot oils and you will be relieved from pain and joint stiffness.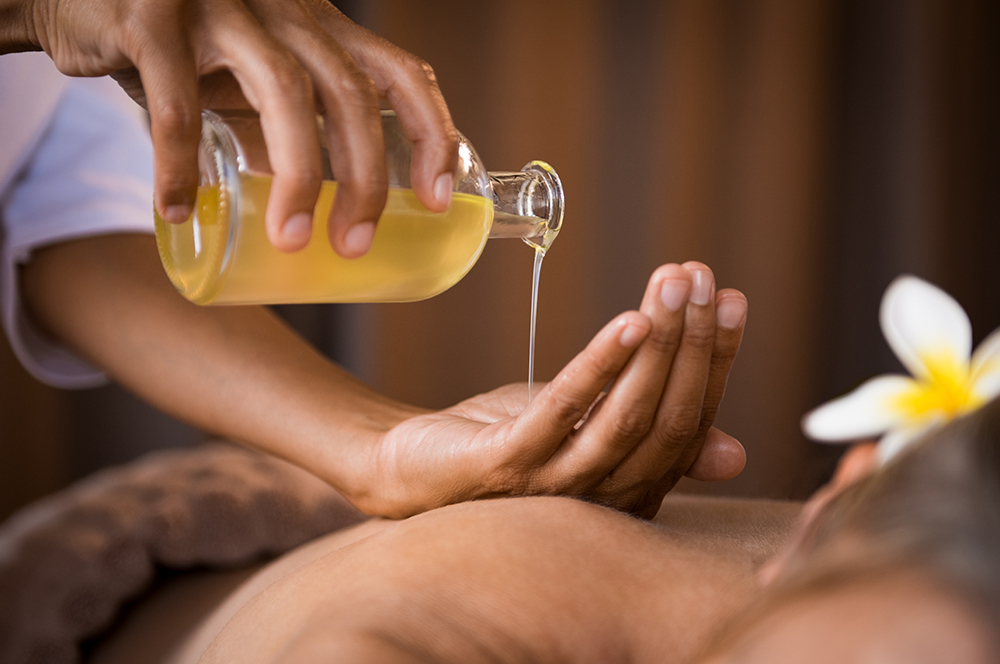 Abhyangam or full body massage with hot oils is recommended in Ayurveda to increase circulation, detoxification and to add lubrication to the bones and joints in your body. Using hot oil to massage your scalp is said to reduce the pitha (which controls digestion and metabolism) in the body. Massaging the scalp with hot oil also promotes circulation and relieves headaches, eliminates body heat and relaxes the mind.
Revitalise with homemade hair oil:
Homemade hair oils can be made from a variety of ingredients. To make a jar of oil that best suits your body and hair type, choose the ingredients that you feel are most required for your hair.
Amla: Improves immune function, reduces premature ageing, clears sinus and colds
Aloe Vera: Moisturises and strengthens hair from the roots
Hibiscus flower and leaves: Known to boost hair growth as it is rich in Vitamin C; hibiscus stimulates collagen production. It is a great conditioner and prevents frizz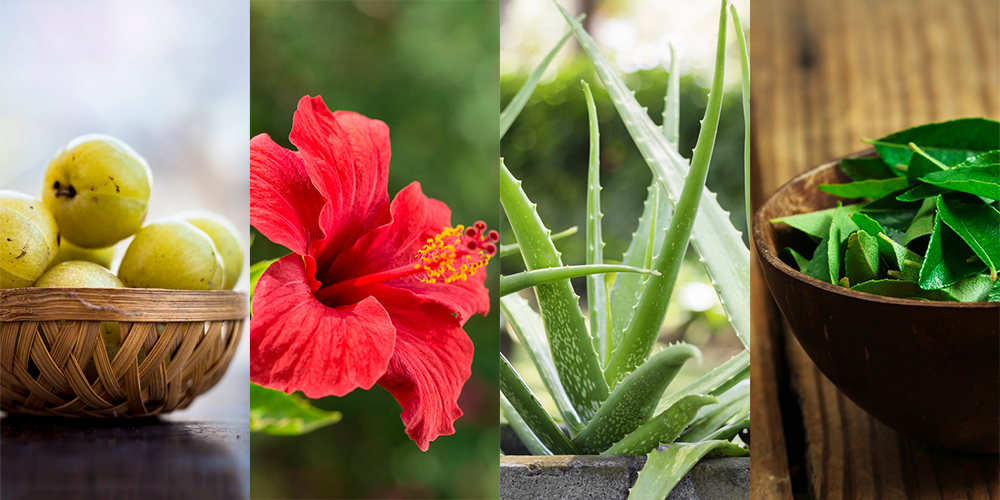 Neem leaves: Are antibacterial and clears, infections, reduces dandruff, itchiness of the scalp and clears head lice
Fenugreek seeds: Clears bacteria and fugus. Moisturises hair.
Mustard seeds: Adds heat in winter months. Contains protein and Omega 3 fatty acids which encourage hair growth.
Henna Leaves: Enhances blood circulation, prevents premature greying, helps soothe and calm the mind and is used in aromatherapy.
Curry leaves: Are rich in beta-carotene and protein; both necessary in hair growth. Curry leaves also contain amino acids and antioxidants that add strength and volume to hair.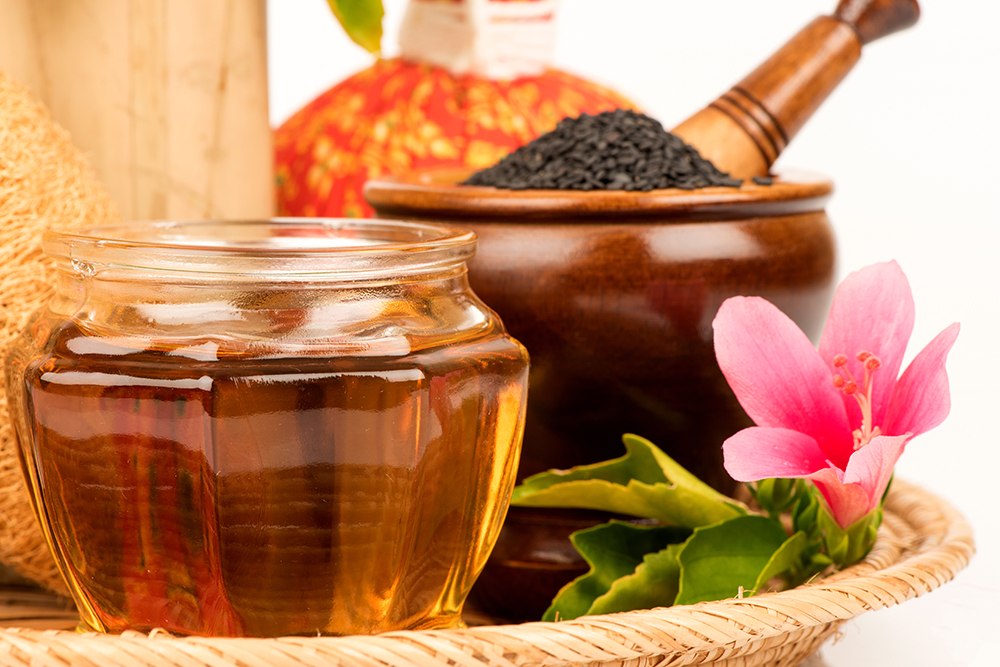 Brahmi leaves: Has a calming effect on the nerves, is used to help in reducing insomnia and sleep disorders.
Black Peppercorn: Is known to be effective in the treatment of dandruff, revitalise and stimulate hair growth.
Almonds: Are rich in Omega-3 fatty acids, phospholipids, vitamin E, and magnesium. Is ideal in the treatment of hair loss and strengthening of damaged hair
Shallots: Are rich in Sulphur, nourishes hair follicles and restores nutrients, fights dandruff, clears and enriches the scalp for new hair growth.
TIP: Use your Ultra Mixer grinder to grind all the ingredients of your choice to make your homemade hair oil. Add the ground paste to the base oil to infuse. To do this, take a litre of organic coconut oil and bring it to a slow boil, add ¼ cup of the ground paste and fry till the spluttering reduces. Switch off the flame and let it cool and infuse for 6-8 hours. Filter and store the oil in a clean class jar. Before use, warm the oil slightly to aid absorption.
Replenish your skin with the right face and lip care: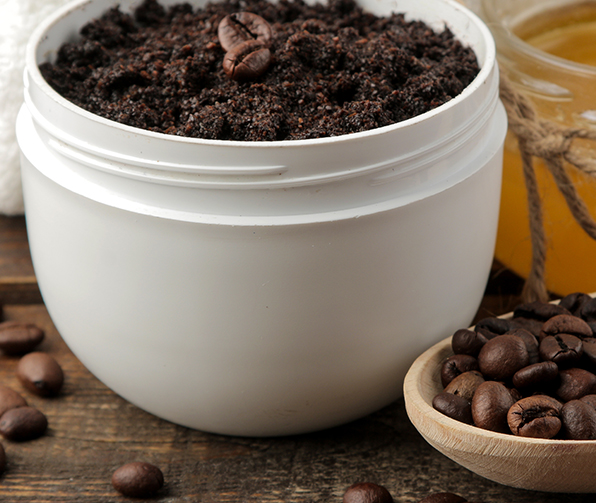 Deep cleansing:
To cleanse your skin from dead skin and clogged pores, you need to have a good abrasive scrub. Coffee grounds that remain in the filter is a great skin cleansing scrub. To make a coffee scrub, remove the wet coffee waste from the filter and dry it out. Leave it in the sun for a few hours to dry and store it in the fridge.
Take a tablespoon of the stored coffee grounds and mix it with equal amount of thick yoghurt and apply to your face and neck. Gently scrub using a circular motion and rinse. Repeat this once a week to maintain your skin.
Deep moisturising:
It is sometimes not enough to moisturise your face during dry winters. It is important to help your skin retain that moisture. Hyaluronic acid combined with Vitamin C Serums are great to tighten pores and retain moisture. Applying a few drops of the serum to well cleansed face, neck and lips before applying a good moisturiser will help protect your skin from dryness and lips from cracking. In the nights, applying virgin coconut oil to your face, neck and lips will add the much-needed suppleness to your skin. Coconut oil is also great to remove pigmentation and scars.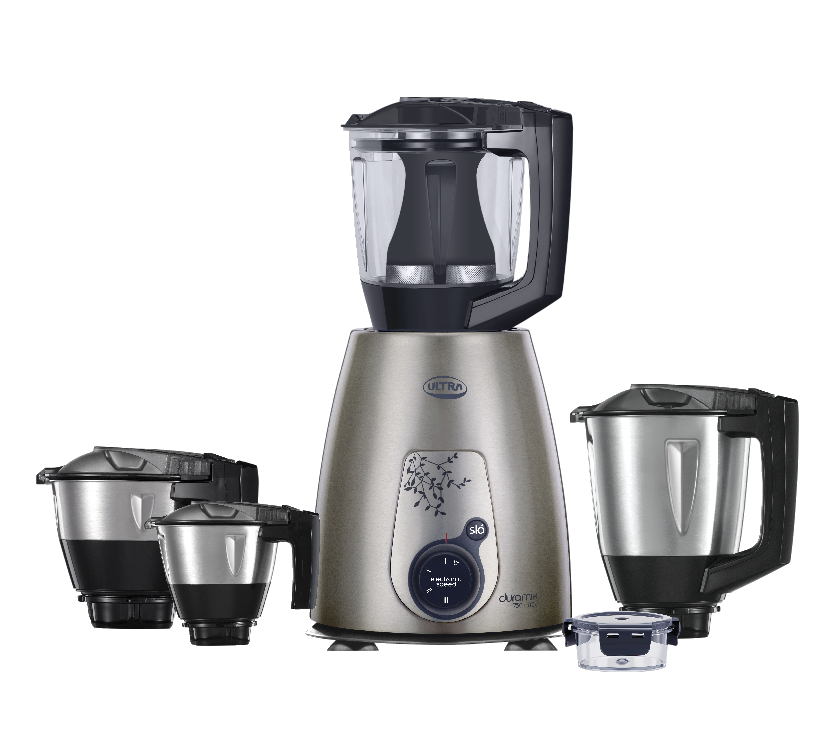 Elgi Ultra Mixer Grinders
The Ultra range of mixer grinders are designed to provide healthy and nutritious food at the right texture and consistency
FITTED WITH METAL COUPLERS
Lasts a lifetime compared to ordinary rubber couplers

AISI 304 FOOD-GRADE STAINLESS STEEL
Rust-resistant food-grade stainless steel jars
STAINLESS STEEL METAL BODY
Sturdy, reliable and long lasting

SLOW JUICING FUNCTION
For thick, nutritious juice without crushed seeds

CHOPPER / KNEADER ATTACHMENTS
Tasks like chopping vegetables and kneading dough are made easier using extra smart attachments

ELECTRONIC SPEED SENSOR
Automatically corrects speed fluctuations and maintains the specified grinding speed to get the right texture & taste