Kaalan
Another favourite in the Sadya is the Kaalan, a signature curd-based dish made with yam or raw banana, or both.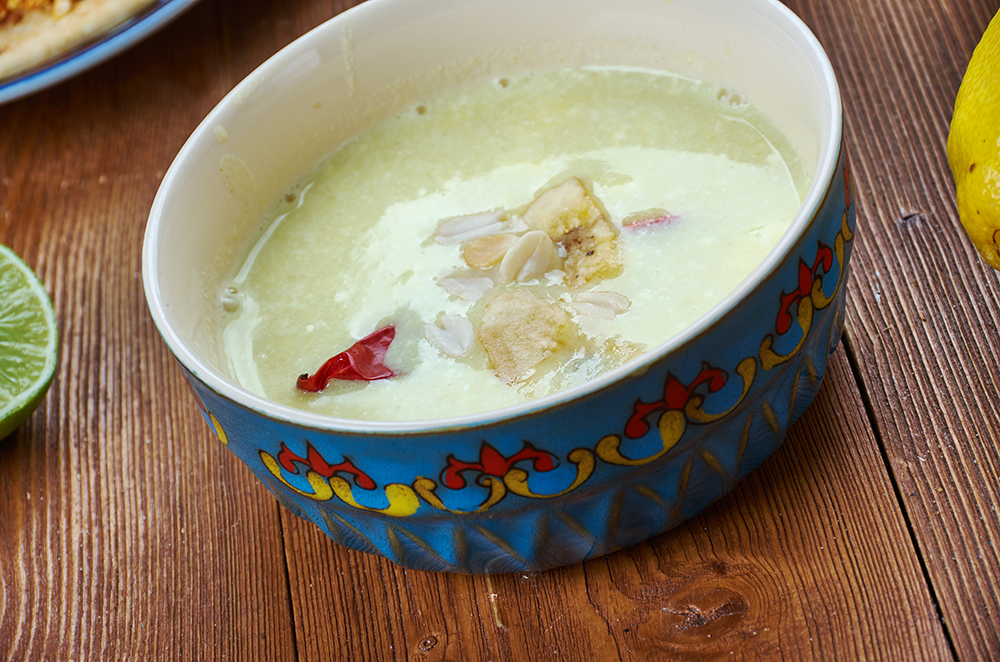 Prep Time
25 MINS
Total Time
35 MINS
2 Raw banana peeled and diced
1 Teaspoon turmeric powder (haldi)
1 Cup curd
1/2 Teaspoon turmeric powder (haldi)
1/2 Teaspoon red chilli powder
Salt to taste
Ingredients to be grind:
2 Green chillies
1 Teaspoon cumin seeds (jeera)
1 Cup coconut freshly grated
Ingredients for the seasoning
1 Teaspoon coconut oil
1 Teaspoon cumin seeds (jeera)
1/2 Teaspoon mustard seeds
1/8 Teaspoon methi seeds (fenugreek seeds)
2 Dry red chillies slit into two
2 Sprigs curry leaves
METHOD
1. In a Ultra Pressure Cooker, cook the banana with turmeric powder, curry leaves and salt along with 1/4 cup of water until the bananas soften.
2. Stir in yogurt and chilli powder and set aside.
3. Make a fine paste out of the grated coconut, green chillies and cumin seeds.
4. Add the paste to the raw banana and yogurt curry and bring the mixture to a boil
5. While the Kaalan is coming to a boil, prepare the seasoning.
6. In a small pan, temper mustard seeds, cumin seeds, fenugreek seeds, curry leaves and red chilies in coconut oil to release the flavours.
7. Once roasted, pour the seasoning into the Kaalan, stir well and serve.
Elgi Ultra Pressure Cookers
A perfect companion in your kitchen, the Ultra range of pressure cooker's features will delight you.

NO CHARRING
High-impact bonded base, helps prevent burning and sticking of food

FAST COOKING
High-impact bonded base, aids in faster cooking

STAYS WARM FOR LONGER
Keeps food warm for up to 2 hours

DISHWASHER SAFE
Dishwasher safe design, makes it easy to clean

BEAUTIFUL LOOKS
Impressive design, elegant to serve

10-YEAR WARRANTY
Valid in the country of purchase